Butler starts TikTok account, goes viral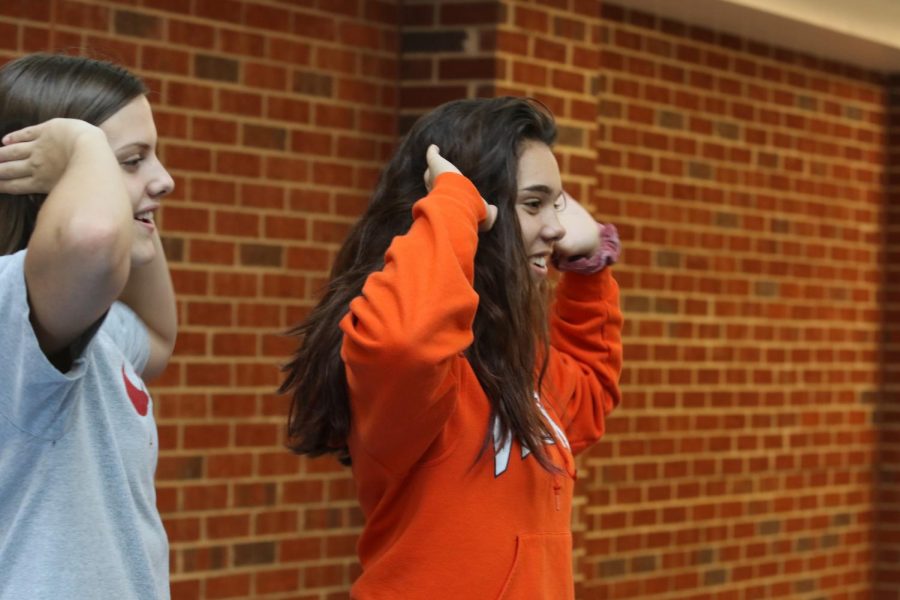 One day in late June, two girls decided to dye their hair at a sleepover and film a TikTok about it. They decided to not write a caption on the video, and went back to their normal sleepover rituals. Little did they know that their hair dyeing video would amass over 72,400 likes, 239 comments and 1,349 shares on TikTok.
Sophomores Layla Seefried and Juju Butler starred in the now famous video. It was posted on Butler's account, and although this wasn't her first brush with TikTok fame, the hair dyeing video is her most famous video to date.
"It was really funny actually. We were like, 'Let's just make a TikTok about it,' and we just made this really stupid TikTok. It was not good at all. I did not know why people liked it. We didn't caption it or anything, we didn't put any hashtags, nothing. We just posted and then we didn't even keep looking at it, because usually we get one or two likes, and then we check it and it had 5,000 views already. We were like, 'What the heck, why does this have so many views,' and we kept refreshing it," Butler said.
In order for a video to get famous like Butler's, it must go onto the "For You" page, a section on TikTok where anybody can view the TikTok chosen videos made by public accounts. The viralTikToks will garner more than a million likes, while videos such as Butler's are considered famous. Before this video, Butler's most famous video had 700 likes.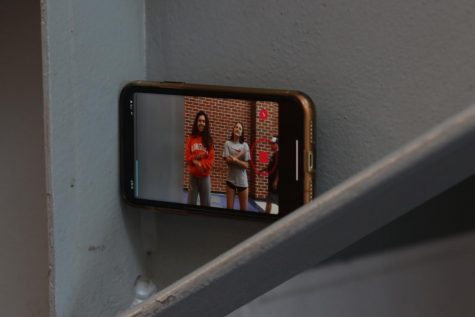 "All of the likes started racking up and it ended up getting 72,000 likes and it's almost at one million views. Basically what happened [with the video] was that it got on the For You page, which anyone who has TikTok knows that's where all the good videos go. I had one video get on the for you page before that had 700 likes and it was of me and my friend [sophomore] Ellie [Muncy], but 700 I thought was a lot, until you get 72,000," Butler said. "All these people were commenting and sharing it. It was just crazy because we were not expecting it at all. If you see the video you can tell that we did not want a lot of people to see it. It was just really funny that it got super popular."
Another one of Butler's friends who was included in one of Butler's famous TikToks, Muncy, was inspired to make a TikTok after she saw Butler using the app frequently.
"I used to have Musical.ly when I was younger, but then I saw Juju doing them and I was like 'its fun,' so I probably started a year ago," Muncy said.
Originally, like many other people on the app, Butler downloaded TikTok as a joke, with no intentions to actually make a real TikTok on her account. Even though she had gained a small following she still plans to just post whenever and whatever she wants to.
"Originally I downloaded [TikTok] as a joke, which a lot of people say. I honestly don't know what made me decide to download it because I didn't have any intentions of making actual TikToks, but I had heard a lot of funny stuff about it and had seen funny TikToks. I was like 'I might as well just download the app,' and then see what it's all about," Butler said.
Getting a video on the For You page also goes along with gaining more followers. Right now, Butler has around 3,000 fans from her various famous videos, yet, she's not the type of TikToker to go overboard in planning her videos.
"When you get a video on the For You page, you have a lot of people start to follow you. I think that when I got it, I was like 'Do these followers expect me to post serious videos?' because that's not what I do on here," Butler said. "I don't really go home and plan out TikToks to make. I was kind of questioning, should I make real TikToks, then I was like, 'No I don't want to do that.' I still post a ton of TikToks but they're all so stupid. I've had two more videos since then get on the for you page, but nothing as big as that one."
Throughout all of the fame, Butler has still maintained that her TikTok is a joke to her. She likes to post her TikToks when she is with friends, very rarely posting on her own.
"It never really stopped being a joke. I don't take it seriously. A lot of people take it really seriously and try to make good videos, but most of the time when I make TikToks is when I'm with my friends," Butler said. "I was with my friend Layla and we were just at her house looking at TikToks and just decided to make a bunch of stupid ones. Just from then, everytime I'd hang out with friends I'd just make and post TikToks. They get one or two likes, we honestly don't care because it's just fun."