Blosser earns Presidential award nomination after 36 years of teaching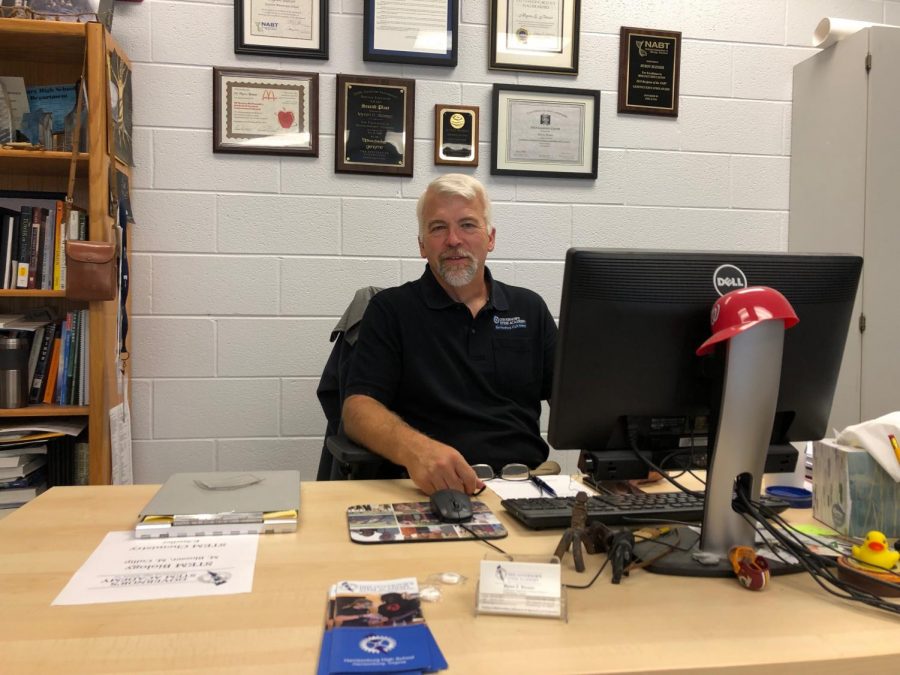 The Presidential Awards for Excellence in Mathematics and Science Teaching (PAEMST) is a national award given to 104 teachers across the country each year. According to the PAEMST website, it is "the highest honors bestowed by the United States government specifically for K-12 science, technology, engineering, mathematics, and/or computer science teaching."
Assistant superintendent Patrick Litner nominated STEM coordinator and Biology Honors teacher Myron Blosser for the PAEMST. Blosser attributes this nomination to his innovative teaching methods.
"The reason why Litner nominated me is because… he has watched me teach since the early 1990s and I think he has seen me do innovative things he realizes aren't common," Blosser said. "[Things] other teachers and other schools are not doing. I think he thought, 'Wow, this guy might be a candidate that might receive this award,' because once he got to be the assistant superintendent and he was interim superintendent last year, he started seeing other school systems throughout the state of Virginia."
Blosser is able to have students interact with programs in the community that aren't offered at many other high schools.
"[The innovative things I do] are the way I have students do research, the way I interface with the community, working with colleges, farmers, wildlife veterinarians, etc, [as well as] the fact [that] I run the Biotech Symposium every year, and the way in which the STEM academy has students in leadership positions," Blosser said.
With Blosser, students start on a research path early with STEM Biology Honors. This class mainly consists of freshman and they do a small research project. Later on, in his other class of STEM Biotechnology, students learn lab techniques to then do a larger research piece.
"It's rare for a high school to have a class that allows students to do research at the molecular genetic level like we do in biotechnology class. We have more equipment in this room than a small college. What's happening is that students are able to do research that prepares them for college. It's research that isn't happening in most high schools," Blosser said.
Along with doing research that prepares students for college, Blosser also teaches differently than most teachers. He makes class notes more interactive by writing and drawing on the whiteboard constantly. Very rarely will he use a powerpoint in front of class.
"My lecture is more [like] interactive conversations. I like to teach by inviting students to think about things. When I write on the board, I don't like to write sentences on the board because as soon as I write a sentence, you want to copy it down, so I like to write words and drawings. My drawings explain the conversations we're having. Everything we talk about [in] biology is either too big or too small to see, so my job as a teacher is to make it visible," Blosser said.
As for improving the work he does with his students, he would like to have the freshman start to do the research just like his seniors are.
"I want to improve the research I have my students do at the freshman level. I want to have freshmen involved in more meaningful research. I want to have the freshmen out in the community, meeting people, working with professionals more," Blosser said. "I find it's much easier to do with seniors and I want to push it into the freshmen. There's no reason why the freshmen can't be doing the same level work that currently my seniors are."
This will be Blosser's thirty-sixth year teaching, and while he's received numerous awards throughout his teaching career, he doesn't want to retire just yet. Instead, these awards encourage him to keep teaching.
"Well to be honest, this is my thirty-sixth year of teaching. I've received awards along the way and they were meaningful because it kind of gave me validation that what I was doing was in the right direction. It's like when your dog does something [and] you give it a treat, it'll do it again. At year 36, what it does is it makes me realize that I'm not done yet. It makes me realize I still have something to offer. This award is on what I'm doing now, not on what I have done, so that means that what I'm doing now is evidently worth doing again and again," Blosser said.