New principal Melissa Hensley values student voice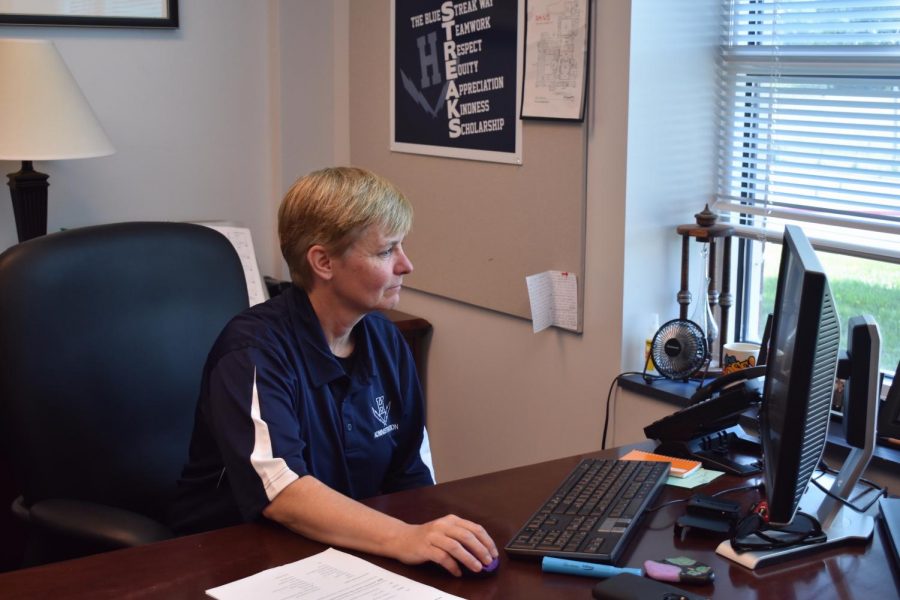 After spending fifteen years as an administrator for Shenandoah County Public Schools, Melissa Hensley returns to her roots in the Harrisonburg area as the new principal for HHS. She is looking forward to taking over this leadership position during this time of transition for the school system.
"I was excited about [the] opportunity to return closer to home [in] the Valley [and] to give back to a more immediate community that gave me a whole lot when I was growing up," Hensley said. "I was a Spotswood High School graduate, so it seems like a natural fit of coming home. I'm excited to be here."
Not only did Hensley attend high school in the Valley, but she also went to college at Eastern Mennonite University and graduate school at James Madison University. While a principal at Central High School from 2012-2019, Hensley received numerous accolades, including 2016 Virginia Secondary Principal of the Year. However, to Hensley, her major accomplishments are the connections and programs she built with her students and staff.
"I really pride myself on listening to students about what they want the culture of their school to be [and] what programs they might need in order to meet their needs to help them be prepared for whatever direction they're heading in," Hensley said. "I feel if I really left a legacy at Central it would be [these] programs we built with and for students. These are the things that really meant the most to me and the things that I hope define my career."
One of these successful programs in particular is a postgraduate program for students with disabilities about how to manage life after high school. Students learn things like how to get a job and how to get an apartment. Hensley believes each school is different, so she would receive input from students and faculty about what programs are needed at HHS.
"The forefront for me is student voice and getting input from the faculty and staff here on what we need to do to take Harrisonburg to the next level from what I have seen," Hensley said. "The school is amazing and has so many great programs going on already that I can't wait to learn more about."
Hensley hopes to increase student voice and generate more input by creating a student ambassador group. This is one of her first goals as the new principal of HHS.
"I want to get input from students on things they would like to see here. Student ambassador groups for me represent all walks of life in the building," Hensley said. "I see having multiple pockets of groups that work together that I'm communicating with and getting feedback from. The building is so big that I think that the more groups that you can work with and get feedback from, the better it will be."
Finding a principal that works with the students is something the superintendent, Dr. Michael Richards, looked for when hiring a new principal for HHS. He and the School Board asked students, parents, teachers and administrators what they wanted in a principal and worked from there.
"[They wanted] someone who shares leadership and can help students develop in a very productive and emotionally and physically safe culture on campus," Richards said. "They wanted somebody who was good at looking for and developing opportunities for students to be leaders and grow."
Richards particularly wanted a principal who had a clear, straightforward vision of where he/she thinks the school should go in the future.
"As a school division, we're going to develop a strategic plan," Richards said. "This plan will be driven by a vision where the division will go. I was keen to find someone who thinks that way."
Once Richards and the School Board knew what they were looking for in a principal, they transformed their input from the community into questions to ask the candidates for the job.
"My view of hiring these very important positions is that it shouldn't just be me," Richards said. "We did ended up with a very diverse, talented candidate pool of people. [A] committee looked through that and chose five people to interview. They interviewed those five and then referred the top candidates to me as finalists. I interviewed the finalists with some of my colleagues."
Hensley checked all of the boxes that the community wanted in a principal. She and Richards are starting a new era at HHS as a new principal and superintendent.
"Harrisonburg Schools has a really strong foundation. I'm excited to build on the positive strengths that we have already," Richards said. "I think we have lots of opportunities that we haven't fully developed for students yet. I'm very excited to start developing those. Ms. Hensley thinks that way as well."
Creating more opportunities and taking the next step for HHS is Hensley's ultimate goal.
"We're going to put Harrisonburg on the map," Hensley said. "We want Harrisonburg High School to be one of the very best schools in the Commonwealth of Virginia, if not the Nation. That's my mentality coming in here, so [I'll do] whatever that takes. I have found [that] if you give students a lot of power and a lot of voice, they know what to do."
Hensley wants the students of HHS to know she looks forward to meeting and working with many of them and increasing student voice.
"I want them to know I have an open door policy," Hensley said. "My nature is to be out and around the building, so I hope they feel free to come up and introduce themselves to me as I will do the same with them if they have concerns or things they would like to see. I'm excited to be a Blue Streak [and] I'm happy to be here. We want everyone to feel like they're getting the best education possible."