Gardening Club members reflect on their year
Hang on for a minute...we're trying to find some more stories you might like.
With the new spring season starting, so did Gardening Club. Gardening Club is an after school extracurricular activity that is led by HHS teacher, Adam Goble. This club focuses on raising plants in HHS' greenhouse to be sold at a later date at the end of the year. Sophomore Emma Lankford joined Gardening Club for the first time this year, even though she didn't know about it last year. She knew that there were national garden clubs, but not that that there was one that was so close to her.
"I joined Gardening Club because I absolutely adore plants. Last year, I had no idea that the school even had a Gardening Club, so when I learned it existed I really wanted to join. I was worried that being in the club would conflict with my other activities, but it has not been a problem. In general, I am just very interested in learning about plants, so joining Gardening Club was a natural choice for me," Lankford said.
Lankford found out about this club through her AP Environmental Science class, which is taught by Goble. Lankford has found Gardening Club to be a therapeutic experience.
"I have really enjoyed Gardening Club because it has given me a time to learn more about plants and just have fun. Again, my passion for plants has made Gardening Club especially enjoyable, but it has also been a time to do something that is actually beneficial yet relaxing. Gardening is often referred to as therapeutic, and being in Gardening Club, I can affirm that this is the truth," Lankford said.
Another member of Gardening Club was sophomore Stella Alexiou. Alexiou joined Gardening Club to spend more time with Goble and to express her love of plants.
"I really liked Garden Club because it was led by [Mr.] Goble. He is so goofy and he says the funniest things ever. He really made my sophomore year fun and doing Gardening Club let me spend more time with him," Alexiou said. "Another thing that I liked about Gardening Club was the plants. I love learning how to garden because it's such a useful skill and it's relaxing. Plants are my ultimate favorite because there are so many different types and you can grow your own foods and flowers."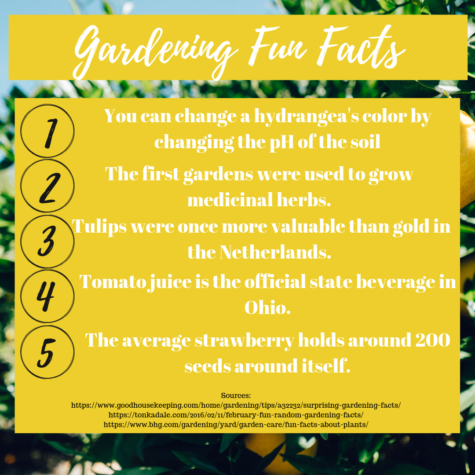 Alexiou never expected Gardening Club to be beneficial to her, but throughout her time with it, she grew very fond of it.
"[Gardening Club] was positive [for] me because it was just a fun and chill activity I did after school," Alexiou said.
At the end of the year, Gardening Club has an annual plant sale. Gardening Club is a self-sustainable club that only uses the money it makes. Sophomore Maddie Shanholtz, a member of Gardening Club, attended this plant sale to help Goble.
"Selling the plants was really achieving. I got to see these plants grow and it made me feel really good about myself. It was really fun talking to everyone and helping out and seeing everyone be happy," Shanholtz said. "I can't wait to do it again next year."