SCA prepares gift for Prieto for her retirement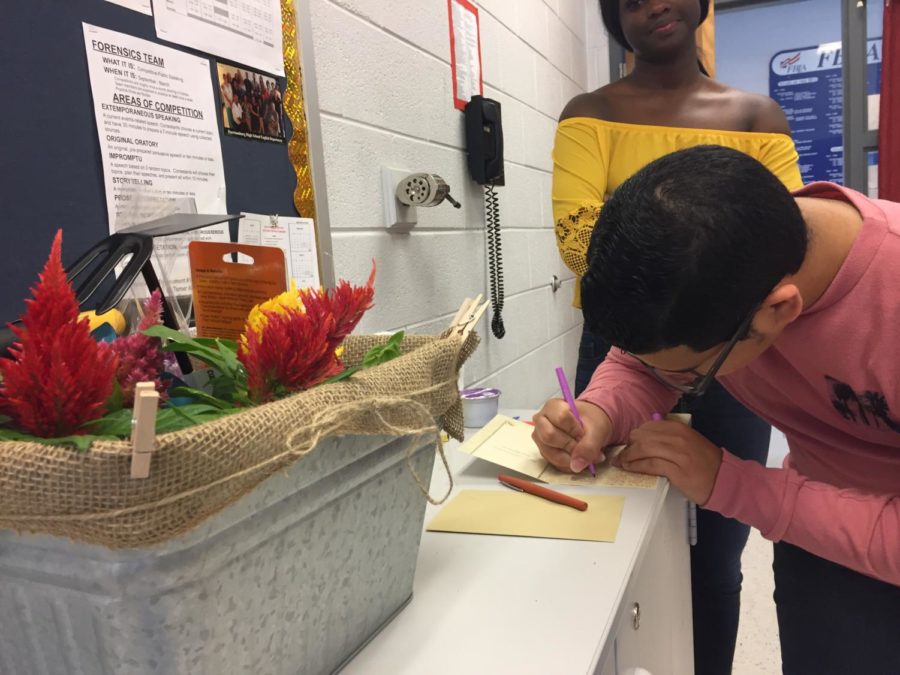 With the 2018-2019 school year coming to an end, so does Cynthia Prieto's role as principal. Knowing that Prieto will be retiring after this school year, the SCA show all the work she has done for the school. They chose to make a personalized gift with a thank you card. SCA Vice President, junior Fernando Escobar-Medina, feels like this gift helps Prieto sign off in a good way.
"We're making this gift to appreciate all the hard work [Ms. Prieto] has put into this school. We just basically want to say thank you for everything she's done. [We also] want to sign her off in a good way," Escobar said "I hope that she knows that we were grateful for everything she's done and that we've paid attention to everything she has done for the school."
Planning for the gift started two weeks ago when Prieto sat down with SCA to talk about plans for next year. Even though Prieto isn't going to be here next year, the SCA still sat down with her to receive tips and advice for next year. SCA President, junior Atilia Thomas, noticed this and many other things that Prieto has done for HHS. She wants this gift to recognize the work she's done for HHS.
"I want her to feel our gratitude and appreciation from everybody so that she knows that she was a good principal. [I also want her to know] that her serving her time [in school] this few past years has paid off," Thomas said.
With Prieto retiring means that there will be a new principal taking her place. Thomas feels that next year is gonna be very different with Prieto gone.
"I feel like it's gonna have a totally different vibe than before. I don't know what that's going to be. I feel like she's impacted us an HHS in so many different ways that not many students think about. It's gonna be a big change," Thomas said.
The gift that the students gave Prieto had the theme of gardening. The SCA got this idea from the SCA sponsor, Danae Delozier, when she mentioned to them that Prieto loved to garden. The SCA wanted this gift to be useful for Prieto after she retired. SCA treasurer, junior Safiyyah Ogundipe, wanted this gift to help support Prieto's retirement.
"I think that we just want her to feel appreciated. I mean, she's been here for a while and, sometimes, we take for granted how invested she is with the students and how much she supports the student body. We want her to know that we've seen what she's been doing over the years and that we support her in her retirement," Ogundipe said.
After having Prieto has her principal for the past three years, Ogundipe feels like it's gonna be different next year because no student will know the new principal like the students knew Prieto.
"Everyone in this school has had [Ms. Prieto] as principal. No student has had the experience of another principal [at HHS]. I feel like it's gonna be hard to get used to a new principal. Knowing that, I think that we won't know the new principal's interests or how they act with the newspaper, yearbook, band, or sports so we don't know what their priorities are. We don't even know how they're gonna react to our smaller clubs. It's gonna be different but I don't know how [different]," Ogundipe said.