Two Olympians move to Harrisonburg to coach local club swim team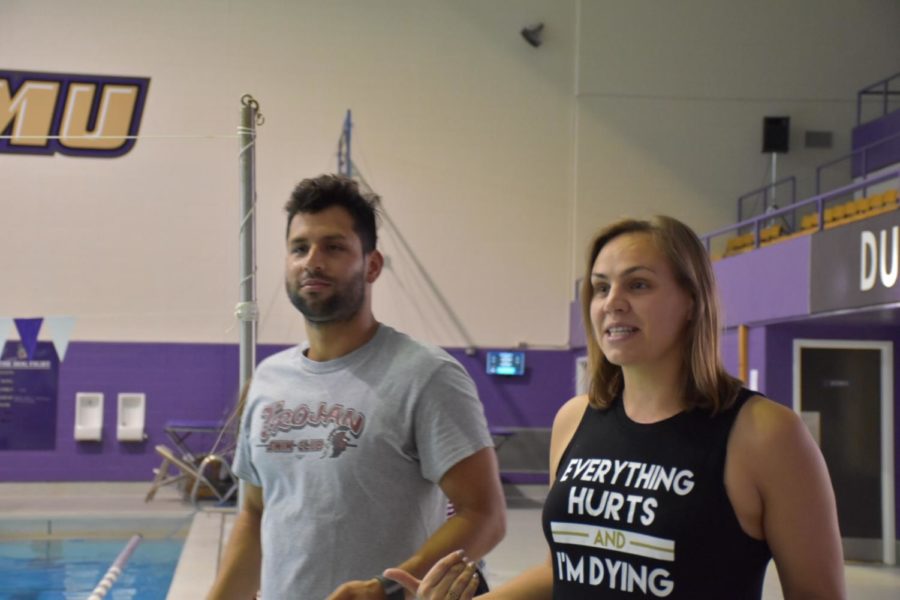 Having an Olympian for a coach in any sport is rare, at best. Having two Olympians as joint coaches for one team is extremely rare, but that's exactly what Lithuanian Olympic swimmer Raminta Dvariskyte Pinzon and current Colombian Olympic swimmer Omar Pinzon did. They moved from California to Harrisonburg to coach the Virginia Gators, a club swim team three months ago.
Dvariskyte Pinzon started swimming after her physical education (PE) class had a swimming unit.
"Our PE [in Lithuania] had a swimming lesson in first grade. They organized for us to go to the pool for us to learn to swim," Dvariskyte Pinzon said. "They cancelled it a month later because parents were complaining because [the water] was cold, but I loved it and I waited until September to have my mom enroll me [into swimming lessons]."
Dvariskyte Pinzon always knew that she would go to the Olympics, and she was the only girl on the Lithuanian swim team in the 2008 Beijing Olympics. In order to qualify for the Olympics in Lithuania, you have to make a specific time in any international meet. In 2008, she had barely turned 18 years of age when she went to the Olympics, and although the Olympics were a good experience for her, she wishes she would've experienced it in the full way.
"I wish [my Olympic experience] was a little different. I was barely 18 and everything happened too quick. This is why I wanted to go to London 2012, [the Olympics] wasn't just about swimming. I wanted to experience [the Olympics] in a full way," Dvariskyte Pinzon said. "[When I went in 2008], I believed that you had to sit until you swim, so I didn't really go [out and explore Beijing]. Years later [I think about how] I missed so many things because I didn't have enough time to go see or do anything. I wish I could have experienced in different ways."
The 2008 Olympics was Dvariskyte Pinzon's first and last Olympics. She did train for the 2012 London Olympics, but she did not qualify. At the 2008 Olympics she swam the 200 meter breaststroke and she got 35th place.
"[The Olympics] wasn't really about [placing]. For me it wasn't really a big deal, it was my dream that I knew I was going to achieve, type of thing, so it wasn't like [how it is] for you guys it's 'Oh my gosh you went to the Olympics,'. It took me years to adjust to that reaction, for me it was just part of my life that had to happen," Dvariskyte Pinzon said. "It's like 'Oh I'm going to go to college,' did anyone [say] 'Oh you went to college,'. For me it was on the same level, In a way, I knew that I was going to go to college in the U.S., I knew that I was going to go to the Olympics. When I didn't make London 2012, I realized how big of a deal it was to actually make it."
In contrast, her husband, Pinzon, has been to four Olympics and is trying to make five with the upcoming Tokyo Olympics in 2020. He was 15 years old when he attended his first Olympics in 2004 and his best Olympic placing was eleventh in the semifinals of the 200 meter backstroke. All of his Olympics have been special for him with each one including different experiences.
"Every Olympics games I've been to have been very special and with different goals and different scenarios. I think that London, yes it was more stressful, but I got to enjoy some more time with my family, despite the fact that I just missed swimming in an olympic final, my family was there and I was happy. I had the best placing that Colombia has ever had in swimming for the last two decades [in London] if I'm not mistaken," Pinzon said "Rio was a little more relaxed."
Right now Pinzon is currently training for the 2020 Olympics, but because of the move to Virginia it has been hard to find a competitive program and a coach to train with.
"Right now [in Harrisonburg] there isn't a high caliber collegiate program, at least a men's [around here]. Where we were [in California], there was multiple high caliber programs and national/Olympic trials qualifiers. The availability of pools is not the same as we know with the [Virginia Gators]. I'm going to start swimming at UVA, they've put people in the Olympics and they have big credentials, so I'm very excited about that," Pinzon said.
They both came to coach the Virginia Gators after the team had undergone four coach changes in five months. Senior Andi Fox swims on the Virginia Gators and was a present part of the team during the whole season.
"I know at first it was very strange because we've had so many coaches and it was hard to adjust. I think that in the back of everybodies mind's people were like 'Oh yeah they're not going to stay,' because all of our other coaches have left," Fox said. "They've really proven themselves and they are really good about pushing us and making really hard sets. When they give the practices and explain things it's very clear how knowledgeable they are. They're both Olympians, [so] they know what they're doing. That is very clear in practices."
Dvariskyte Pinzon and Omar Pinzon had coached before coming to Virginia, but coaching in Harrisonburg has been a different experience for both. Dvariskyte Pinzon talks about how different this team is than her past team.
"The team I coached before, I guess they knew what they were doing early on and for you guys, from what I figure, you were figuring out as you guys went and with the changes in coaches and everything, it just opened your eyes that there is more. There, they came to practice and they already saw kids that went to [World Championships] and stuff, so it's kind of a little different. We [would] walk in and have a big hall where our achievements are placed. You're learning still to be competitive, to know what hard practices mean and why you are doing it. They knew right away, there is a hard set, there's just a question of when is it coming. Every challenge is a good challenge," Dvariskyte Pinzon said.
For Pinzon, it was a hard adjustment because they came right when the championship season started, posing a challenge for the new coaches because they had to curate training for swimmers they barely knew.
"We came in when you guys were getting ready for meets. I came in and I didn't know anybody's names. Getting to know someone and then adjusting the training for specific groups and adjusting to groups who were fighting the change was very, very hard, but we really enjoy taking on the challenge. I think it was a challenge that so far, we haven't crossed the successful [speedbump], but we're there and we're working really hard to ensure that the team is successful. I think that the difference is that we came in and everybody had a different mindset. We needed to build the mentality that we need to be a little tougher, and that we need to dream a little higher," Pinzon said.