STEM students advance to state science fair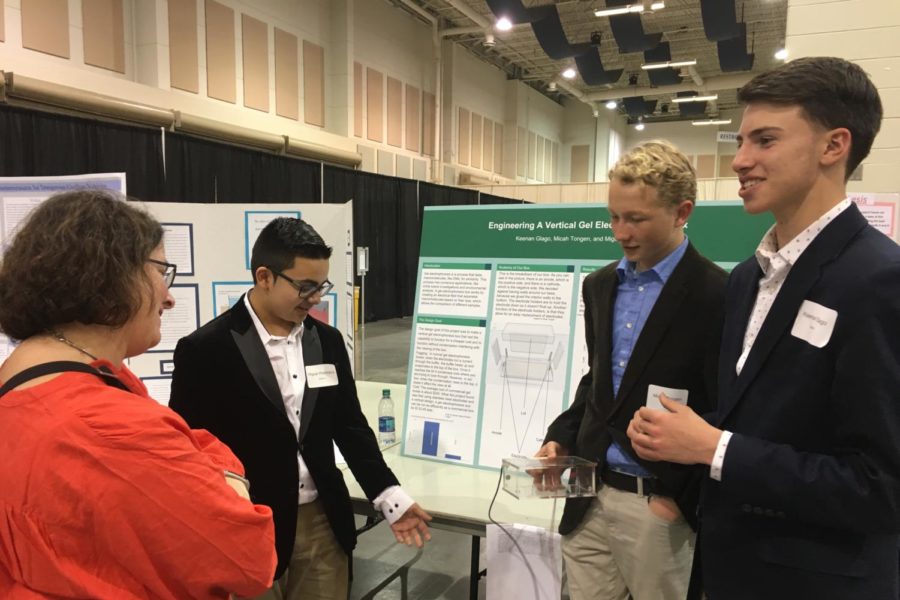 Freshmen Keenan Glago, Micah Tongen and Mikey Paniagua were not only the first people at HHS to build a vertical gel electrophoresis box, but they were also one of two groups to go to the Virginia State Science and Engineering Fair for the first time in school history. STEM Innovations teacher Seth Shantz pushed the trio to enter the regional fair after realizing the potential of their never before done project.
"It's something we've been wanting our students to get involved with," Shantz said. "We had a really strong breakout project in the gel electrophoresis box challenge that we do in STEM Innovations this year."
A gel electrophoresis box separates macromolecules like DNA and proteins based on their size. Gel electrophoresis boxes are normally constructed horizontally, but this creates an issue in interpreting the data from the box because fogging is created as the box is running. Glago, Tongen and Paniagua solved this problem by constructing the box vertically.
"We had seen some pictures of protein vertical gel electrophoresis boxes, and we decided to try it with nucleic acids," Tongen said.
Because this project had never been done before, the freshmen didn't have a model they could generate ideas from, which makes the process of design and construction more difficult and requires more creative thinking.
"The process theme was trial and error," Glago said. "We ran through 15 prototypes before we finally got the perfect design. Obviously we had to take a lot of things into consideration because it was oriented vertically."
As part of the design process, college professors evaluated their design and were skeptical of its success. This only encouraged the group to want to take it further and to the science fair.
[The professors said] this design was unlikely to work. Yet, when they tested it running food dyes and DNAs, it worked fantastically," Shantz said. "It was a very hoped for but not fully expected result. When it did work, they really thought they were onto something very unique here and would shine at the science fair."
The three freshman went on to compete at the Shenandoah Valley Regional Science and Engineering Fair in the engineering category and come out on top, advancing to the state fair.
"We definitely knew that we had something going for us, but we weren't quite sure what we had compared to everyone else's [projects]," Glago said. "When it got announced that we won, it was obviously that immediate shock. But looking back, I think it was a regional-winning worthy project."
Glago, Tongen and Paniagua were not the only team who competed successfully at the regional fair. Sophomores Nathan Henderson and Holly Bill competed in the biochemistry category with their project The Biodiesel Potential of Avocados and beat out the competition to advance to states.
"We created avocado oil from the plants and titrated it to [find] its free fatty acid percentage, [which determines] how good of a biodiesel it creates," Henderson said.
Because petroleum diesel derives its carbon from below the Earth's surface and releases it into the atmosphere, it contributes to the greenhouse effect and therefore climate change. On the other hand, biodiesels are created from plant matter, so they obtain their carbon from the atmosphere and in turn releases back into the atmosphere. This results in a net atmospheric carbon dioxide reduction of 78%. Knowing how pressing of an issue climate change is in today's society, Henderson and Bill decided to find the biodiesel quality of avocados to determine if it could be used as an effective biodiesel.
On April 6, the five students competed at the Berglund Center in Roanoke, Va against other regional category winners across the state. Paniagua believes the vertical gel electrophoresis box stood out among their competition.
"There were 12 other groups. Everyone had their own thing that they focused on," Paniagua said. "Most of them focused on structure or flooding. We thought we [had] something kind of different from most projects."
All five of the students agree that the level of competition was elevated at the state fair. Projects such as A chemiluminescent dual-aptasensor capable of simultaneously quantifying prostate specific antigen and vascular endothelial growth factor and Different projectile materials affecting propulsion in a prototype electromagnetic projectile launcher were intimidating for the students, but downtime between judging allowed for stress relief and a more friendly environment.
"It was a very competitive atmosphere, but there was also a time where people just spoke with each other and learned from each other," Henderson said.
As a first time experience for not only the students but also Shantz, seeing so many cutting-edge projects in one place was eye-opening.
"It was really fascinating to see the ideas coming out of high schools," Shantz said. "It's great to be in a room with that much brain power going on at the high school level. As an educator, to see my students and students that I've taught before working at such an exceptionally high level was so affirming for what we do here."
The judging works by various judges from the students' particular category visiting their poster, listening to their presentation and asking questions.
"Some of the judges really liked our project, [but] some didn't," Henderson said. "It's hard to tell in these competitions because they're supposed be as unbiased as possible."
Neither of the projects will be advancing to the International Science and Engineering Fair, but Shantz believes the two projects deserved to be there and competed at the high level required of them.
"Standing in that room in the regional and state level, we should [have been] there. I think we make those events stronger," Shantz said. "To my eyes looking around, they were just as good as everything going on there, which was amazing to see. I'm incredibly proud of our students."