Cessna competes in three categories for TSA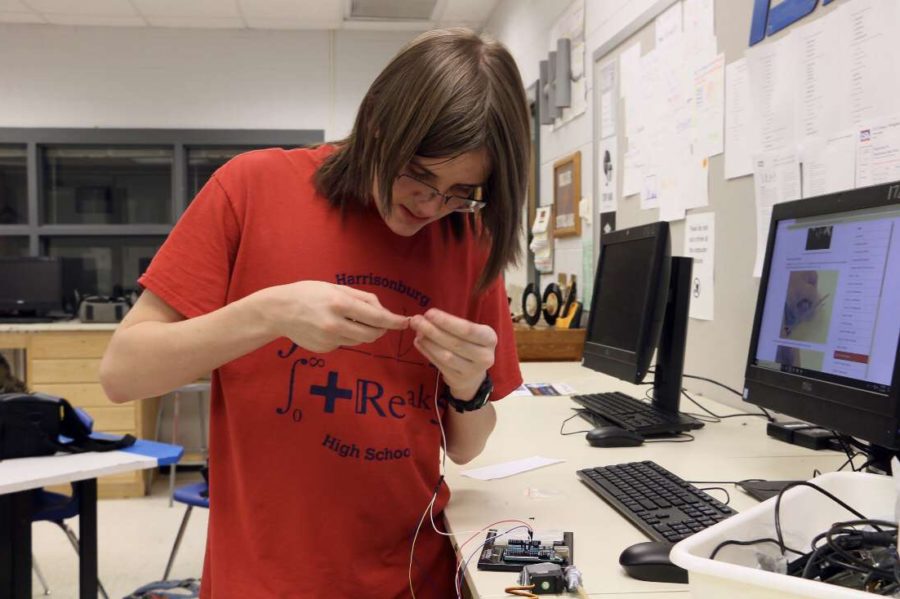 The Technology Student Association (TSA) competes every year at many different levels. Freshman Micah Cessna has taken part in TSA since middle school, doing what he loves the most.
"I've been in TSA for two years. I was in Mr. Stansberry's class last year and he talks about it a lot, so I joined," Cessna said. "Our TSA meets on Tuesdays and Fridays and we generally have Shantz telling us what to do and we just work, [so] it doesn't stress me out at all. It's fun to work on projects and finish them, [and] I wanna do stuff with technology in my future."
Cessna competes in multiple areas of TSA in groups of two to three people at different competitions.
"In TSA, there are a bunch of competitions that are listed on the wall. You can be in any number of competitions," Cessna said. "The highest we have I think is Sam [Rooker] who is in eight. I am in three, those being Mocumentary which is like digital video production, Animatronics where we're making a nature museum model of a dinosaur, an Archeaopteryx specifically, and Systems Control Technology, where they basically give you a prompt and then you fulfill that prompt using electronics."
Cessna has competed at regional level and will be continuing on to states in May for three competitions.
"There are some competitions that start at regional level and some competitions that start at state level. For us, Mocumentary and Systems Control both start at [the] regional level and you have to get third place or higher to go on to state level, which we did and states happens in two months," Cessna said. "With some competitions, they don't start until state level, [which is] how it is for Animatronics. After that, there's Nationals."
Cessna has won multiple awards throughout his TSA career and aims for more as he chooses to continue with the program throughout high school.
"I've been in three team competitions that have won awards," Cessna said. "Eighth grade year we did chapter team which is Robert's Rules of Order. This year, I got third place in Mocumentary and third place in Systems Control Technology."