New recycling program generates positive impact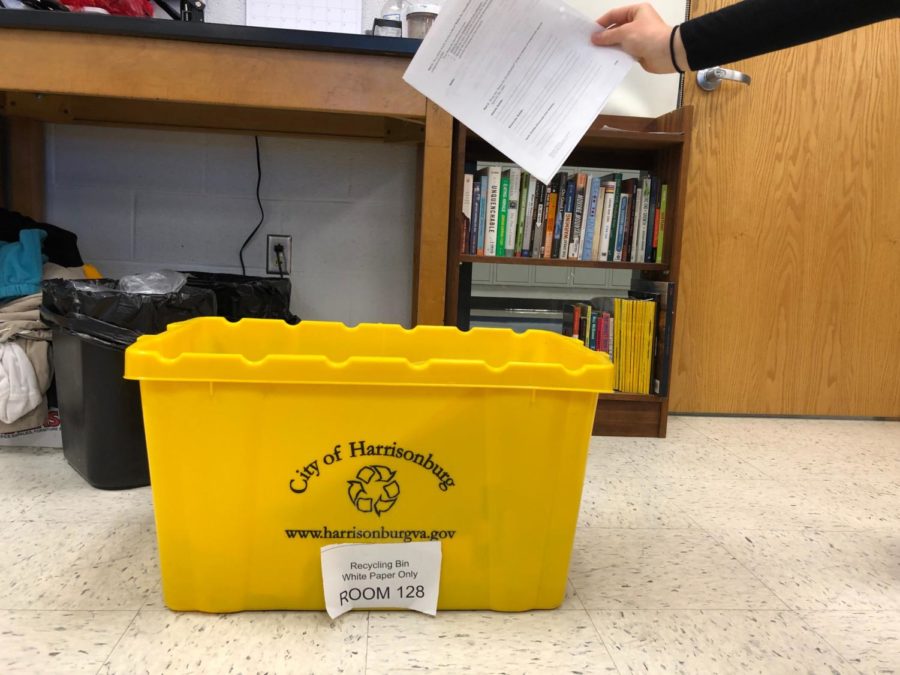 You may have noticed the abundance of yellow recycling bins in every classroom. Maybe you've thrown a piece of white paper in the bin while you were bored in class, or you actually wanted to recycle and used the bin for its actual purpose. Regardless of how you've used them, they are now a staple environmental initiative in our school.
Special education teacher Lisa McQueen started a recycling program and organized the yellow bins with her class after she found that there was a dire need for recycling paper.
"[At] the beginning of the year, Ms.Prieto mentioned the fact that a lot of people had been wondering and [were] concerned [about not having a recycling program in school] because we haul out a lot of paper as a school," McQueen said. "I work with special education students, and one of the things we want to do is teach them some real life work skills and responsibility. [Starting a recycling program] seemed like a great fit to get them to have a job, have a responsibility that [also] builds self esteem and I can see how independently they can do things on their own."
Chemistry teacher Erich Sneller supported the start up of the new recycling program because he knew the positive impact it would have on the environment.
"We go through a lot of paper at the high school, so it seems like the best ethical option to recycle some of it and do whatever we can in the school to mitigate our environmental impact," Sneller said.
Although the recycling program started just a few weeks ago, the plan was to start around the beginning of the year. Previously, McQueen used provisional cardboard boxes to gather the recyclables.
"What stalled [the recycling program] to a half a year was [that] an order had to be made to get the yellow bins. Until [we got the bins] I literally had a box in the main office, upstairs and in [room 222]. I was hauling [those boxes] down to Augusta County where I live, where they already have paper [recycling]," McQueen said. "That was enough. I would bring my truck in and throw all of this paper in, and that was a lot to keep up with. Now we are able to pick it up and take it to the loading dock. The main custodian, Mr. Chris, calls when it is filled, and they come and drop it off. It's a lot easier."
Sophomore Maddy Gordon also felt the impact the recycling bins had in school and even the world.
"[The recycling program] is more about how it has affected the world, [instead of the school] If you recycle, it makes the world better. I do use the recycling bins a lot," Gordon said.
As of now, only white paper is allowed in the recycling bins, which makes up for the majority type of paper used at the school. However, McQueen would like to be able to recycle more materials in the future.
"I wish we could do more [recycling], and I hope that we can grow it back to doing cans, glass and plastic. Especially plastic because plastic is just everywhere. [Recycling is] helping the environment and those good things," McQueen said.