Spring break gives Chaudhry chance to play on top six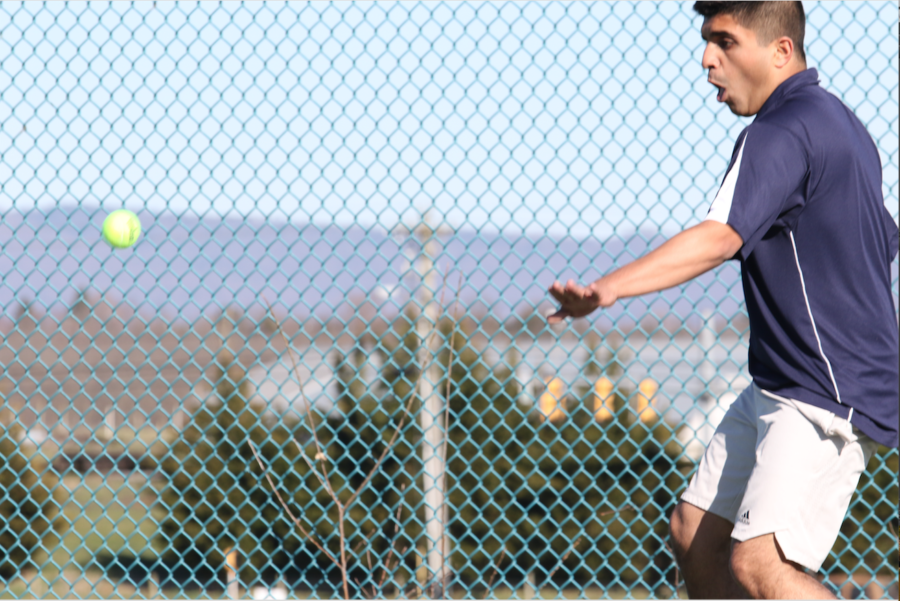 For many students, spring break is a time to spend on vacation. For high school athletes it is no different. Still, though on break from school, spring sports such as boys tennis schedule matches and practices during the week despite the inconvenience for athletes on vacation. For senior Harris Chaudhry it had a positive effect, as it meant he would be competing in matches that count for the first time in his high school career. Because of three players using their break to travel, three spots on the top six were open and he was awarded one of them.
"My reaction [to finding out I was playing], was I was very happy because I didn't think I would at the beginning of the season." Chaudhry said.
Though he did get his shot because of the missing athletes, there was work put into the offseason that gave him the needed skill sets to be elected to play.
"I worked on my serve, that was one of the most important things I did, and I worked with one of my other coaches," Chaudhry said.
Head coach Erin Nafziger noticed these improvements coming into the year.
"Harris came out this year and I saw a noticeable difference in his groundstrokes as well as his serves. His groundstrokes have so much more topspin on them, he can place them better, his serves are harder, they're faster," Nafziger said.
On top of his game improvements, it was Chaudhry's dedication that played a big role in Nafziger decision.
"Harris is just so dedicated," Nafziger said. "He is at every single practice, never misses and he works really hard every practice."
Chaudhry's opportunity was more than just an enjoyable week, it also served as a learning experience for him.
"I won one of my matches, lost the other one but I learned from it," Chaudhry said. "My second match I kind of got nervous. I learned not to do that and to play confidently, take the shots I want to take instead of taking the safer shots."
For Chaudhry the experience was enjoyable, but it is not the last chance he wants to get as he hopes to earn a spot on the top six.
"It was very fun. I loved paying in the top six and I hope over the season I can get up there but we will see," Chaudhry said.