Hotchkiss finds joy in participating in Tiny Tots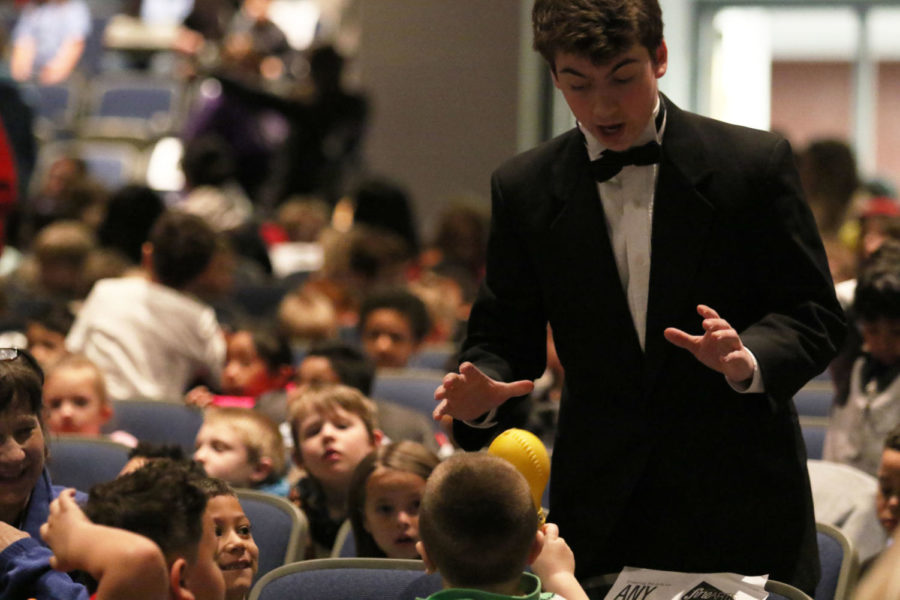 Every year, Blue Streaks band invites the surrounding elementary schools to a concert of magical characters and music. This year, junior Jack Hotchkiss got to experience the magic himself for the first time. Hotchkiss has taken part in band since he was in sixth grade and has grown accustomed to the percussion family.
"I've been in band since sixth grade, and I stayed in it because all my friends were in it and then I kept going because I enjoyed [the] music, hearing it and playing it," Hotchkiss said. "My favorite part about band is working hard with a lot of your favorite people and then when you preform and it goes well, it's just the feeling that is has all paid off [that I enjoy]."
Hotchkiss began preparing for the three different Tiny Tots concerts just the same as he would've prepared for another concert. He was given the various pieces of music, worked on memorizing them, and then played them to the best of his ability. However, despite the similar preparation, Hotchkiss was moved by this particular concert.
"This was my first Tiny Tots and I just enjoyed watching the little kids go absolutely bonkers when we [would] play their favorite movie music and then getting to show them the different instruments and talking to them about them," Hotchkiss said.
These concerts give the band an opportunity to give back to the community, and Hotchkiss realized that through participating in Tiny Tots.
"Tiny Tots made me realize the impact that the band can have on our community," Hotchkiss said. "You can see the immediate impact music that you play has on people because in normal concerts there is no head-banging or flailing, however in Tiny Tots, there is so much of that and it's really cool to see [the kids] enjoy it."