North-Sandel aims beyond simple makeup routine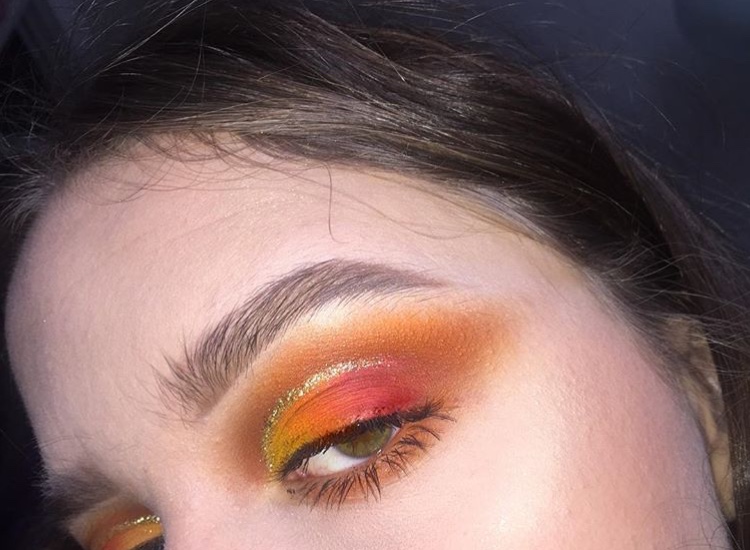 In recent years, makeup has been one of the industries with the greatest amount of growth in the United States. Younger consumers are buying more and more products while indulging in an online content based around makeup. With platforms such as YouTube, Twitter and Instagram being more accessible than ever, the coveted title of online "beauty guru" isn't such a pipe dream any more.
Junior Ruby North-Sandel is one person trying her hand at public makeup artistry. Her instagram page, @rubysmakeupp, was started in 2017 and mainly featured close up focuses of her eyeshadow. For North-Sandel, this page became a place to publish her art separate from her other accounts.
"I started the page because I wanted a record of my improvement over time and I wanted an account that was just makeup." North-Sandel said.
While her looks started out neutral, her more recent looks have followed a more colorful trend. Looks such as rainbow cut creases and colorful shimmers are part of what makes makeup interesting to new consumers, and North-Sandel is no stranger to the craze. Her three most recent looks all involve bold splashes of color that cross her eyes. One post, captioned "PRIMARY" with three colored hearts, shows a blue halo that envelops her eye, closing in on the purple, pink, and yellow she has skillfully blended onto her lid.
"I got a rainbow eyeshadow palette last summer and that was when I really started experimenting with more artistic looks." North-Sandel said.
One of the looks she takes the most pride in is something in between rainbows and her neutral beginnings. With a three color fade across her lid and gold glitter cutting her crease, North-Sandel's skill and dedication is apparent with each look. Her page is labeled as a visual art page, and her craft leaves little argument about whether that is a true statement.
While she is now a makeup artist, her introduction to makeup was more ordinary. North-Sandel's introduction to makeup was through her mother.
"My mom had a powder foundation compact that she didn't use, so she gave it to me and I used it all the time." North-Sandel said.
From there, her relationship with makeup only grew. Now holding an account with 151 followers and an average amount of likes sitting near 50 per post, it is safe to say North-Sandel has moved beyond the days of powder foundation.