Gingras loses husband to vasculitis, finds recovery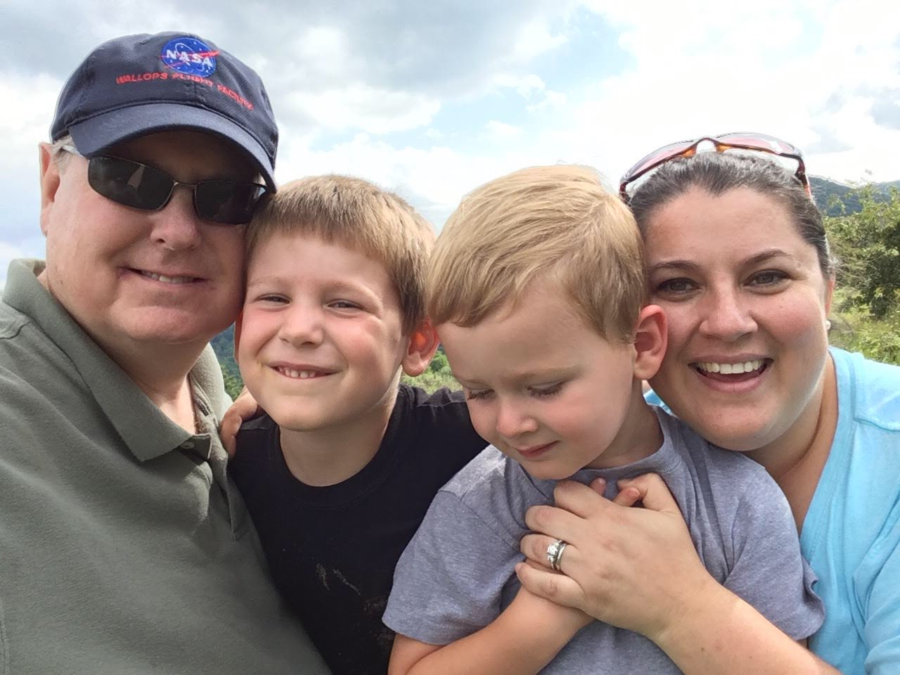 "He was gentle and quiet. He always said that he wanted to do public service of some type. He saw that as giving back to his community and just protecting everybody… He was heartbroken when he had to stop."
It was twenty years ago when English teacher Sara Gingras's husband, Dan, rushed into a factory fire to fulfill his duty as a firefighter. Without refillable oxygen on the scene, Dan was inside the building without an air tank and mask, and his lungs were exposed to harmful chemicals found in the factory. As a result, he began a long-running battle with a series of health complications that would not only cause him to retire from the fire department but also impact the rest of his life.
Even though Dan would stay at home with their now six- and four-year-old sons, Sam and Christopher, when they were toddlers, Gingras worried that he would one day be too sick to care for them or that something would happen to him while she was at school. The latter then became a reality when she received a phone call in the middle of class.
"When he first got sick, I'll never forget it, my mom called me in my classroom and said he's getting airlifted, and I was just like, when your mother [who lives in Connecticut] calls to talk to you on the phone in a classroom in Virginia, then you know that something is really wrong," Gingras said.
He had been diagnosed with interstitial lung disease, a collection of disorders that cause scarring on the lungs, making it difficult to breathe. However, it wasn't until years later when he visited the University of Virginia hospital that they realized the specific disorder had been misdiagnosed. What they thought to be sarcoidosis was actually found to be vasculitis, an autoimmune disease that involves the inflammation of the body's blood vessels.
As Dan underwent many different treatments, including chemotherapy and steroids, Gingras always tried to remain as positive about the situation as she could in hopes of helping them both push through the uncertainty they were facing.
"He was always kind of worrying a lot, obviously, because he didn't know what was going to happen with him,"Gingras said. "They couldn't quite figure out how to treat him or anything, other than what they were doing, so it was all kind of up in the air with what was going to happen. He looked at that as a death sentence, and I just tried to keep positive thinking."
However, as Gingras remained witness to all of this, she struggled with the idea that much of what was happening was out of both her and the doctors' control, due to the state of his lungs and other organs.
"[It felt] awful. It's hard to not have control, and you try to do everything you can to have control and manage different pieces of your life. [I was] trying to get to the point where I understood that I couldn't do more than I was doing to make him better. His body was doing everything it could to make him better, too, but it just couldn't," Gingras said.
After spending eleven final days in the hospital due to irreparable lung damage and the subsequent gradual shutdown of his body systems, Dan passed away on Feb. 15, 2018 amongst Gingras and her twenty-three year old stepson.
"I was numb. I don't really remember [what went through my head], quite honestly. You can prepare yourself, and you think it's going to be easier just because you know it's going to happen, …[but] I can say that his passing was as traumatic as everything that led up to it, if not more," Gingras said.
Though Gingras believes she needs to take the recovery process one day at a time, she has found that the support she has received from others is what allows her to keep pushing forward. With her stepson and various close friends and family members around the east coast, she has a reliable support system that allows her to reach out whenever she needs it and schedules time to talk to them throughout the week.
"I think that when you lose somebody, and it could be anybody that you were close to, you have to figure that out as you're going along. But I think that having loving people in your life and having a great support system has to be part of it, having people to talk to when you're feeling sad," Gingras said.
She also found that the support she received from the school community kept her in the area, despite the fact that her family and roots are primarily located in the Northeast. In addition to maintaining Gingras's school responsibilities, the English department also gathered money and provided both food and toys for her family.
As she continues to receive that support moving forward, she also plans to take certain measures, such as automotive and electrician classes, that will allow her to feel more comfortable with the idea of being independent again after becoming used to the sense of interdependence found in a relationship.
"It's different than a divorce in that you choose to be separate from someone, and I didn't choose to be separated from him. You kind of have to relearn how to be single again. When I was younger, I owned my own house and took care of everything. When you become a couple, you start giving half of the responsibilities to the other person, so for me it's like being brave enough to do everything that I used to do again, like kill big spiders and just stupid things like that that you don't think about," Gingras said.
Despite the fact that Dan is no longer with Gingras and her two sons physically, she still maintains his presence in Sam and Christopher's lives and hearts.
"I want to make sure the kids know their dad. We have pictures of him around the house, and then every night after we do stories and songs, I give them time and say, 'This is your time if you want to tell daddy anything,' and so they still have that connection with him," Gingras said.
In addition to Dan's spirit being kept alive in their hearts, he is also kept alive in Gingras' mind through the memories that she was able to make with him throughout their ten-year marriage and best-friendship.
"[I miss] just having a partner, having that support, and having [my] best friend, because you should marry your best friend. So it's like, I miss just running to walmart with him or whatever," Gingras said. "He loved the ocean and boats and things like that, so we went to Nantucket one summer. It was just nice walking along the beach and talking. That's a good memory."
As Gingras strives to keep that presence of Dan in their lives, she also recognizes that, in order for herself to always be in the present with her kids, she needs to continue staying busy and moving forward to avoid getting stuck thinking about the things that she can't change.
"I think it's just [that] you have to move forward… Nobody is going to do it for me. If I don't move forward myself with every little step, then I'm just going to stay in the past. I can't do that because my kids need me to be here," Gingras said. "I think a lot of people can get caught in the past, and I don't want that to be me."