Gabriele finds gym workouts as stress reliever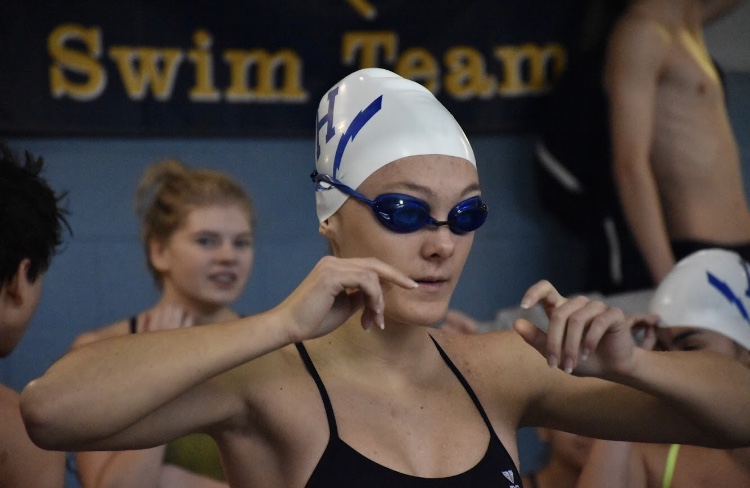 As you walk into Valley Fitness, you are surrounded by the sounds of weights clanking and workout machines buzzing. You walk past the front desk, deciding on what your workout will consist of today, and as you look over to the left side of the gym, you might see junior Grace Gabriele working out. She tries to work out five days a week, usually by herself.
For the first 15 years of Gabriele's life, swimming was the only type of exercise she had in her life, until about a year ago. Gabriele's passion for swimming decreased when she found more enjoyment going to the gym after getting a membership.
"Swimming was always kind of the outlet that I used, and it was the way that I relieved my stress and got away from all of my obligations. I really had a passion for it, but within the past year I lost my passion for swim. I took weight training as a class last year, and I absolutely loved weight training," Gabriele said. "I got a gym membership and was still swimming, and I basically I just really loved the gym, so I decided to quit swimming to focus on the gym and do some strength training. [The gym] gets me away from my everyday life and stress about school."
Although some go to the gym with specific goals to achieve, Gabriele goes simply as a stress reliever and as way to clear her head.
"[Going to the gym] is a personal thing for me; I don't have any specific fitness goals. I kind of just want to get stronger. For me, it's so much more of a mental thing than it is a physical thing. It gets me in a mindset that really allows me to go about my life more easily, and it helps me make realizations about my life that wouldn't happen otherwise," Gabriele said.
With her weeks including setting aside time for the gym most days, Gabriele also comes up with a weekly workout plan to keep her on track with her health and staying in shape.
"I love training upper body, so shoulders and biceps specifically. I have a specific workout schedule. Mondays and Thursdays I train upper body, Tuesdays and Fridays I train lower body, and then Wednesdays [are] my designated cardio [and high intensity interval training] day," Gabriele said. "My favorite part about the gym is that I can personalize my own workouts so that I can work what I want to work. Even if it's a Tuesday and I'm supposed to be working lower body, I can do whatever I want and personalize it in whatever way I want to. I can target my workouts to work specific muscle groups that I want worked on."
Along with going to the gym, a person's diet is also important for their health. Gabriele doesn't have a specific diet or way to track her nutrition, but tries to stick with a more loose plant-based diet.
"I don't track my macros or nutrition, but I do try and limit dairy and sugars as much as possible. That's not to say that I completely cut them out, because that's not true. I definitely believe in the plant-based diet and getting the majority of your nutrients from fruits and vegetables," Gabriele said. "I try and prioritize fruits and vegetables and incorporate them into my diet as much as possible, but by no means is that all I eat. I have no specific diet."
In the future, Gabriele plans on continuing to get her work outs from the gym because of its flexibility for scheduling around life.
"I think the gym's great because it is something that you can do whenever it is convenient for you, as opposed to other sports where you have specific practice times. I can go to the gym in the morning, afternoon or evening, just whenever I have time in my schedule," Gabriele said.