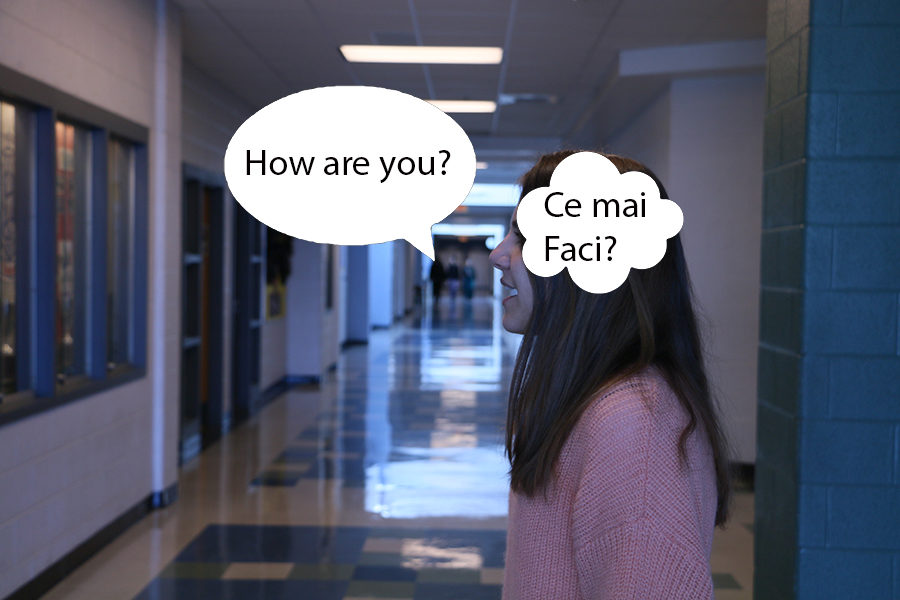 Graphic by Mia Constantin
Being bilingual isn't as glamorous as it seems
March 13, 2019
When people look at me, they see a normal white girl at Harrisonburg High School, nothing more, nothing different. I have no accent, my skin tone in the winter is barely darker than most and I look like a typical W.A.S.P. (White Anglo-Saxon Protestant). Yet I have no family that lives in the US, both of my parents have noticeable accents, I never try to tell people what I eat for dinner because it'll just confuse them and I speak a whole other language at home.
Yes, I am bilingual and a first generation American. Sure there are many benefits to being bilingual, ones that I cherish in my everyday life, but people don't talk about the downsides. At this point you're probably thinking, 'Stop complaining. You speak two languages and you don't have an accent, geez you have it easy,' but have you ever thought about what people have to go through being bilingual in America?
I am very thankful that my parents taught me another language when I was young because I get the chance to go through the world automatically bilingual, but being bilingual in America isn't always a good thing. Many people who are bilingual are discriminated against when their accents aren't even that bad. People chalk up their misunderstandings to the others accents, something that shouldn't ever happen. You misunderstanding something is not the other person's problem, ask them to repeat themselves and they will. Please, if we will hold bilingualism high in our minds, we must not discriminate against the people that are actually bilingual. Here are some benefits and consequences to being bilingual.

Benefits
Learning latin based languages is easier
I can speak both English and Romanian. Romanian is a latin language, along with Spanish, French and Italian. Whenever I take a Spanish class it is very easy for me to pick up new words or form sentences because the languages are so similar.
I'm fluent in two languages
I can speak both English and Romanian fluently, giving me an advantage when talking to other people who also speak Romanian.
I don't have an accent in either language
Many people don't realize that I speak two languages, and it's because I was taught two languages when I was a baby. I sincerely don't remember ever speaking one language. My first full word was water in Romanian, or "apa".
I learn subjects in two languages
My mom liked to teach me math at home when I was younger, and she would teach me in Romanian. I would later learn the material in school in English, basically learning something twice.
I have been exposed to two different cultures from birth
This way I was automatically exposed to a more diverse pallet of foods and a diverse community of people. This also included more trips overseas because all of my family is back in Romania.
I get to communicate with a whole other diverse community
This is a chance that few people get, the chance to communicate with two different communities. I get to learn about both communities, things that I wouldn't have learned from just one over the other.

Leave a Comment
Consequences
I mix up words when learning another language
When learning Spanish or Italian, the accents on different letters, spelling of words and the pronunciations of words are very similar. Similar enough that I sometimes say things in Spanish like I would in Romanian or vice versa.
Nobody speaks Romanian other than Romanians
Romania is a relatively big country in Eastern Europe, (when compared with its neighbors), but it is still smaller than Texas, leading to a smaller population speaking one specific language.
When people find out I speak another language…
Usually when someone finds out that I speak Romanian the first question might be one of two
Are you Roman?

Where is that?
I can't even fathom why people think that an ancient society has come back to life. Rome is a city in Italy, Romans are people who live in Rome, but the term isn't used much anymore. Romanian is the language spoken by Romanians, not Romans.
I don't know a lot of idioms
You may think that this isn't such a big disadvantage, but many times idioms go right over my head, causing me to not understand what the person means.
I've only met my whole entire family once
I don't know many of my cousins. I barely know my first cousins, and I only had a close relationship with one set of grandparents. This is all because all of my family lives overseas. In order to see them I would have to take a nine hour plane ride and drive another hour. That is a trip I take every other year.
My parents get discriminated against because of their accent
My parents' accents are ridiculed by people close to me. I see this happening with many others as well. As soon as someone is told that a person they'll be communicating with frequently has an accents, they ask, "Can I understand them?" English is a hard language to learn, just for someone to put through the effort to learn this language shows their dedication to communication. Instead of making the other person learn to communicate with you, you could always try to learn the other person's language to help the transition process.

Leave a Comment