DECA attends States, sends four students to Internationals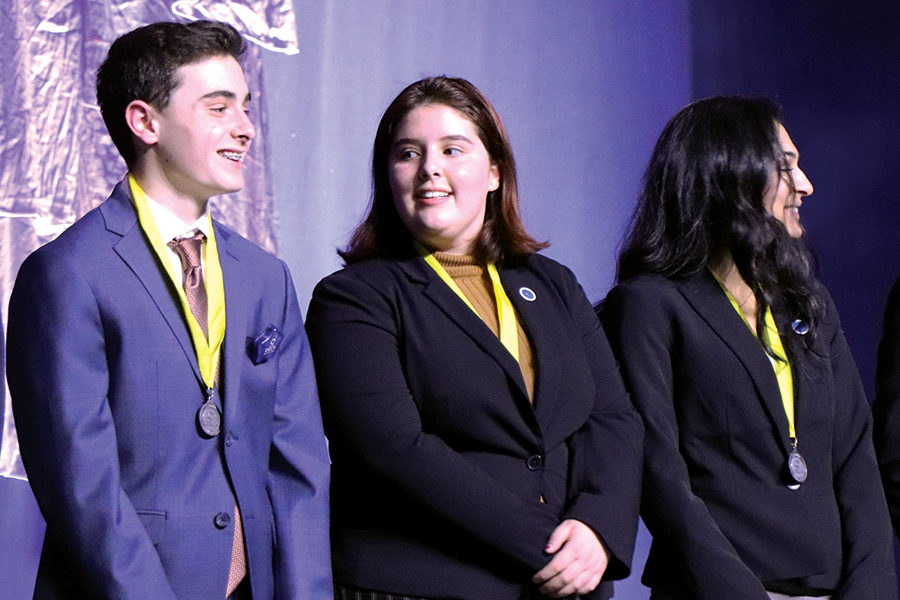 For the second consecutive year, the HHS DECA chapter will send four participants past the state level of competition. At the Virginia State Leadership Conference in Virginia Beach, 20 members competed in various categories for the honor of moving on to the DECA International Career Development Conference (ICDC).
Third-year advisor Cassandra Cason-Copeland was pleased with the growth of the club this year, as it picked up a few members from 2018 and saw an uptick in district and state participation.
"I think word of mouth was the best [recruiting] approach this year. There were a lot of previous members from last year that brought in new members and encouraged their friends to join. This year, we have probably the most diverse group of students that we've had in years," Cason-Copeland said.
One of those first-year members is junior Ann Diaz-Exposito, who ended up finishing fourth place in Principles of Hospitality and Tourism, qualifying her for ICDC. She received two medals during the Saturday awards session: one for her competition cluster test score, and one for her role play score, and then officially qualified for ICDC at the Sunday awards session.
Diaz-Exposito joined DECA after she found an interest in business-related fields last year.
"I thought it was something I'd be interested in. I took AP Macroeconomics last year and it made me realize I liked business-y type of stuff, so I decided to try it out," Diaz-Exposito said.
After two years of advising the DECA chapter, Cason-Copeland has seen the state competition evolve and knows that she has to keep the chapter evolving with it.
"I think it's getting more and more competitive each year. So I think the standards have risen as far as what the expectations are for the students, so that's one thing I've learned," Cason-Copeland said.
Despite the increased competition and being in an event with 54 competitors, Diaz-Exposito was able to use preparation from her participation at districts and in the months previous to build a strategy for the state level.
"[To succeed], you need to have confidence, make sure you have a general idea about your topic and make sure you're talking well. Be articulate," Diaz-Exposito said.
As opposed to Diaz-Exposito, senior Shko Rashid, a third-year DECA member, took a more lackadaisical approach to the competition. Rashid, who competed in Start-Up Business Plan, did much of his work right up against the written event deadline, which was about a month before the state conference.
"So, I was up all night. I was procrastinating so I had a lot of homework and I was pretty tired. It was well into the night. This was a few days before you could turn in the [written part] of the presentation. The best idea I could come up with in that bad state I was in was a burger joint. I called it The Burger Joint," Rashid said.
For Rashid's project as a hopeful entrepreneur, one of his key objectives was to request a loan from the judge, who was acting as a banker. He used some outside inspiration for his loan request, but acknowledged that his final decision may not have been the best.
"I watched a bit of Shark Tank and [$500,000] sounded right. I added 20% interest but apparently that's not a good idea," Rashid said.
As Diaz-Exposito and Rashid competed in very different events, Cason-Copeland recognized that preparation is different for role plays and written events, and that each had to be taken accordingly.
"For our role plays, we have some samples that students could use, and I think it was really helpful for those who participated in districts back in November. I think that really helped them prepare, and it was good practice for them. For written events, I think it's helpful for them to review past winners' written events and see what contributed to their success, and get an eye for what the judge may be looking for in terms of presentation," Cason-Copeland said.
As Cason-Copeland continues to learn more information about leading a DECA chapter, she has gained new hopes for the future and where the school's organization can go.
"I would probably say [we're going to] try to get more well-rounded, and [widen the range] of the type of students that we attract," Cason-Copeland said. "Not just students that might be interested in business but ones that might be interested in finance and hospitality, letting students see there are different avenues to travel when it comes to DECA."
As a method of recruiting, Cason-Copeland hopes to show students that joining DECA can have many positive effects on their learning and on their career path. Her motivation to lead the chapter every year comes from her goal to make students aware of this.
"The benefit of the students [is my motivation]; how they really get to put their life experience to work for them as far as the business level is concerned, and see them be successful," Cason-Copeland said. "Throughout the years, [my motivation] has really helped me look forward to each year and prepare the students because I think it gets better each year."
In addition to Diaz-Exposito, the senior trio of Owen Marshall, Noah Siderhurst and Owen Stewart qualified for ICDC with a fifth place finish in the Independent Business Plan category after presenting their virtual psychology platform.
ICDC will be held in Orlando from Apr. 27-30, and will be attended by over 23,000 students from all 50 states, Canada, China, Germany, Mexico, Guam, Puerto Rico and Spain.