Pendleton returns to teaching, keeping roots in dog training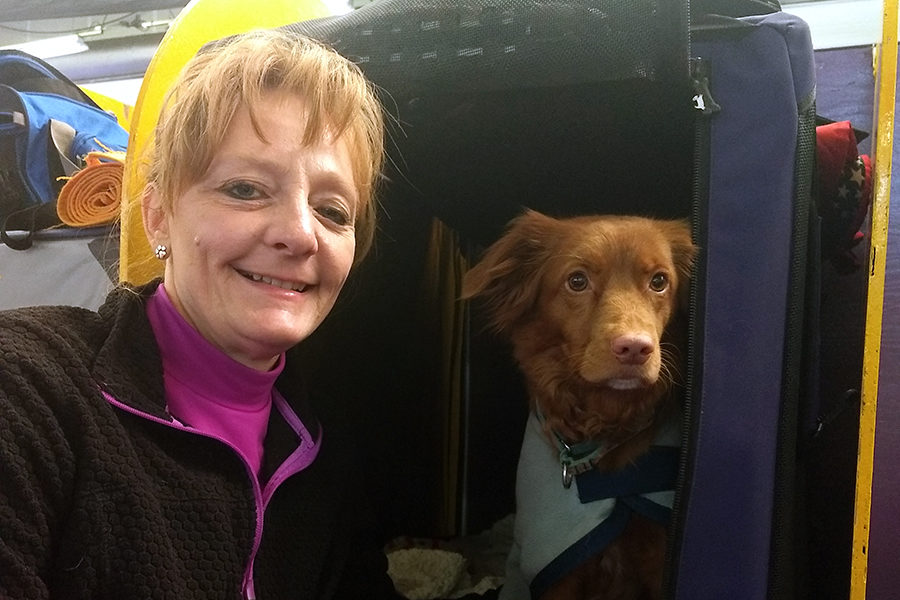 When the second semester began in January, there was a new face in the Summit Academy science department. Wendy Pendleton began her work at HHS after having not taught since 2010. During those years, Pendleton was a full-time dog trainer who also showed dogs at events.
Pendleton was inspired to come back to school in hopes of helping the Summit Academy grow, as well as the hope of combining her old job with her new one.
"I decided to come back into teaching because I thought the Summit program sounded interesting, and it was something that I wanted to be part of helping to develop. Hopefully [I'll be] incorporating dogs into the program at some point," Pendleton said.
While Pendleton has decided to return after nine years out of the teaching workforce, her original decision to leave education and enter the dog training field was made for a couple of reasons: one was for personal enjoyment, and one was simply for necessity.
"I wanted to start my own business and do dog training, and also at the same time my mom was having some health issues, so it was a good time to be a little bit more flexible like that," Pendleton said. "That made it make sense and made it worth it at the time."
During her time as a dog trainer, Pendleton traveled around the country and to Europe in order to compete in dog shows, including the Westminster Kennel Club Dog Show. The Westminster Show has been held in New York City since 1877 and crowns one dog 'Best In Show' once a year.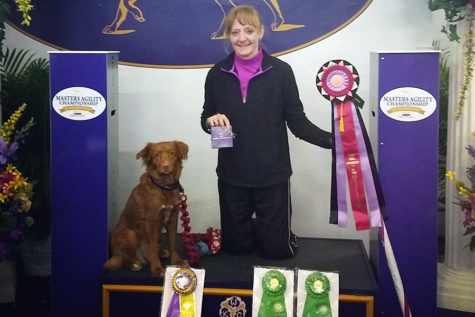 This year, Pendleton brought a Nova Scotia Duck Tolling Retriever to show. The Nova Scotia Retriever is commonly known as the smallest breed encompassed in the group of retrievers, standing between 18 and 20 inches tall and weighing between 35 and 50 pounds. While Westminster is most commonly known for its nationally televised breed ring, Pendleton competes in the agility portion of the show.
"[When] people think of Westminster, they think of the breed ring, which is different. Agility is basically an obstacle course that you run with your dog. You run alongside [the dog], and you indicate obstacles as they come," Pendleton said.
The agility competition differs from the rest of the Best in Show competition due to the fact that every show has its own unique course, meaning the dogs have to learn something new each time.
"Every course is different. There's certain patterns that may be the same, but everything is unique to that course," Pendleton said. "They have to learn how to jump, how to go through tunnels. They climb over obstacles; they have to hit the bottoms of those contacts, which they call contact zones, for safety. They also have to do weave poles, which is probably the most foreign to dogs because they have to wiggle in and out of poles. That's the hardest for them to learn."
While working as a dog trainer, Pendleton encountered many dog owners who didn't believe they had the ability to train their dog, and being able to dispel that notion brought her satisfaction from her work.
"I've had people come in and say their dogs were untrainable or didn't know anything. Being able to work with them and showing that they were quite easily trained [was exciting]. It was just asking [the dog] in the right way and having that light bulb go off on both dog and owner," Pendleton said.
Even as she has moved away from working with dogs full-time, Pendleton still maintains a connection with the animals during her free time from teaching.
"I still compete. I've been to several competitions [recently], and I still have private lessons," Pendleton said. "I just had to rework my schedule a little bit, but I don't do it as much in terms of the training. I still teach classes locally Monday nights, Thursday nights and Friday nights at different locations."
Pendleton believes that working with dogs and attempting to train them can help students understand how to cope with failure and frustration, and hopes to begin integrating her dog training expertise into her work in the Summit Academy.
"I would love to have the kids learn how to actually do some dog training," Pendleton said. "I think it would help them learn a sense of accomplishment and teach them life skills like patience, empathy and dealing with frustration, because dogs don't always do it the way you want them to. We have to rethink about it and not just give up and say you don't know how to do it. I think those things would be beneficial to any teenager."