Corriston choreographs 'Legally Blonde'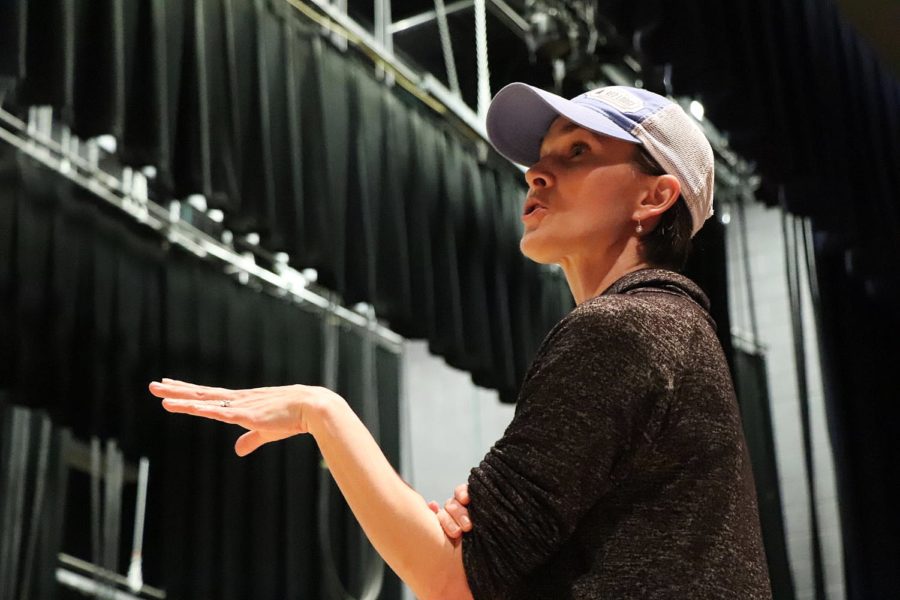 Behind the midst of glamourous sets and the forty-something students moving their bodies on stage, dance teacher Amber Corriston guides the musical cast through the sensational movements involved with dancing. Corriston was the main choreographer for the school's musical production for "Legally Blonde", a story about Elle Wood, a sorority girl who enrolls in Harvard law school to win her college sweetheart back.
"As a choreographer of the musical, [my role] means that I'm furthering the plot and helping the audience understand what our characters are saying [through movements] and who they're becoming throughout the show," Corriston said."The choreography has to make sense for the characters with the movements that they do because this is what carries the show forward."
A usual day of rehearsal begins with a vocal or dance warm-up, whether with the entire cast or individually. The rest of the rehearsal is a broken down schedule that focuses on a specific aspect depending on what the cast wants to work on. In particular, Corriston finds working on ensemble-related aspects to be a first priority.
"Legally Blonde" has proven to be a challenge for Corriston because of the heavy ensemble choreography involved with it. The most difficult aspect is getting the cast to move as a singular entity with perfect, consistent timing.
"Anytime you have forty-something people on stage it's like a math problem. You have to figure out where everyone's going, so everyone's not crashing, so it's like math and dancing put together to figure out everyone's pathway," Corriston said.
One of her biggest hopes is that students will leave the musical feeling comfortable dancing on stage in hopes that it blossoms into them learning and improving their dancing skills.
"Definitely from my end, I try to vary choreography a little bit so it's stuff that [the students] will feel comfortable doing. I want every student to feel really comfortable when their on stage, but I also want kids to learn and get better at something," Corriston said. "It's a lot within the ensemble that they do just because they're motivated and they want to get better."
Along with keeping the choreography consistent, Corriston has delved into placing a meaning into her choreography that pertains to the musical's story.
"Choreography no matter what means putting together movement in a sequence. Choreography in a musical, it has to pertain to the plot, so for me as a choreographer, I have to listen to the show over and over. I have to understand the characters [and] I have to understand why that song is there and what the characters are supposed to do during that song to make the plot make more sense for the audience."
Despite being a major figure in how the musical pans out, Corriston believes the it's up to the students to embody their characters and figure out how their characters are like.
"There's only so much I can do. I can give the choreography to the students, but they have to own it. I can't do that part for students, I can just give the opportunity."
Like with every musical, Corriston is always engaged in working and improving with the cast members because of the family-like environment they share amongst each other.
"Just by giving them something new or giving them new opportunities to try new things, we all grow in that even if it's something we feel uncomfortable with, I think that's always a goal in the shows is pushing the kids to their next level" Corriston said. "The students step themselves up and help each other or watch other. It's a lot within the ensemble that they do just because their motivated [and] because they're with their friends and they want to get better. That's what really neat about the musical is [we] become this family."