National Championships… more like Nathanial Chenmpionships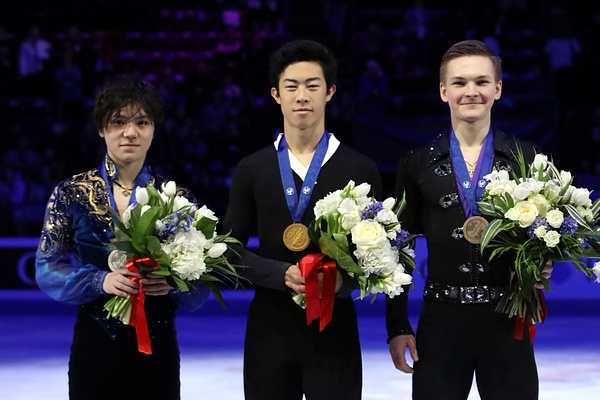 It's a wonder anybody even competes against Nathan Chen, a three time National Figure Skating Champion. Winning his third championship by an astonishing 58 points, Nathan Chen has broken every world record there is for figure skating.
Unfortunately, none of those records counted because of the lack of international-ness of the competition.
After leading the short program by thirteen points and laying down a nearly perfect program, Nathan Chen now holds the first spot for Worlds in mid-March.
With a whopping 113.42 points from the short program, 228.80 from the long program, and a total score of 342.22, it is pretty obvious what the scoreboard looks like.
Nathan: 342.22, Everyone Else: 0
Terrific Teammates
In spite of their loss against Chen, his teammates and competitors, Vincent Zhou, Jason Brown and Tomoki Hiwatashi, are nothing other than supportive, being proud of Chen for his achievements, as well as being excited to work with Chen in the future.
"It's incredible [what Nathan did]. I feel so lucky that Nathan is a teammate. I admire him and it's unbelievable, and he's pushing the sport in ways that I could've only dreamed. He definitely pushes me to push every other boundary and asset that I can bring," Brown said at the Champions Press Conference on Sunday.
"I'm happy with the results, but there is still so much more room for improvement, so that gives me hope for the future. To do what I did this week and still have massive potential for growth is really good. I know I can do even better; I have so much more room," Zhou said in the same press conference.
Chen is also proud of his and his teammates achievements at the 2019 National Championships since starting at Yale University in the fall of 2018 and taking on a whole new level of competition.
"Nationals is no joke. I'm sitting here with two of the best skaters in the US and the world. I'm extremely happy about how much work I've put in, and I'm extremely honored that I'm sitting here with these two," Chen said in reference to Brown and Zhou at the press conference.
In two months, Chen is headed off to the World Championships in Japan with his teammates Zhou and Brown.
Coincidently lining up with his spring break at Yale University, Worlds will send Chen on a plane to compete against the finest in the world as he tries to defend his title from last year.
I find myself wishing for nothing more than to be on that plane to watch him most likely wipe the competition away.
Knock on wood.
Competing against the Carpet
And somehow, even with a world breaking score of 342.22, the only thing that Nathan couldn't compete against was the awards carpet.
Carpet: 1, Nathan: 342.22
Though he is the latest person to have fallen for the carpet's tricks, he is certainly not the first. Champions such as Yuzuru Hanyu and Kaetlyn Osmond have tripped while going to receive their awards.
And somehow, even now, figure skating executives don't seem to think the carpet on ice is a bad idea.
In the end, though, it gave no harm and instead gave laughs to the figure skating community, entertaining us that a world and national champion can be so clumsy.
First in the Future?
With first in his future, statistics are one of the only things we can turn to to predict his path.
He is only nineteen.
He is the front runner for Worlds 2019.
He is a three year national champion.
He has the widest and best range of skills in the world.
He has the hypothetical best world record.
And there are only three years before the next olympics.
All we can do is look to the future and wish him luck, health and prayers for his future endeavors in school, figure skating, and life. In the meantime, I'll be sitting and waiting idly by at my tv and score report on my phone, anxiously waiting to hear his name and his score.
Now's your chance, Nathan. Don't screw it up.