Burgess reflects on end of season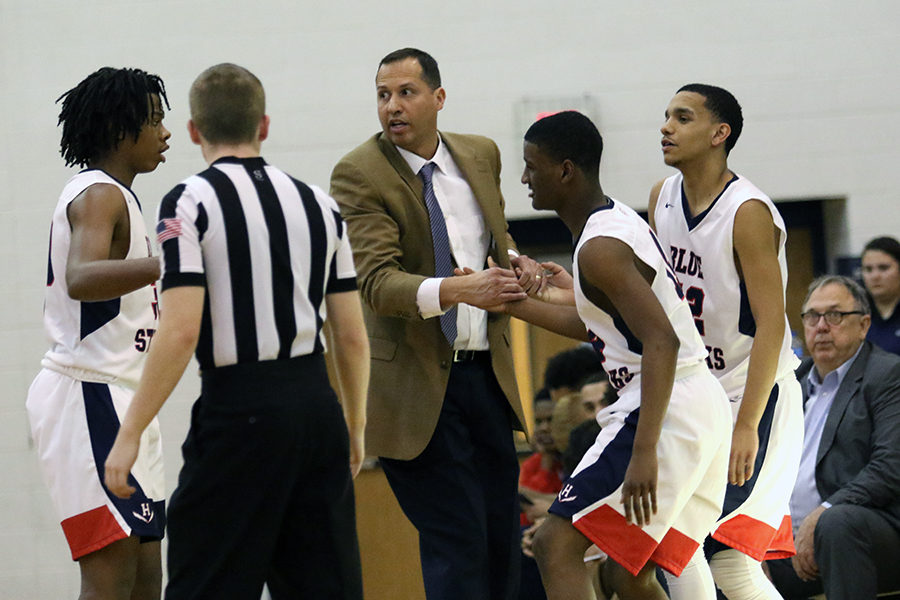 The boys basketball team's season has come to an end, leaving their record 13-7. It always come to a bittersweet moment when the season ends until playoffs come. This year's boys basketball team included only five guys returning players, the rest new. Don Burgess, head coach for boys varsity basketball, is very pleased with the growth and work that the team has showed this season.
"[The season ending] is always bittersweet because you know we have such a fine group of young men that handle themselves very well on and off the court. As a coach and as a parent, I really like to see the strides that these youngsters make from the beginning of the year till the end. So you know, you never want it to come to an end, but unfortunately it eventually does. I'm very pleased with the progress that we made, our record that we have. The guys have been working hard and the growth that we've had with our kids [is impressive]. Some have come along fast[er] than others, and the other ones have a high glass ceiling that they need to reach, and they can with their potential developing work ethic," Burgess said.
With the season ending, the team's goals set at the beginning have been accomplished Burgess is a firm believer for team bonding and encourages it a lot for the boys to get closer.
"As a coach, my main thing is trying to get them to bond as a team, play for one another and play team basketball as opposed to streaks ball and individual basketball. But also as a coach, I try to put the kids in [a] position to be successful. So I'm not big on doing drills that are meaningless drills, so I try to do competitive drills. We have competitive practices, and then also I'm really big on skill development because it doesn't matter what the coach diagrams in the play, it doesn't matter what offense and defense they put in. It comes down to the player being skilled and having confidence to produce, when it comes to game time… Players can do all the drills in practice and look like an All-American, however when it comes to gametime, they need to apply those drills and apply the lessons learned in practice to the games to be successful," Burgess said.
Sophomore Jaziel Mensah played his first year on varsity this year. His experience this year was fun for him, but he thought in some cases that the team shouldn't have lost a few games.
"[The challenges we faced], as a team I think…some of the losses were pretty hard on us and individually there were a lot of challenges because I got injured before. That kind of messed me up mentally," Mensah said. "[My goal was] to start but that didn't happen. I wanted to become better, get my handles better and I feel like I did that with coach Burgess."