Everything you need to know going into the Super Bowl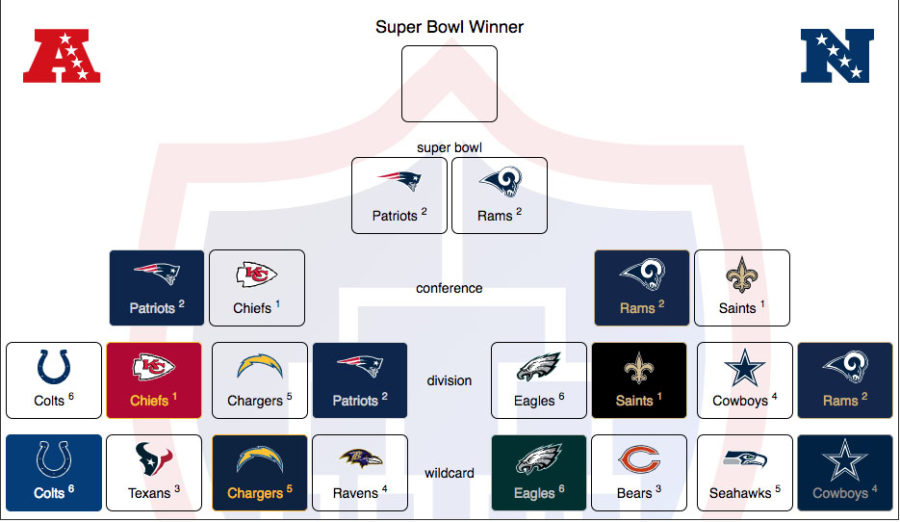 Super Bowl LIII (53) is a game of opposites. The upstart Los Angeles Rams are led by a young quarterback in Jared Goff, and a 33-year old head coach, Sean McVay. They are making their first appearance in a Super Bowl since 2002, and are just two years removed from finishing 4-12. They will be facing off against a Super Bowl mainstay, the New England Patriots, who are led by the seemingly ageless Tom Brady. Brady has a record on the line, as a win would be his sixth Super Bowl title, making him the first player to ever accomplish the feat. The Patriots have won the AFC East in every season since 2009 and are in their third consecutive Super Bowl.
With these two teams at opposite ends of the spectrum heading into the big game, here's everything you need to know about the factors that could decide this contest.
Can the Patriots neutralize the Rams' pass rush?
All season long, the Los Angeles defensive line has been wreaking havoc. Aaron Donald is the best defensive lineman in football, and Ndamukong Suh has enjoyed a nice bounceback season after some disappointing time with the Dolphins. Donald amassed a league leading 20.5 sacks on the year and is bound to create some trouble in the backfield for New England, but the Patriots have been exquisite when it comes to protecting Brady so far in the postseason. He's been getting the ball out of his hands with incredible efficiency and hasn't yet taken a sack in the playoffs. If Donald, Suh and Co. are able to rush Brady, it will affect all aspects of the prolific New England offense, and a strong performance from the Pats O-Line could be the difference between a win and a loss.
Will CJ Anderson continue his late season magic?
Veteran running back CJ Anderson bounced around the league this season, as he was cut by the Raiders and Panthers before hooking on with the Rams before Week 16. He immediately had a positive effect on the attack of the Rams, rushing for over 100 yards in Week 16, Week 17 and the Wild Card game. He struggled, however, in the NFC championship game against the Saints, amassing just 44 yards on 16 carries. Anderson could be an X-factor in the Super Bowl. If he's able to return to his form of the last three weeks, it will not only tire out the Patriots interior defense, but also create opportunities for fellow running back Todd Gurley and open up play action down the field.
Do the Rams have an answer for Julian Edelman?
Say all you want about Rob Gronkowski and his abilities, but Julian Edelman is the spark of the offense when it comes to receivers. Who did Brady make two clutch first down tosses to against the Chiefs? Edelman. Who made the incredible catch against Atlanta to keep the Pats Super Bowl LI comeback alive? Edelman. Who has…well, you get the point. When Brady needs a big completion, he looks for his 5'10" slot receiver, and Edelman always seems to be open. In other words, he's tough to stop, but the Rams secondary isn't too shabby either. Safeties Lamarcus Joyner and John Johnson will be all over Edelman down the field, and either Marcus Peters or Aqib Talib will attempt to shut him down on the line of scrimmage. It's hard to imagine a Patriots Super Bowl without at least one big play from Edelman, and the Rams have a tall task at hand in stopping him.
Will the Rams special teamers recover from their injuries in time?
When teams release their first injury report of Super Bowl week, it's common to look for any skill players that may be out, but two Rams players, punter Johnny Hekker and kicker Greg Zuerlein, caught my eye as players who LA might really need if they want to come out on top. Both are currently listed as probable, meaning it's likely they will play, but whether or not the Rams' kicker or punter will be 100% is yet to be seen. Zuerlein, who made the 57-yard game winner in overtime against the Saints, is nursing a foot injury, and Hekker, who has been one of the league's biggest legs over the past few years, is battling an illness. Special teams is one of the most important aspects of a Super Bowl-hopeful team, especially when you're up against Tom Brady and every yard of field position can mean something. If one or both of these two is struggling on Sunday, the Rams could be in for a tough day.
Final Prediction:
I went back and forth on this one for a while. As much as I wanted to pick the underdog Rams, it's nearly impossible to bet against Tom Brady. He's already got five, and now he has the motivation to go hard for number six. Denying him that trophy will be nearly impossible. That being said, I can see this game staying close, and surprisingly low-scoring. I think both teams will have problems breaking each other down early on, but the game will open up a little bit in the second half, with the Patriots coming out on top. PATRIOTS 27-23