Lohnes recalls bizarre experiences working at Walmart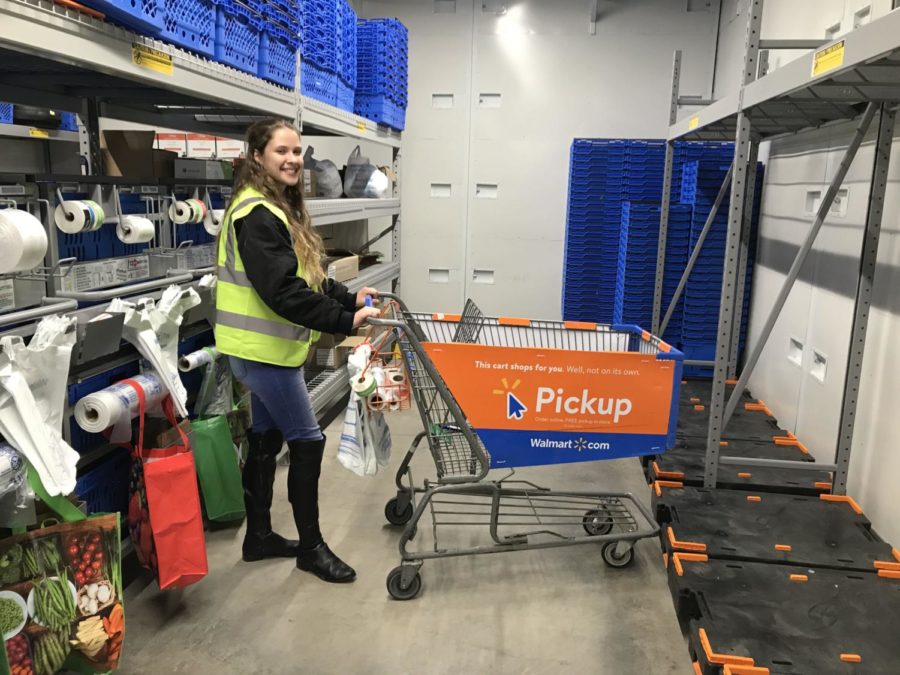 Notorious for being an unpredictable environment, Walmart has offered sophomore Tessa Lohnes a closer look of working in a real-life workplace. The idea of working at Walmart grabbed her attention by its proximity to her home and the amount of money earned. Her job at Walmart is with the online grocery pickup department, where she prepares and dispenses orders. The benefits that she has received manages to get her through working at Walmart.
"I get lots of Walmart propaganda [clothing] such as hats. My coworkers always bring in food. I [also] have many opportunities to get insurance if I wanted too," Lohnes said.
She often finds herself building up all of her school work mixed with job duties and working through all of them at once. Her manager has helped provide solutions in order to balance band practice and working hours. A hectic holiday shopping season at Walmart has become manageable for Lohnes as there have been a lack of negative customer experiences.
Among various other experiences, the outbreaks of E. coli linked to Romaine Lettuce brought a rather bizarre situation for Lohnes. She recalls an incident involving an elderly customer driving towards the back room on a motor cart yelling for assistance. Her complaint was about the lack of romaine lettuce.
"I hear her yelling, 'Hello, is anyone back here?' and I'm like, 'Hi ma'am how can I help you today? Then she proceeds with, 'You don't have any damn lettuce,' and I replied, "I'm sorry we don't have any because the romaine lettuce had E.Coli and we stopped selling it so that nobody would die,'" Lohnes recalled.
She offered a head of lettuce in hopes of calming her down, but the customer evidently continued to argue anyways.
Eventually, she proceeded with her work duties. She has continued to witness many other unpredictable activities first-hand, such as a man exposing a bit too much of his beer belly and Santa Claus arriving to pick up an order. Overall, the environment throughout Walmart has granted her new freedoms in how she works as an individual while developing new relationships and has shown her the prospects of working for the first time.
"If you want to be really introverted and not talk to anyone then you can do that. But if you are more of an extroverted person and you want to make friends then you can also do that. It's really just how make of it. "