Swim team breaks two school records in Ben Hair swim meet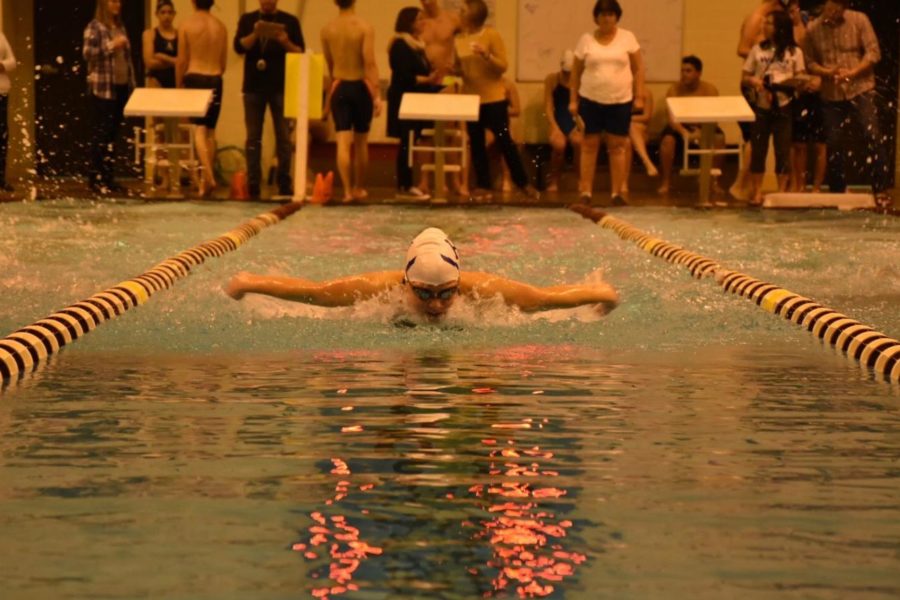 On Tuesday Jan. 9, the boy's and girl's swim teams travelled to Charlottesville for the Ben Hair Memorial Swim Meet at UVA's Aquatic and Fitness center. With 16 other schools present, the boys placed 9th and girls placed 6th. Many personal records were broken, two school records were broken and a state qualifying time was met.
One high point of the meet was freshman Maddie McCay's 100 meter butterfly. The 5A states cut for girls in the 100 fly is 59.39 and McCay came out with the first place spot, the school record and a state qualifying PR of 58.01.
"This highschool season, I'm thriving. I made a states cut at this meet, yay. I'm really tired though, and there's this rule I didn't know of for the medley relay. In the free leg, you can't push off on your back and start kicking, and I had no idea, so I disqualified my team and lost points," McCay said.
The school records were set in two events, the girls 100 fly and the girls 100 back. The 100 fly was set by McCay's 58.01. Junior Olivia Arndt took the 100 back record with a 1:06.79.
Junior Jacob Seefried recently transitioned from track to swimming and felt improvement in this meet from previous meets. Seefried dropped from a 28.11 to a 26.43 in his 50 free from his Saturday swim in the Bruins invite to the Ben Hair meet on Tuesday.
"It felt alright. I felt good because I broke my PRs but I also feel like I could have done better in certain areas; there's always room for improvement. The [swim] practices are harder [than track] for me personally, but the fitness has carried over from track to swimming," Seefried said.
All in all, the Ben Hair Memorial Swim Meet was considered a success by many swimmers. As the season continues, they hope to continue on this path and keep improving.