King discovers new talent in indoor track, follows in siblings' footsteps
Advertisement
Hang on for a minute...we're trying to find some more stories you might like.
From the moment she was able to kick a ball, freshman Olivia King has played soccer. Like many athletes, King started out with one sport and branched out to others. This year, she decided to expand her horizons of high school athletics and take on indoor track.
Coach Matthew Denlinger sees promise in King's running career.
"I am excited about Olivia because she is a legacy member of the track team. Her siblings both ran, and her dad used to be the head track coach here in the early 2000s, so she definitely has a lot of potential because of the HHS track members in her family," Denlinger said.
King participates in high jump, two relay teams, the 55 meter dash, the 300 meter dash and long jump. Denlinger believes that King's athleticism will help her succeed in a variety of events.
"She has the ability to really do any event in track. I want to try her in everything, but in the end see what she is the best at, whether it is the sprints, jumps, pole vault," Denlinger said. "She is one of the best athletes, so I have to put her in what she excels in."
King's older brother and track veteran, Isaiah King, who now attends VCU, was part of the reason she decided to try out the sport. She believes that she is motivated to get better herself, but that Isaiah also gives her competition within the family.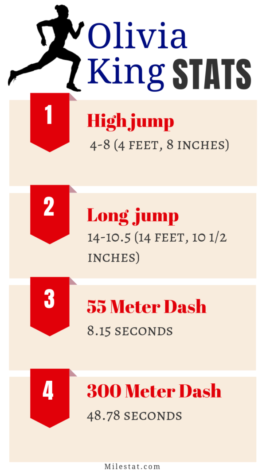 "He has definitely been the reason for my motivation, but I [also] feel like I will be in better shape when the soccer season comes around. I am also not doing anything currently, so it'll fill in for the fact that I am not doing anything for a long period of time," King said.
King appreciates how indoor track doesn't require incredible athleticism to join.
"I really love the environment of all the people who make things better and fun," King said. "You don't have to be amazing to be on the track team. You just come out, run and improve."
Freshman Abby Fornadel also started the indoor track team with her best friend, King, by her side. Fornadel has been playing soccer with King since the age of nine and now takes on track this season.
"It is really cool because we both face different challenges. We are both sprinters and enjoy running in soccer which is cool to see how track transfers to both sports," Fornadel said.
Similar to Denlinger, Fornadel sees what King is bringing to the table in this new sport.
"I think she is doing great. Her times are really good for being a first year indoor track runner," Fornadel said. "Isaiah [King] and Mariah [King] both did track and were successful. I believe Olivia will be the same way."