Top five social media platforms; VSCO at #1
Social media is something that is constantly evolving in today's world. New social media platforms are on the rise every day, all of which target certain audiences. Although I am trying to stay off of social media as much as I can, here are the top five social media platforms ranked.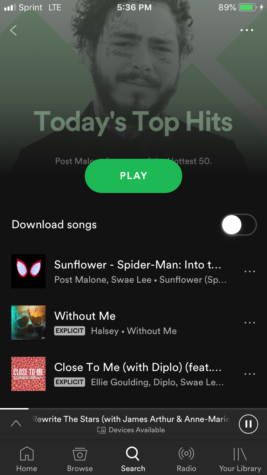 5- Spotify
Spotify helps with everything. I'm so grateful for its existence, because without it, car rides would be boring, breakups would be harder and it would be more difficult to expand your tastes in music. Spotify is really nice because it is a free app, but you have to pay for a premium account. Without a premium account, you can't pick which song you want to play, and there will be advertisements between songs. It is really annoying, but that can be easily solved by paying $10 a month, which definitely isn't ideal. Although that aspect of it sucks, my favorite thing about Spotify is how you can make a collaborative playlist which is awesome to do with your best friend.
Instagram can be found as funny, beautiful, and trending. Once you receive a follower request, you can figure out a lot by seeing what the person has posted and what they've captioned. I do like that if you don't constantly delete your posts, you can see how a person has changed through time. The explore section of the app includes videos and posts about a variety of things such as beauty tips, memes (which are my absolute favorite) and challenges celebrities invent. I've noticed how Instagram has become an advertisement center, but it's also a place for people to just post random posts. One of the main flaws I've noticed about this app is that it does a good job with getting users to be worried about the number of followers, likes or comments they get on a post, which I don't believe is a good idea.
Snapchat is probably the most used social media platform by millennials. Snapchat doesn't have like buttons or somewhere to publicly comment like other platforms do. Snapchat has also caused a turn in how people "read" within just one click. While Snapchat can send mixed signals about what other people think of you due to its screenshots, replays and always-on read receipts, it is still an app worth having. Snapchat is fun because you can post on your story and stays on there for 24 hours and then erases, so it it's like posting what happens throughout your day. There is also a feature that makes Snapchat unique which are "streaks". The goal of a streak is to snap the same person back and forth for many consecutive days to get your number higher. Another thing I really like about Snapchat is how I can get news and celebrity information quickly off of their explore page.
2- Pinterest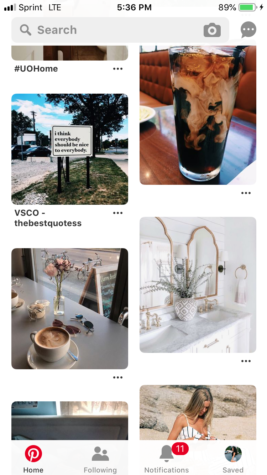 Pinterest is probably the most addicting thing that I do on my phone. I could literally spend more than an hour scrolling through food I want to eat, outfits I wish I owned, and places I will someday travel to. Pinterest is an app where you have your own page with a profile picture, bio and boards of all your pins. Your boards are where you sort the things you are pinning. For example, my boards are: Food, Wardrobe, Shoes, Travel, Quotes etc. It is so fun because I can find recipes of smoothies I want to make, things that can go onto my bucket list and quotes that keep me motivated.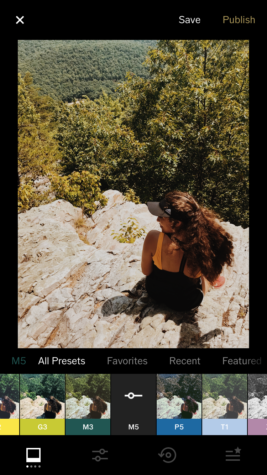 1- VSCO
VSCO first was released in 2011, but seems to have become even more famous in the past year. VSCO stands for Visual Supply Co. and it's an app where you can filter your pictures, "retweet" other's posts, find a lot of relatable posts or moods and find out a lot about a person. It can be found mostly in the bios of people on Instagram. What is so great about VSCO? It comes with 10 free filters and is different from other apps such as Instagram and Snapchat. There are no "like" buttons or a number of followers on a person's bio. The only things you can do is filter, post, favorite an image, and share. There is no competition or shame in not getting enough likes, which is why this has become my favorite app.
View Comments (1)