JV girls drop game at Waynesboro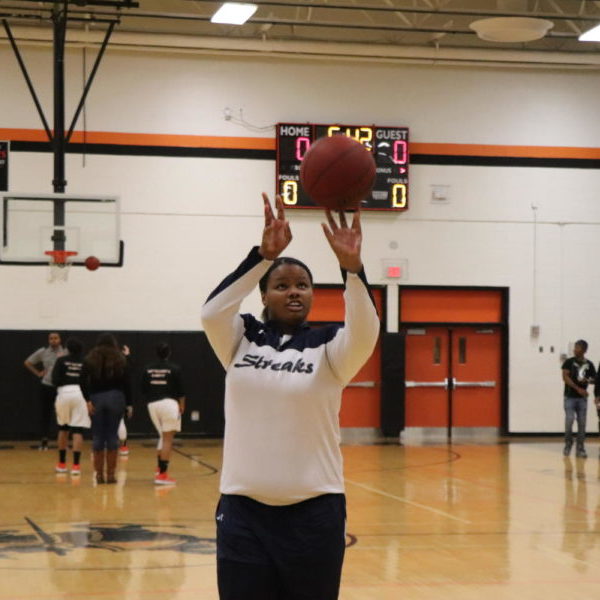 Hang on for a minute...we're trying to find some more stories you might like.
Walking into the gym of Waynesboro High School on Friday January 4, the JV girls basketball team consisted of seven players. Having been down three players for various reasons, the team traveled to Waynesboro to play it's first game since dropping a home game versus Fort Defiance two weeks ago. Though Harrisonburg battled throughout the game, the girls ended up losing 37-24.
The streaks stuck with the Little Giants throughout the first quarter keeping the game within two points heading into the second. However an early run for Harrisonburg kept up their first half momentum with sophomore Nisha Farmer leading the way for the team with five first half points. Along with a deep three from freshman Jeslyn Liu, and a offensive rebound and put-back from sophomore Esther Manson, the Streaks scored nine points in the second quarter which led them into the locker room up 16-15. Freshman point guard Jeslyn Liu acknowledged that the team's attitude and energy throughout the game played a major factor in the outcome of the game.
"We came out really strong in the first quarter and we got the job done as far as points, steals, and even rebounds which gave us a lot of energy and enthusiasm, " Liu said." We went into the locker room with the mindset that we were going to win."
Coming out of the locker room into the final 16 minutes of the game, Harrisonburg struggled to score as Waynesboro put up twelve points in the third quarter.
Going into the fourth, two of Harrisonburg's seven players picked up their fifth foul,forcing Waynesboro into the double bonus allowing them to shoot six free throws in the final quarter. Despite the effort and hustle of the JV girls, Waynesboro put up ten points to Harrisonburg's four points in the fourth quarter which allowed them to take the victory.
"Coming out into the third, we had some bad possessions early on that led us to lose some of our confidence. The negative energy carried into the fourth which eventually caused us to lose, " Liu said.
The Streaks will play again at home on Tuesday January 8, versus the Spotswood trail blazers.