Shama attends RYLA, experiences leadership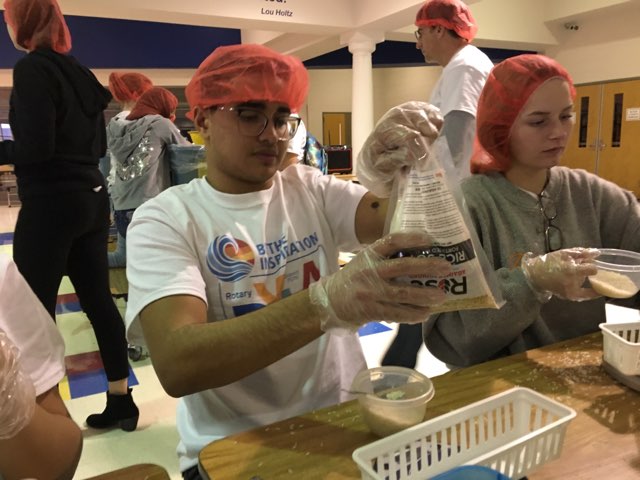 As the RYLA (Rotary Youth Leadership Awards) conference approached, five students, not knowing what to expect, headed down to Virginia Tech for the annual trip.
Senior Ali Shama found the conference to be moving, even though he was disappointed that they didn't get to experience everything due to leaving early for the snow.
"It was a new experience. The camp was organized in a good way. I was exhausted from studying, however RYLA energized me again," Shama said. "The agenda was going perfectly, all of the timing and activities. When there were problems, they had [solutions] for everything."
With the conference being cut down a day, the students missed the formal dinner and banquet, the second dance, a session on kindness and the closing ceremony. As a result, Shama was upset that he couldn't get to spend an extended an amount of time with his friends and didn't fully grasp as many leadership skills as he intended to. Although he didn't get the in-depth knowledge and experience he was hoping for, Shama was glad he had the opportunity to meet many people and learn about social interaction.
"Since it was really short, I didn't learn a lot, but one thing I learned was to respect the diversity of each other, how to make new friends, how to have fun and [try] not [to] sit the entire time," Shama said.
Being a founder of an Interact Club in Alexandria, Egypt, as well as a President of the club in 2017-2018, Shama joined a district team composed of a representative from each city that supervises all of the clubs in Egypt. After attending a past RYLA convention in Egypt, Shama found this convention to be very different.
"I expected it to be more exciting because at RYLA in Egypt, we had like only one session, but here it was mainly composed of sessions," Shama said. "I couldn't concentrate at all because they were really boring so I talked to the people sitting beside me. It was really exciting meeting people with different ideas from different places."
Of all of the events that took place, Shama found the community service to be a very powerful experience. All of the 155 students who attended RYLA contributed to packaging food boxes that would supply 20,000 meals.
"By doing the meals, I made it possible for the children to complete their education without making their parents [having] to choose between sending their children to school or feeding them," Shama said.
For Shama, not only was volunteering an impactful part of the conference, but also was meeting the current Rotary International President. Getting the opportunity to talk with him allowed for Shama to appreciate the efforts of the Rotary and Interact organizations and their contributions in his life. Overall, Shama believed RYLA, despite being completely different from expected, well incorporated pleasure into the parts that were painful.
"It was fun knowing [everyone] and they were all friendly. The chaperones were really supportive. The activities were really cool, [especially the dance [on Friday]. I thought it was going to be boring, but they got professionals to [teach us]. They made us learn how to dance," Shama said. "I was really bored at times, [but] it was an honor because [Rotary] is something important [to me]."