Cummings wins local Shakespeare Competition, Yoder as runner-up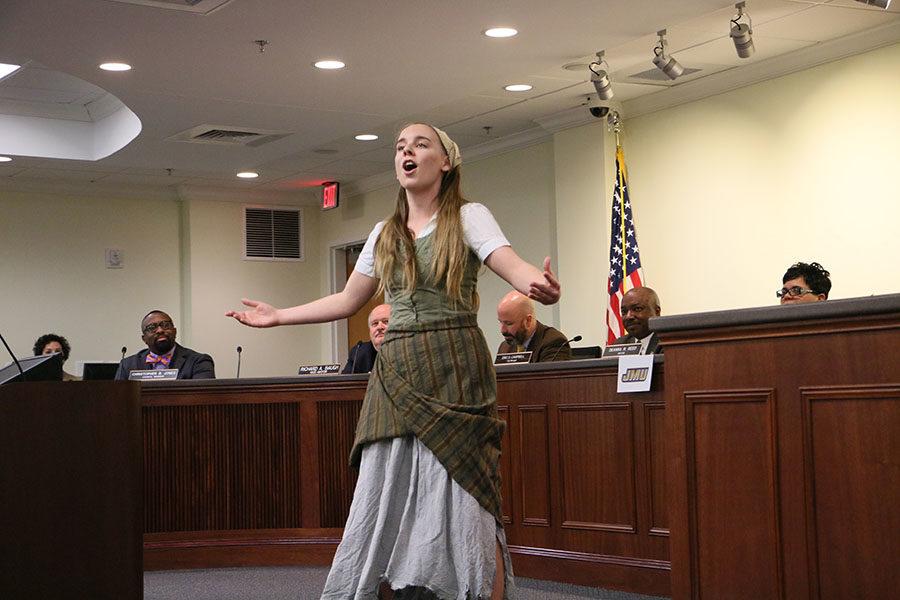 This year marks the first year that HHS has participated in the English-Speaking Union (ESU) National Shakespeare Competition. The National Shakespeare Competition is a national competition that high schools all around the country participate in. Three teachers judged this newly introduced competition. Junior Kate Cummings was one of the students that participated in the competition this year.
"The Shakespeare competition was what I expected. It felt very familiar. It wasn't very nerve-wracking for me. I will say that it was a different experience for me because I'm not familiar with Shakespeare and his work," Cummings said. "I'm really glad that I did it so that I could become more familiar, and it was really awesome to see interpretations of his work from other people. It has given me a great appreciation for what Shakespeare has done."
Of the seven students who participated in the competition, Cummings was crowned the winner of the competition. She went home with a miniature Shakespeare statue that she will keep for a year until the next Shakespeare competition winner is announced. Cummings will be continuing in the competition to the community level, which will be held at the American Shakespeare Center's Blackfriars Playhouse in Staunton, Virginia.
"I was really excited to hear that I won the competition because it means that I am advancing into the next round, and that can open up a lot of opportunities for me. It is a great experience to write on college applications, especially if I can advance from Blackfriars," Cummings said. "Now I'm going to be competing with winners from other schools, and it definitely is a freaky idea to think about because it is competing with such difficult and challenging work. Hopefully, this will open doors for me."

Infographic by Oziel Valdez
If Cummings win at the community level, she will advance to the national level, which will be held in the spring in New York City. The winner of the national competition will win a scholarship to the Royal Academy of Dramatic Art Young Actors' Summer School.
Students who participated had to choose monologues from a book approved by the ESU that contained monologues. Junior Gia Yoder chose a monologue from the book and worked on it for a month in her theater class. Yoder found the experience to be good for her.
"I thought the experience was fun. I thought it was a good opportunity to get out there and perform something that was out of my comfort zone," Yoder said. "I've only done one Shakespeare show, and that was a very different style than Shakespeare generally is. Getting the opportunity to perform something more classical was interesting."
In contrast to Cummings, Yoder won runner-up in the competition. She will compete for Cummings at the community level if Cummings cannot perform. Yoder thinks that the seven students who participated is a small amount and would like for more students to try out next year.
"I think that the Shakespeare competition is a very good opportunity for anyone who is interested in Shakespeare to work in depth with his work. It is also a very good opportunity to compete with schools and other people because there are so many rounds, and there are so many levels of opportunity a person could have in this competition," Yoder said.