Key Club volunteers for annual LEGO Tournament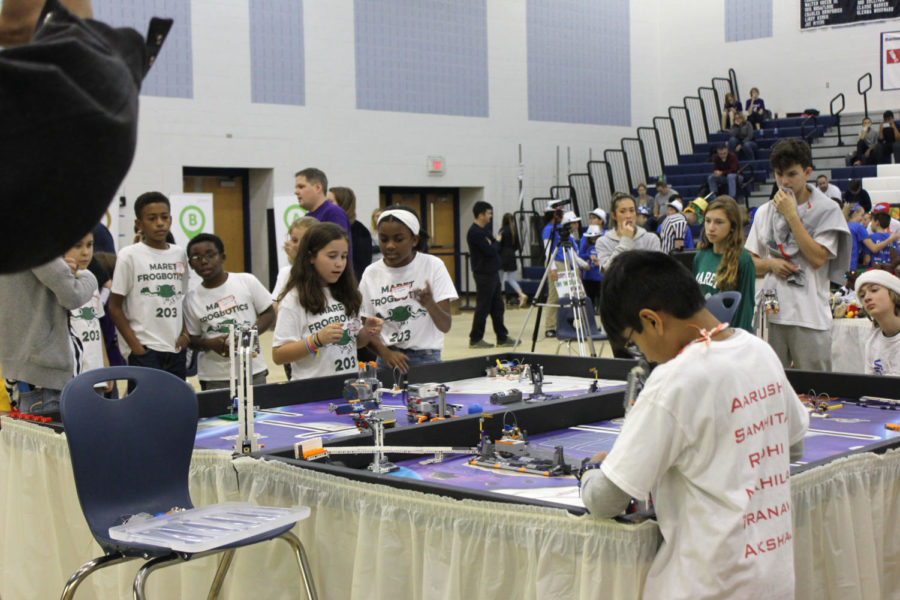 Advertisement
Partnered with JMU, the HHS Key Club volunteered during the annual state LEGO competition to raise money through concessions for club events throughout the year. Nurse Angela Knupp planned the event in collaboration with Head of Leadership and Organizations at JMU, Nick Swayne.
Swayne planned a majority of the event with the help of Knupp through countless hours of planning for students mostly from Northern Virginia.
"There are 108 teams, so around 900 kids participating, equating to about 1800 adults and 500 volunteers for the weekend. The participants are kids from Virginia and DC – ages 9-14. They compete in tournaments around the state during the month of November – the top 25% come [to JMU] for the championship," Swayne said.
Swayne and Knupp did not plan this event themselves, though. They received help from Swayne's Leadership in Organizations class at JMU.
"The event is organized by my class. We form teams in class to handle all aspects of the event: leadership, marketing/community relations, logistics, volunteer recruiting and student activities," Swayne said. "The class learns how to lead and manage a large organization through planning and organizing – sharing responsibilities and running efficient staff meetings."
Swayne plans for judges from all over the state to come to critique the tournament.
"We have a state-level steering committee who helps manage things from the state level, train judges and referees, and keep things moving during the tournament. They are comprised of NASA scientists, Air Force scientists, a couple of engineers and an entrepreneur from Richmond," Swayne said.
Knupp plans this event to raise money for Key Club to use throughout the school year.
"The LEGO tournament is our main source of fundraising for the year. We work concessions in collaboration with the athletics department to raise money for students when they request something," Knupp said. "In the past with the money we've raised while volunteering, we've given students glasses, bed linens, shoes, clothes and provided money for a funeral when someone's family member has died."
During this two day event, Saturday at JMU and Sunday at HHS, Knupp planned the meals on Sunday for students across Virginia gathered at HHS.
"On Sunday, Key Club [had] a variety of different breakfast foods ready at 6:00 a.m. available for students," Knupp said. "Most of our money [came] from lunch where the different high schools pre-order[ed] large quantities of [food] from pizza to hamburgers and picked up the food at around 10:00 a.m."
Freshman Jesilyn Liu volunteered during the event for Key Club while getting to watch the actual competition.
"I was selling concessions and baked goods during the entirety of the event, but from the few rounds that I was able to watch, two teams on adjacent tables competed against each other. The goal of the competition was for each robot made of LEGOS to complete as many missions as possible, each mission being worth a set amount of points and the most points won," Liu said.