Harper continues track career at Roanoke College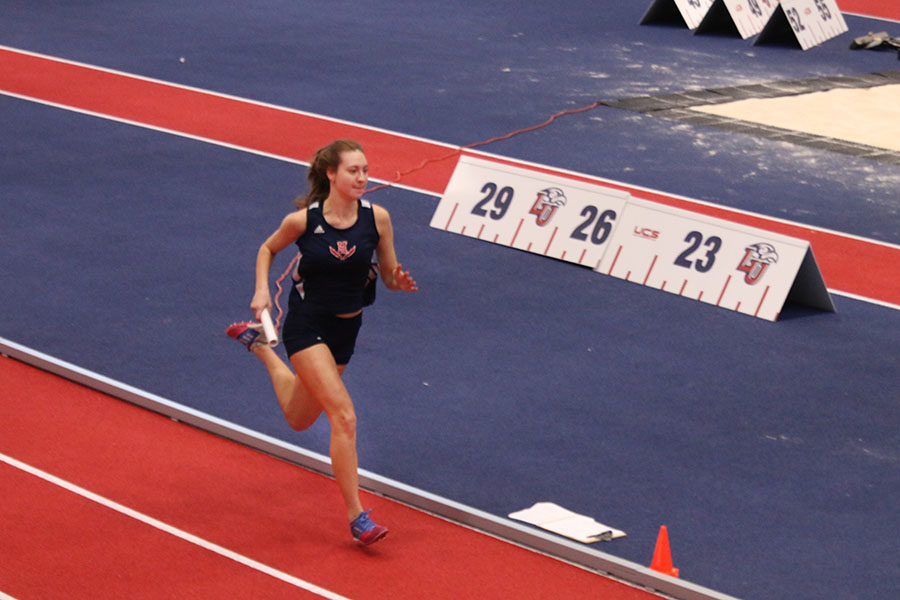 Advertisement
Growing up with her father as the 1972 880 yard relay state champion in high school, Sydney Harper naturally had an inclination to compete in track. So, freshman year of high school, Harper joined the indoor track team at HHS. She continued running with the outdoor track team in the spring of that year and then continued to run throughout high school. Last spring, Harper, a 2018 alumna of HHS, committed to run in college for the Maroons of Roanoke College (RC).
Roanoke, a Division III school, is within the Old Dominion Athletic Conference. This means that the majority of RC's invitationals take place in the northeast throughout the winter and spring. Harper will run sprints in college, which she began in high school.
While running in high school, Harper never thought she would decide to pursue track in college.
"I actually [didn't] want to run in college until I [visited] the school I go to now and joined the team for a practice," Harper said.
Workouts and training over the summer included weightlifting, which Harper believes is different from high school track.
"Right now, my weakness is my strength," Harper said. "We never really lifted weights in high school so it's hard to get used to. Our practice focuses on improving the little things and building muscle. We work out five days a week."
According to Harper, college track differs in the focus of practices.
"College track is so different. We focus on the fine tuning more than anything else. The practices are way harder but also so much fun," Harper said.
Matthew Denlinger, Harper's former event coach at HHS, believes that her father was an influence in her hardworking nature that translated to track.
"Sydney's dad was also a really big influence in her improvement. Her dad, Greg Harper, was a great sprinter in the late 1970s, when he was competing at Bridgewater College and also in high school when he competed at Turner Ashby," Denlinger said. "Having a role model like Greg in Sydney's life played a huge role in her high level of success."
Denlinger also believes that Harper's self-motivation and attention to detail made her successful in high school and will carry over to college track.
"Sydney is one of the most self-motivated athletes that I have ever coached and she is obsessed with doing the little things. By this I mean spending the extra time before and after practice to work on her start and finish," Denlinger said. "After practice, she was great about getting plenty of sleep and being mentally prepared for her races. She will always have that competitor's mentality."
When visiting schools and making a decision about where to attend college, it came down to the people and facilities for Harper.
"RC stood out to me because everyone was so nice and the campus was beautiful. They [had] just built a brand new indoor track facility," Harper said. "That really got me."