Jordan starts indoor track season strong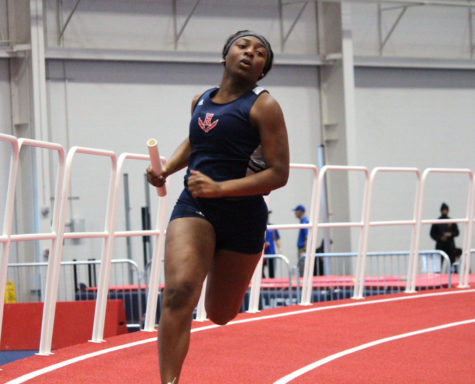 Senior Aaliyah Jordan is about to enter her final season with the HHS indoor track team. Jordan has been running since the age of five, along with other sports she played throughout her life. Jordan comes from an athletically gifted family, including her father Akeem Jordan who spent nine seasons in the NFL. She is currently the only member in her family who continues to run. Although Jordan has played many sports, she feels track is in her best interests.
"[Track is] the only sport that has stuck with me. I have done every sport, but this is the only one I was good at," Jordan said.
Compared to her freshman year, Jordan has improved throughout the years. Jordan has been approached by a few colleges that have given her the option of running at the collegiate level. While she is considering the offers, Jordan is still in the midst of deciding what college she will continue her athletics at.
"I have [so far] gotten offers from William Penn State [IA], Appalachian State [NC] and EMU," Jordan said. "I will miss [high school] competition. It definitely is easy at the high school level, but going to college will be harder. A lot of people are much faster and way more experienced than me."
One of the things Jordan adores in track is experiencing the rush at the beginning of each race. This feeling is what gets her pumped up before her events, and also is what she looks forward to when she is having a bad day.
"I love the adrenaline. As soon as I see him about to shoot the gun or even us warming up and getting into our blocks, all that gets put into running, it for real gets me fired up," Jordan said. "It also gets my mind off of things."
As a senior, Jordan will be stepping into a leadership role with the team, as opposed to looking up to the older runners. She looks forward to guiding and helping out younger students, along with improving and growing throughout this year's indoor and outdoor track seasons. With the experience of winning a race before, Jordan hopes to pass along the mentality and effort that comes with each race to the underclassmen and anyone on the team. One of the biggest things she has learned and hopes to teach other motivated runners is the mentality necessary to win a race.
"When you're getting ready to start, don't assume you're gonna lose," Jordan said. "Just run as fast as you can until you cross the finish line."