Morrell looks back on experience as season approaches
Advertisement
Hang on for a minute...we're trying to find some more stories you might like.
What got you into coaching?
"I've pretty much been coaching all my life. When I was in high school, I helped coach a little league program for baseball. Once I got out of college, I immediately started coaching wrestling and football at the high school level. What got me into [coaching] swimming was I had swam during my high school years for my local community pool. Our local team in Broadway needed a coach for the summer, so I agreed to take on some of those coaching responsibilities. I did that for about seven years. When my daughter was getting ready to come to the high school, I knew that the high school team had a rapid turnover of many coaches, and I didn't want her having that experience, so I contacted our Athletic Director and told him I'd agree to take over the coaching responsibilities."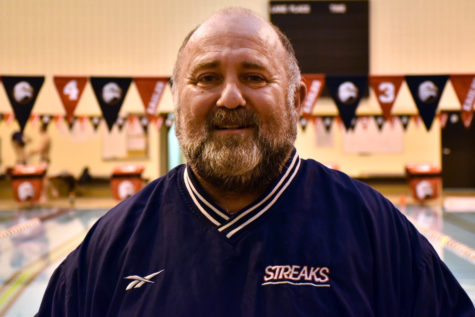 How did you train to become a coach?
"Well I had some top mentors. I primarily started as a wrestling coach in high school. My top mentors are actually recognized in the Virginia high school league (VHSL) hall of fame for their coaching in their sport, and I modeled my approach to coaching after what they demonstrated for me. I had excellent coaches all through my youth sports experiences as a player and I was able to tap into a lot of the attitudes and philosophies that those coaches instilled in me."
How did you apply that when coaching for swimming?
"Swimming, unlike some sports, is very individualistic. You get team scores, but it's really how you push an individual to succeed and have a desire to get their personal best times. You're not always measuring the team successes – 'Do we have enough points to win a meet? or a championship?' – but 'Have we improved as individuals throughout the year?' I am continuing to foster a love for the water and the sport. That's my primary goal: to help [the swimmers] improve and to help [the swimmers] continue their passion beyond high school."
Where do you get your practice routines?
"A lot of them I've stolen from other coaches, and some I've just designed on my own based off of what I think I see as our needs. When we're talking about technique it's not like I can get in the water and hold the person in their position and guide them through their stroke. It's something that you have to talk through and they have to visualize what you're talking about and implement it in the water. We have to get them to feel what they're doing and then with minor changes, do they see that it's improving their distance on every stroke? For swimming, that's the biggest challenge I think."
What's your favorite part of coaching swimming?
"My favorite part of coaching swimming is the athletes that participate in the team, the spirit [the swimmers] bring to it, the sense of family and community; [the swimmers] are always supportive of one another. It really does become something kind of like a family and that's something I really enjoy about the swimming team."
What is your favorite success story throughout your experience as a coach?
"I had an athlete that wanted to be part of the team, but their swimming skills were negligible at best. Just getting down the length of the pool was a struggle. For that person they wanted to compete in a meet. We set a goal that they had to be able to swim a 50 freestyle in under a minute, and that was really difficult for them, almost unattainable we thought. Usually a person that struggles that much in the water will stop coming to practices because it's too hard. This person kept coming, and I was on the verge of cutting them because they actually occupied a lane to themselves because they were that slow. I had a big group of seniors and I pulled them all in and I said 'Look, usually the person stops coming. She's not stopping from coming, we're not going to cut her, we're going to let her stay.' They all agreed to that and swimmers who couldn't swim in a practice for an injury or whatever, they would go over and coach her through her swim technique while I worked with the team. By the middle of the season she actually got to compete in several events. That was one of my success stories that I really like."