Week 9 Power Rankings: Saints knock Rams off throne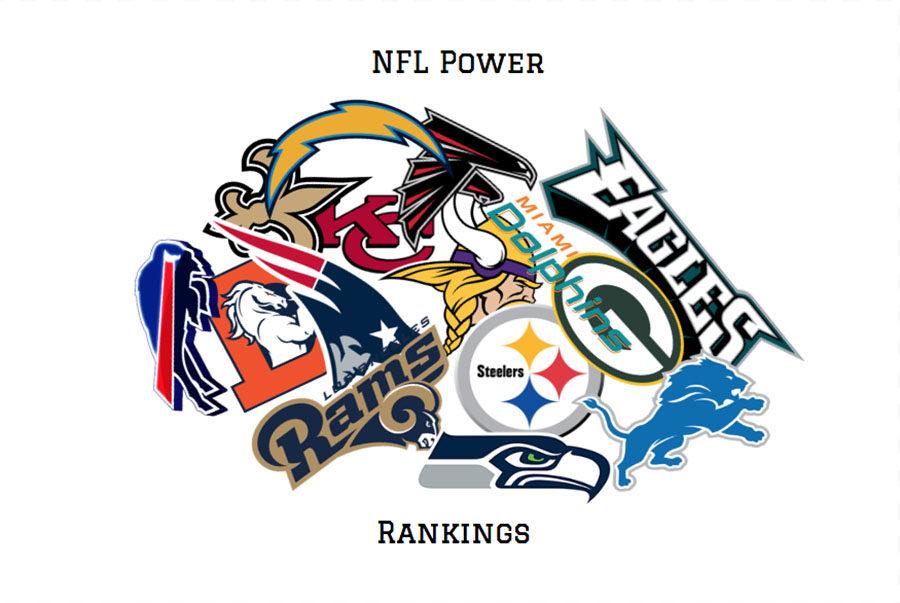 At the halfway point of the season, the NFL has given us it's share of surprises, the latest being the league's lone undefeated team, the Rams, falling last week to New Orleans, who takes over as the unanimous #1 in our rankings. On the other end of things, teams like the Raiders, Bills and Giants are slowly but surely falling further and further out of the picture, and surprise teams like the Bengals and Redskins hope to hold strong after solid starts.
TRENDING UP: After a 41-9 drubbing of the Bills, the Chicago Bears have reentered the top 10 at 5-3. Their offense is beginning to take shape, and the Khalil Mack-led defense has been consistently suffocating this year. After a 1-4 start, the Atlanta Falcons are beginning to look more and more like their old selves with three straight wins. Julio Jones finally ended his touchdown curse and the defense is showing improvement. Lower in the rankings, the Indianapolis Colts are gradually seeing a rise with two straight wins after a 1-5 start. Andrew Luck is starting to show signs that he is finally fully healthy.
TRENDING DOWN: Following a shocking 5-2 start, the Washington Redskins laid an egg against the Falcons on Sunday. Sure, Atlanta is hot recently and has plenty of offensive weapons, but the Skins defense got totally picked apart, and the offensive line is getting ravaged by injuries. Just as the Dallas Cowboys were beginning to show signs of life, they fell in an embarrassing loss to Tennessee, in which Dak Prescott looked like, well, Dak Prescott. At 3-5, they are running out of time. Sam Darnold looked like he could be a rookie star through game number one, but as the season has progressed, his inexperience has weighed on him. He's now the league leader in interceptions, and it's done a number on the New York Jets, which is a big reason they've fallen to 3-6 and all but out of the playoff picture.
| | | | | | |
| --- | --- | --- | --- | --- | --- |
| Rank | Owen Stewart | Owen Marshall | Noah Siderhurst | Madison Varner | Samantha Little |
| 1 | 7-1 | 7-1 | 7-1 | 7-1 | 7-1 |
| 2 | 8-1 | 8-1 | 8-1 | 8-1 | 8-1 |
| 3 | 8-1 | 8-1 | 8-1 | 8-1 | 8-1 |
| 4 | 7-2 | 6-2 | 6-2 | 6-2 | 7-2 |
| 5 | 6-2 | 7-2 | 6-2 | 7-2 | 6-2 |
| 6 | 6-2 | 5-2-1 | 7-2 | 5-2-1 | 5-2-1 |
| 7 | 5-2-1 | 6-2 | 5-2-1 | 5-3-1 | 6-2 |
| 8 | 5-3-1 | 5-3 | 6-3 | 6-2 | 5-3-1 |
| 9 | 5-3 | 6-3 | 5-3-1 | 5-3 | 6-3 |
| 10 | 6-3 | 5-3-1 | 5-3 | 6-3 | 5-3 |
| 11 | 5-3 | 4-4 | 5-3 | 5-3 | 5-3 |
| 12 | 4-4 | 5-3 | 3-4-1 | 5-3 | 4-4 |
| 13 | 4-4 | 5-3 | 4-4 | 4-4 | 5-3 |
| 14 | 5-3 | 4-4 | 5-4 | 3-4-1 | 4-4 |
| 15 | 3-4-1 | 4-4 | 4-4 | 4-4 | 3-4-1 |
| 16 | 4-4 | 3-4-1 | 5-3 | 4-4 | 4-4 |
| 17 | 4-4 | 5-4 | 4-4 | 4-4 | 5-4 |
| 18 | 3-5 | 4-4 | 4-4 | 3-5 | 4-4 |
| 19 | 3-5 | 3-5 | 3-5 | 5-4 | 3-5 |
| 20 | 5-4 | 3-5 | 3-5 | 4-5 | 3-5 |
| 21 | 4-5 | 4-5 | 4-5 | 3-5 | 4-5 |
| 22 | 3-5 | 3-6 | 3-6 | 3-5 | 3-6 |
| 23 | 3-6 | 3-5 | 3-5 | 3-6 | 3-5 |
| 24 | 3-5 | 3-5 | 3-5 | 3-5 | 3-5 |
| 25 | 3-5 | 3-5 | 3-5 | 3-5 | 3-5 |
| 26 | 2-6-1 | 3-6 | 3-6 | 3-6 | 2-6-1 |
| 27 | 3-6 | 2-6-1 | 2-6-1 | 2-6-1 | 3-6 |
| 28 | 2-6 | 2-6 | 2-6 | 2-6 | 2-6 |
| 29 | 1-7 | 1-7 | 2-7 | 2-7 | 2-7 |
| 30 | 2-7 | 2-7 | 2-7 | 2-7 | 2-7 |
| 31 | 2-7 | 2-7 | 1-7 | 1-7 | 1-7 |
| 32 | 1-7 | 1-7 | 1-7 | 1-7 | 1-7 |