VHSL Media Championship serves high school journalists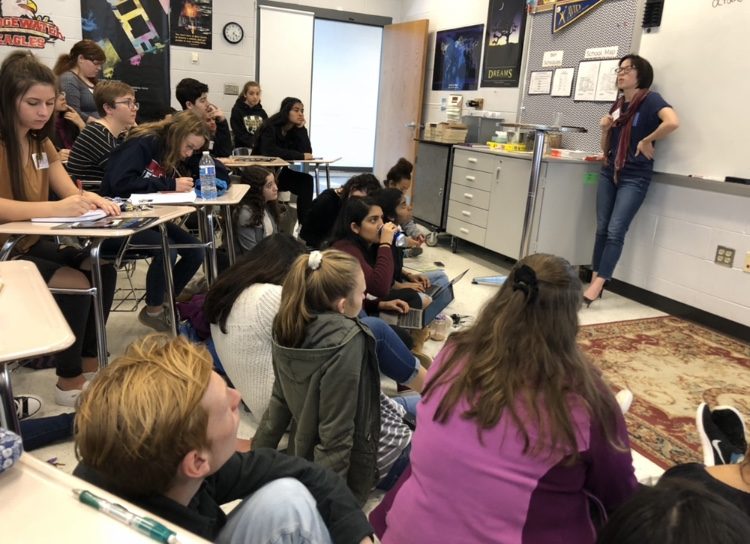 Hosted and coordinated by Newsstreak adviser Valerie Kibler and VAJTA Executive Director Meghan Percival, the 2018 VHSL Media Championship served over 250 students from around the state Oct. 20 with their journalism publication. The event also included the help of VHSL Director of Activities, Darrell Wilson, the high school's previous athletic director.
The morning started out with an opening remark from Wilson and later transitioned to a presentation from keynote speaker Shari Adwers. Adwers is the adviser of The Viking at Loudoun Valley High School and the JEA curriculum coordinator.
Held throughout the afternoon, workshop sessions were open to multiple types of publications: newspaper, broadcasting, newsmagazine, literary magazine, yearbook, online and photography. Topics discussed in sessions ranged from learning the ropes of journalism, knowing media law, tools for multimedia, editing processes and more.
Guest speakers in breakout sessions included Kelly Furnas, Martha Akers, Mary Kay Downes, and more. Representing HHS, alumni and past Editor-in-Chief of Newsstreak Camila Domonoske shared her journalism experience and current position at NPR in a Q&A session.
As for wanting to learn more about journalism outside of school, freshman Lauren Delwiche from Thomas Jefferson High School for Science and Technology attended the championship as another way to inform herself on the different strands of journalism. Delwiche attended the media law, editing, and sports writing sessions for more background knowledge.
"I wanted to learn how to do [journalism] better at a higher level from what you would do in middle school. I love the writing part, where you go out and talk to random people that you would never talk to and companies. I think it's really fun to do," Delwiche said.
With this year being his first year on staff, junior Jay Cathcart from Marion Senior High School was hoping to learn more about the technical skills of journalism and the strands of it as well. Cathcart is currently part of the Royal Red Oak staff, Marion's newspaper publication.
"[Journalism] is something I've always been interested in, and I've never been able to learn about it before, so I thought [breakout sessions] would be a good opportunity… I've learned about photography and different things that I'm interested in. I just like [journalism] because it's a way to share thing with a wide audience," Cathcart said.
The closing ceremony awarded VHSL multimedia contest finalists and publication class awards. As for HHS, the TAJ yearbook, Newsstreak newspaper and hhsmedia.com were all named trophy class, the highest recognition given by the VHSL. The closing ceremony also touched on recent named Charles Savedge Award, Lucie Rutherford, last year's Newsstreak Editor-in-Chief and now alumni of the high school.