Week 6 Power Rankings: Rams separate from pack as only undefeated team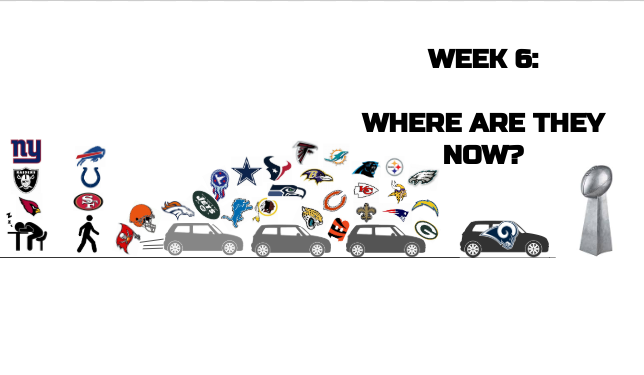 And then there was one.
With Kansas City's loss to New England this week, the Rams (6-0), are now the only undefeated team in the league. Los Angeles has shown utter domination of the league thus far, and it seems like everyone else is just scrambling to catch up at this point.
That being said, something interesting things are going on behind the Rams as well, such as Dallas destroying Jacksonville this week and other shocking losses by Carolina and Chicago.
TRENDING UP: As usual, the New England Patriots have begun to find their stride as we approach mid-season. Now on a three game win streak, the Pats are tied atop the AFC East with Miami at 4-2 after looking for all the world like an average team throughout the first couple of weeks. The Los Angeles Chargers are likely the best team in the league with multiple losses and our rankings are beginning to show that. At 4-2, their only losses are to the Chiefs and Rams, the top teams in each conference. The Bolts look to be the real deal. After looking like they were running in place for the first five games offensively, the Dallas Cowboys figured it out this week in an emphatic way, absolutely destroying Jacksonville to improve to 3-3 on the year.
TRENDING DOWN: With a golden opportunity to improve to 4-1, the Chicago Bears let the hot Miami sun get to them and weren't able to pick up another victory. Now at 3-2, every game becomes that much more crucial. The Tennessee Titans also had a week to forget. Marcus Mariota attempted 17 passes and was sacked 11 times. Wow. Shouldn't have to explain that one.
Rank

Owen Stewart

Owen Marshall

Noah Siderhurst

Madison Varner

Samantha Little

1

6-0

—

6-0

—

6-0

—

6-0

—

6-0

—

2

4-1

↑ 1

4-1

↑ 1

4-1

↑ 2

4-1

—

4-1

↑ 1

3

4-2

↑ 3

4-2

↑ 4

5-1

—

5-1

—

4-2

↑ 4

4

5-1

↓ 2

5-1

↓ 2

3-2

↓ 1

3-2-1

↑ 4

5-1

↓ 2

5

3-2-1

↑ 3

3-2

↓ 1

3-2-1

↑ 6

4-2

↑ 2

3-2

↓ 1

6

3-2

↓ 2

3-2-1

↑ 3

4-2

↑ 3

3-2-1

↑ 4

3-2-1

↑ 3

7

3-2-1

↑ 3

3-2-1

↑ 3

3-2-1

↑ 1

3-2

↓ 3

3-2-1

↑ 5

8

3-2-1

↑ 3

4-2

↑ 6

3-2-1

↑ 2

4-2

↓ 2

3-2-1

—

9

4-2

↑ 4

3-2-1

↑ 3

4-2

↓ 4

4-2

↑ 2

4-2

↑ 4

10

4-2

↓ 3

4-2

↓ 4

4-2

↑ 3

3-2-1

↑ 3

4-2

—

11

3-2

↓ 6

3-3

↓ 3

3-3

↓ 5

3-2

↓ 6

3-3

—

12

3-3

—

4-2

↑ 1

4-2

↑ 2

4-2

↑ 2

3-2

↓ 6

13

4-2

↑ 1

3-3

↓ 2

4-2

↑ 2

3-3

↓ 1

3-3

↓ 8

14

4-2

↑ 2

3-2

↓ 9

3-3

↓ 2

3-3

↓ 5

4-2

—

15

3-3

↓ 6

4-2

—

3-2

↓ 8

4-2

—

4-2

↑ 1

16

3-2

↑ 1

3-2

↑ 2

3-2

↑ 3

3-3

↑ 6

3-2

↑ 1

17

3-3

↑ 1

3-3

↑ 3

3-3

—

3-2

↑ 2

3-3

↑ 6

18

2-4

↑ 5

3-3

↑ 7

3-3

↑ 4

3-3

—

3-3

↑ 1

19

3-3

↑ 2

3-3

↑ 3

3-3

↑ 4

3-3

↑ 2

2-4

↑ 5

20

2-3

↑ 2

2-4

↑ 4

2-4

↑ 4

2-4

↑ 5

3-3

↑ 2

21

3-3

↑ 4

2-3

—

3-3

↓ 5

2-3

↑ 2

3-3

↓ 6

22

3-3

↑ 5

3-3

↓ 6

3-3

↑ 5

3-3

↑ 4

2-3

↓ 1

23

3-3

↓ 8

3-3

↑ 3

2-3

↓ 2

3-3

↓ 7

3-3

↑ 4

24

2-4

↓ 4

2-3-1

↓ 7

2-3-1

↓ 6

2-3

—

2-4

↓ 4

25

2-3-1

↓ 6

2-4

↓ 6

2-4

↓ 5

2-3-1

↓ 8

2-3-1

↓ 7

26

2-3

↓ 2

2-3

↓ 3

2-3

↓ 1

2-4

↓ 6

2-3

↓ 1

27

2-4

↓ 1

1-5

↑ 1

2-4

↓ 1

1-5

↑ 1

1-5

↑ 1

28

1-5

↑ 1

1-5

↑ 1

1-5

—

1-5

↑ 3

2-4

↓ 2

29

1-5

↑ 3

1-5

↑ 3

1-5

↑ 3

1-5

—

1-5

—

30

1-5

—

2-4

↓ 3

1-5

—

2-4

↓ 3

1-5

↑ 2

31

1-5

↓ 3

1-5

↓ 1

1-5

↓ 2

1-5

↑ 1

1-5

↓ 1

32

1-5

↓ 1

1-5

↓ 1

1-5

↓ 1

1-5

↓ 2

1-5

↓ 1