Week 3 Power Rankings: Rankings shaken up as upsets run rampant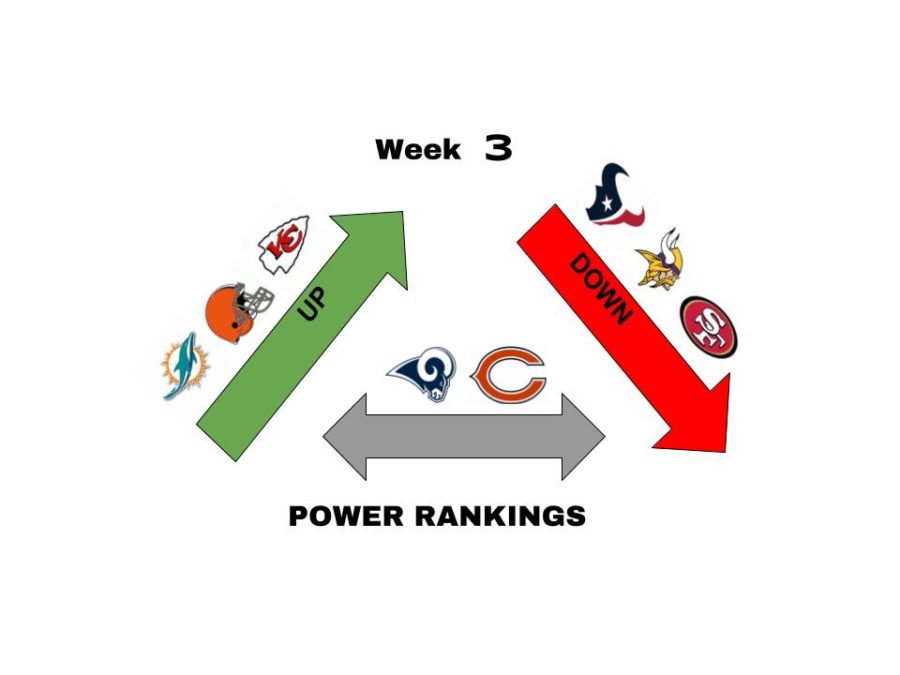 Weeks 1 and 2 brought some excitement in the form of upsets and games going down to the wire, but neither came close to the shock of Week 3's slate. Buffalo's win over Minnesota was the largest NFL upset in 23 years, Patrick Mahomes continued to destroy records and the Saints-Falcons matchup saw a combined 80 points scored.
TRENDING UP: The Miami Dolphins' 2-0 start was surprising, but they didn't see a sharp rise in the rankings until improving to 3-0 this week with a come from behind victory over Oakland. Ryan Tannehill looks to be much improved after returning from injury, and the team looks surprisingly complete. Arguably the biggest story of the young season, the Kansas City Chiefs, led by young quarterback Patrick Mahomes, have taken off with three straight victories, and are showing no signs of slowing down. The third team seeing a common upward trend this week is, brace yourself, the Cleveland Browns. Rookie #1 overall pick Baker Mayfield came in off the bench and got Cleveland their first win since 2016.
TRENDING DOWN: It seems to be a yearly occurrence that there's an overreaction to a poor start from the New England Patriots, but their loss to the Lions this week deserves some negative attention. They showed some legitimate weaknesses in falling to 1-2 on the year. Another AFC East squad, the New York Jets, lost their second straight after a blowout win in Week 1, and rookie Sam Darnold has come crashing back to earth after a tremendous debut. The San Francisco 49ers see the biggest drop this week, as young QB Jimmy Garoppolo was ruled out for the season with an ACL tear, effectively ending any chance the upstart Niners have at a playoff spot.
WHAT TO WATCH FOR: Thursday night's matchup will be an interesting one for both teams, as the Los Angeles Rams will host the Minnesota Vikings in a crucial Week 4 game. The Rams have dominated their first three games, whereas the Vikings suffered an appalling loss to Buffalo last week, and need a win. The most shocking 3-0 team, the Miami Dolphins, may be in for a reality check this week as they head up north to take on the New England Patriots. However, if Miami is able to come away with a win, they'll have a three game division advantage over the always dangerous Pats.
rank

Owen Stewart

Owen Marshall

Noah Siderhurst

Madison Varner

Samantha Little

1

3-0

—

3-0

—

3-0

—

3-0

↑ 2

3-0

—

2

3-0

↑ 6

3-0

↑ 5

2-1

↑ 4

3-0

↑ 3

3-0

↑ 7

3

2-1

↑ 2

2-1

↑ 2

3-0

↑ 9

2-1

↑ 5

2-1

↓ 1

4

2-1

↑ 5

1-1-1

↓ 2

2-1

↑ 3

2-1

↓ 2

2-1

↑ 1

5

2-1

↑ 5

2-1

↓ 3

2-1

↑ 10

2-1

↑ 4

1-1-1

↓ 3

6

2-1

↓ 4

2-1

↑ 3

1-1-1

↓ 4

2-1

↑ 5

2-1

↑ 2

7

1-1-1

↓ 4

2-1

↑ 4

1-1-1

↓ 4

3-0

↑ 12

1-1-1

↓ 5

8

1-2

↓ 2

1-2

↓ 2

3-0

↑ 2

1-1-1

↓ 4

2-1

↑ 4

9

3-0

↑ 12

1-1-1

↓ 5

2-1

↓ 5

1-1-1

↓ 8

1-2

↓ 3

10

1-1-1

↓ 6

1-1-1

↑ 2

1-1-1

↓ 1

1-1-1

↑ 3

3-0

↑ 10

11

1-1-1

↑ 1

2-1

↑ 2

1-2

↓ 6

1-2

↓ 5

1-1-1

—

12

1-2

↓ 5

2-1

↓ 2

1-2

↓ 7

2-1

↑ 6

2-1

↑ 1

13

2-1

—

3-0

↑ 7

2-1

↓ 5

1-2

↓ 1

2-1

↓ 3

14

2-1

↓ 3

2-1

↑ 5

2-1

↑ 11

2-1

↓ 4

1-2

↓ 6

15

2-1

—

1-2

↑ 1

2-1

↑ 1

2-1

↑ 9

1-2

—

16

2-1

↑ 8

2-1

↓ 2

1-2

↓ 2

2-1

↑ 7

2-1

↑ 6

17

2-1

↑ 6

1-2

↑ 7

2-1

↓ 6

2-1

—

2-1

↓ 3

18

1-2

↓ 4

1-2

↓ 10

2-1

↓ 1

1-2

↑ 10

2-1

—

19

2-1

—

2-1

↑ 2

2-1

↓ 6

2-1

↑ 1

2-1

↑ 6

20

1-1-1

↑ 10

2-1

↑ 2

1-2

↑ 3

2-1

↓ 5

2-1

↑ 3

21

2-1

↑ 1

1-2

↑ 9

1-2

↑ 7

1-2

↓ 14

1-1-1

↑ 9

22

1-2

↑ 5

1-1-1

↑ 6

1-2

—

1-1-1

↑ 9

1-2

↑ 7

23

1-2

↑ 5

1-2

↓ 6

1-1-1

↑ 7

1-2

↑ 3

1-2

↓ 6

24

1-2

↑ 7

1-2

↓ 6

1-2

↑ 8

1-2

↑ 6

1-2

↑ 3

25

1-2

↓ 7

2-1

—

1-2

↑ 4

1-2

↑ 4

1-2

↓ 1

26

1-2

↓ 1

1-2

↑ 2

1-2

↓ 7

1-2

↓ 10

1-2

↑ 5

27

1-2

↑ 2

1-2

↑ 5

2-1

↑ 1

1-2

↓ 2

1-2

↓ 1

28

1-2

↓ 12

1-2

↓ 13

1-2

↓ 8

1-2

↓ 14

1-2

↓ 12

29

1-2

↓ 12

1-2

↓ 2

1-2

↓ 8

1-2

↓ 8

1-2

↓ 10

30

0-3

↓ 10

0-3

↓ 7

0-3

↓ 3

0-3

↓ 8

0-3

↓ 4

31

0-3

↓ 5

0-3

↓ 5

0-3

↓ 7

0-3

↓ 4

0-3

↓ 10

32

0-3

—

0-3

↓ 1

0-3

↓ 1

0-3

—

0-3

—