Marching band performs in two competitions, receives Grand Champion award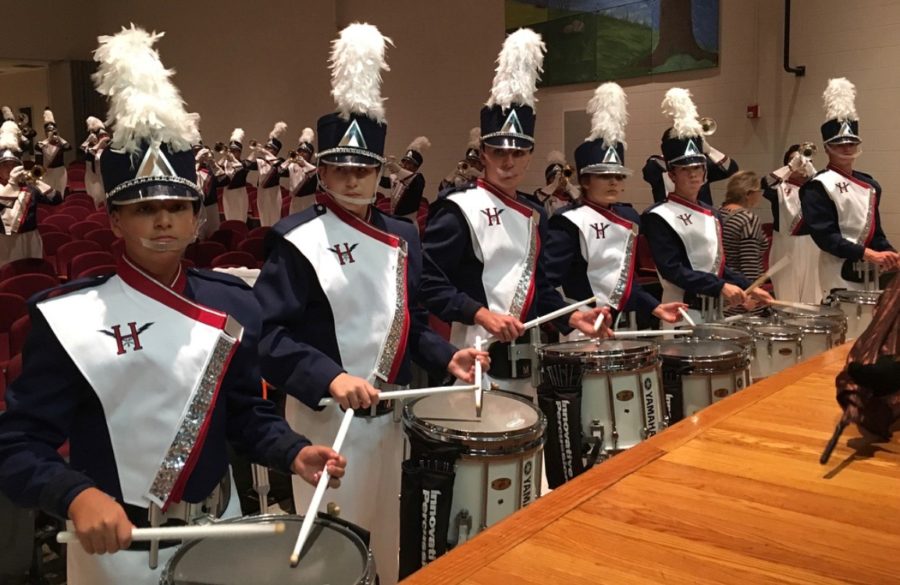 Marking the start of their weekly competitive season, the Marching Blue Streak Band attended their first two competitions on Sep. 22.
Held at Stuarts Draft High School, the first competition, which was an indoor stand-still music performance due to field conditions, resulted in seven individual awards for the band. Competing in Class AAAA, they received first place not only in the class, but also in music, general effect, drum major, color guard and percussion. Additionally, the band received the honor of Grand Champion, which was the result of having the highest overall score out of the 21 bands in attendance. This was their third time receiving this award at this competition.
They then travelled to Millbrook High School to compete in the Battle on the Blue Ridge competition. Performing their on-field marching band show in Class AAAA, they received a third place award.
This Saturday, they will be attending Riverbend High School for the Emerald Classic competition.
2018 Marching Band Competition Schedule
Sep. 29: Riverbend High School, Emerald Classic
Oct. 13: Harrisonburg High School, 9th Annual Shenandoah Valley Marching Invitational
Oct. 20: James Madison University, Parade of Champions
Oct. 27: Monticello High School, VBODA Assessment
Nov. 3: Liberty University, VMBC State Championships