Drama potluck to welcome new director, new musical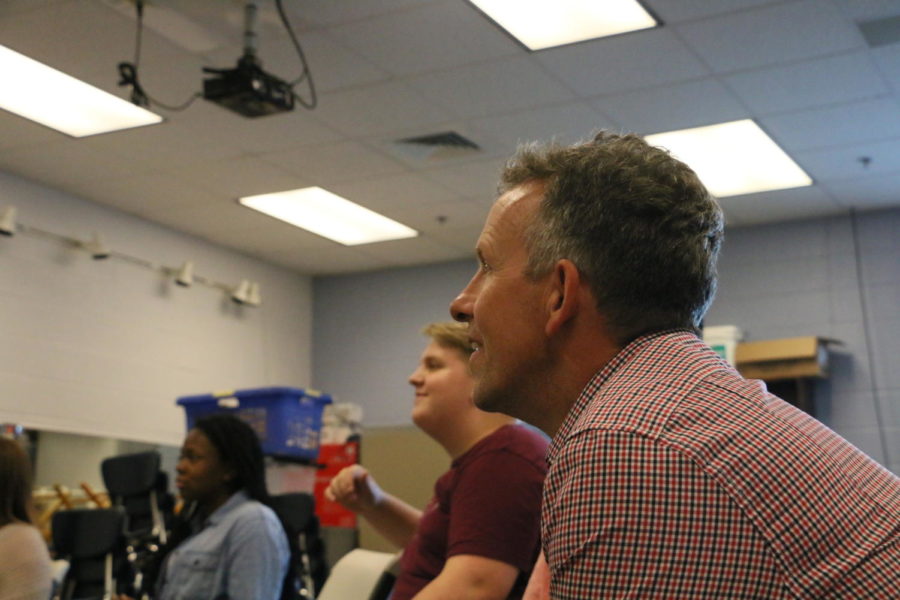 Advertisement
The end of the 2017-2018 school year brought many announcements, including the retirement of drama teacher and director Stan Swartz. The next announcement revealed his replacement to be Ken Gibson, who has watched every HHS musicals since the 2011 production of 'Les Miserables,' inspiring him to continue pursuing his passion. The spark for this passion arose when Gibson directed a play at James Madison University, setting off his career.
"I taught Circus Skills in England for eight years… won an acting award in England and pursued Theatre in college at JMU," Gibson said. "In 1988 at JMU, where I was in a Director's Showcase performance of Brighton Beach Memoirs, I played Eugene. After graduating from JMU I was offered a full time position as a drama teacher at Spotswood High School and worked there for nine years."
Although Gibson feels the drama program at HHS has done a great job in the past, he plans on implementing his own ideas to the program.
"I would like to build up [my current four classes linked to drama] while still carrying on the legacy that HHS has set. I would also like to get the word out more on what happens in my classes and inspire new students to join. I only have four classes [linked to theatre] at the moment but would like to hold six next year," Gibson said. "I'd like to add some new afterschool events such as an open mic, as well as a short fifteen minute musical towards the end of the school year that features a shortened, more modern musical that can allow more people throughout the school to take a part in it."
Gibson's strong passion for drama has played a very important role in his life.
"[Drama] has been a way for me to connect with thousands of people that I would have never got the pleasure to meet without the opportunities I've been given and rejuvenate my soul and challenge my preconceptions," Gibson said. "Drama connects the two things I love most, working with kids and theater."
At the annual drama potluck held Thursday, Sept. 13, Gibson announced this year's musical to be Legally Blonde for reasons of his own.
"I wished to do something that felt fresh and relatable to a culture that we might know, have heard of, or seems interesting while showcasing an underrepresented group of characters on stage. Women and [the Fine Arts Team] wanted to put a show out there with parts that could be played by anybody," Gibson said.