HHS hosts annual Valley Dance Showcase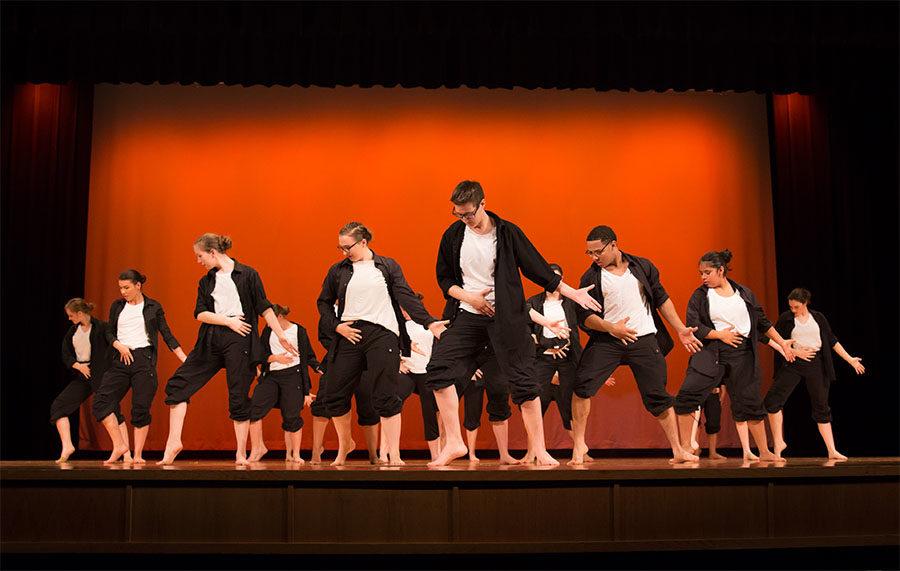 The lights shone on the HHS stage, revealing 65 performers, eight of them being HHS' Percussion Ensemble II and 56 of them being dancers. Sweat and tears were drenched on the performers posing for a picture to celebrate their performance of the Valley Dance Showcase. The dancers consisted of students from HHS Dance 2, HHS Dance 3, HHS Dance 4, HHS Dance Company, Skyline Ballet Club and Harrisonburg Dance Cooperative.
HHS Dance Company member, senior Olivia Kasidiaris, performed at the Valley Dance Showcase, this being her final year dancing at HHS.
"It feels amazing. I'm so proud of everyone. I've been dancing here for four years and it all came full circle tonight and I'm proud of myself. I'm crying because I loved it so much," Kasidiaris said. "I'm incredibly excited to graduate and go on in the future, but I'm going to miss everyone so much. I love the community here at Harrisonburg and I'm going to miss the dance program."
Pieces throughout the night included Dance 2 Choreography, student-created honor projects and local dance group pieces. One of the most popular pieces among the audience was a collaboration between HHS Dance 3, 4, and Company along with HHS Percussion Ensemble II choreographed by HHS Dance teacher, Amber Corriston. This piece ended with a standing ovation from the audience.
"It's important to me to connect our dancers with dance in the community because dance doesn't have to only be something they do at HHS for a class, it can be something students take with them and either continue to pursue professionally, recreationally or as one who supports the arts," Corriston said.
The Valley Dance Showcase invited local dance groups and individuals to perform their pieces. Those groups were the Skyline Ballet Club and the Harrisonburg Dance Co-Op. An individual piece was performed by Kate Crider, a student at James Madison University who majors in dance. Corriston used personal connections to pick these dancers to perform at the Valley Dance Showcase.
"Skyline Ballet Club was founded a few years ago by HHS Dancers Julia Lawton and Sophia Thomas, and it's great to be able to give those dancers an opportunity to share what they have learned and to see what is going on at HHS. I met Katie Crider when I was teaching in Elkton a few years ago and for the HHS dancers to see a college level dancer perform is a really encouraging connection. The Harrisonburg Dance Co-Op is just an amazing group of dancers that my husband and I have gotten to know and love to support," Corriston said.
Freshman and Dance 2 student Sydney Shaver danced in four pieces throughout the night. Shaver has had eight years of experience dancing, and throughout the night wanted the audience to gain more knowledge about dance.
"I dance because you don't have to talk to anyone. Your body really expresses words and feelings without having to go through the work of saying them," Shaver said. "I wanted the audience to know that ballet isn't the first thing that they should think of when they think of dance. When people think of dance, they think of just one style of dance. In reality, there are so many different styles of dance that you can explore."
The Valley Dance Showcase not only had performances, but also honored and inducted new members for the National Honor Society for Dance Arts. The 2018 Inductees include: Julie Hedrick, Julia Lawton, Jacqueline Mateo-Sanchez, Nicole Raab, Autumn Shifflett, and Sophia Thomas.