Auditions held for Spring Arts senior plays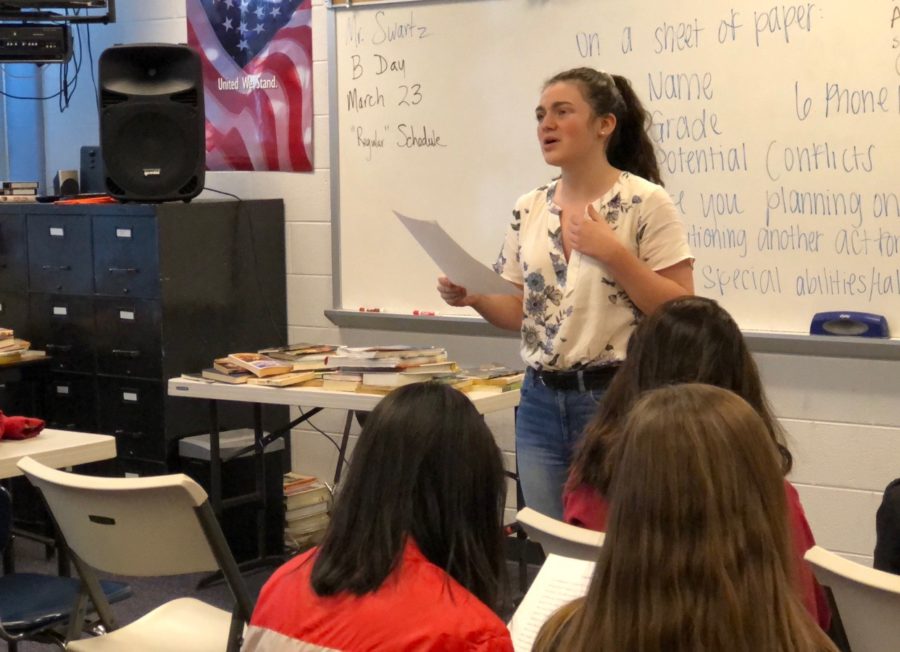 Each year, seniors in the fine arts department join together to organize and put on the annual Spring Arts performance, which consists of acting, singing and dancing acts. Not only do these seniors have the opportunity to coordinate this event and perform in it themselves, but they also have the chance to direct the 10-minute plays that are performed that night.
After choosing the plays that they would like to direct and having them approved by drama teacher Stan Swartz, the seniors held auditions after school on Mar. 23 to select their cast members. About 12 interested actors and actresses gathered in Swartz's room to try out for a spot in one of the three plays. This process consisted of learning a monologue to perform in front of the senior directors and then doing cold readings directly out of the play scripts.
Senior Josh Lucas was one of these seniors. By listening to each student read for each role, he was able to visualize each character and shape a plan for his play, Hell Hath Three Furies. The story follows a man in the afterlife who is tormented for his role in the death of three women, but then has the chance to do it all over again. Lucas chose this play based on its ability to accommodate a larger cast size and also what it provides for him to work with as a director.
"It had the potential to give some really interesting tableaus and some interesting staging for how it would all work. It gave for a lot of character work, which is something that I really enjoy doing, and so it would give me the ability to direct a show that's very character driven," Lucas said.
Sophomore Grace Miller was one of the four people cast in Lucas's play, and she will play the role of Juliet, a strange and obsessive therapist who is secretly in love with her patient, the main character. Because Miller hasn't had the chance to play a character with that personality, she's grateful for this opportunity.
"I am really excited to be able to portray a role that I have not yet been able to. Being able to play a more mature and mysterious person will help me expand what I am able to do and what I am capable of doing," Miller said.
Because Miller has had experience preparing for new character styles in the past, she already has a process that helps her do this.
"When preparing for a new role such as this one, I will read through the script a few times and figure out what makes this character different from others and what makes her who she is. I will list out things that I think are important about the character and write a phrase that symbolizes this and then repeat it throughout my time acting on stage," Miller said.
Lucas, who was once the underclassman that performed in all of the Spring Arts plays as an actor, enjoys their dynamic and recognizes a difference between them and the other high school productions.
"I've been in senior-directed shows from freshman year to junior year, and I really enjoyed them. It was a very different experience from doing shows like the big musicals or the one act. It's a much more relaxed feeling and there's a different director, so you get to have a very different experience," Lucas said
He is excited for this opportunity and sees it as a way to experience another side of theater that he hasn't been able to work with in the past.
"I figured when I got the opportunity to direct a show, I thought it would be a really good experience to be able to be in the director's chair as opposed to being an actor. I do want to go into theater and so it's good to know all of the different sides to theater, not just what you do," Lucas said. "It's something that I've never really done before. I've been, sort of, on the outside seeing Mr. Swartz do it and seeing other directors do it, and so I think it's going to be a really cool experience."
Cast List
A Tall Order- Julie Hedrick and Bo Boisen
He: Stanley Inouye
She: Mariel Joven
Waitress: Danner Rebhun
Hell Hath Three Furies- Josh Lucas
Mac: Gregorio Castillo
Beth: Robin Vogel
Juliet: Grace Miller
Heather: Julia Inouye
Three Guys and a Brenda- Corin Vogel
Brenda: Weston Hatfield
Randall: Kate Cummings
Joe: Gia Yoder
Bob: Apurva Sharma