Peace Corps, law takes DiNapoli around the world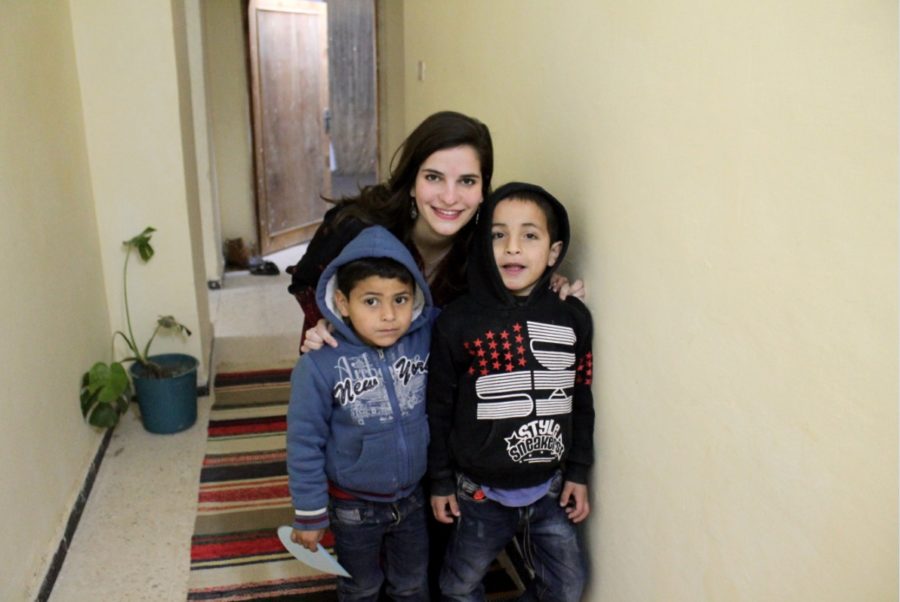 From Harrisonburg to Tanzania to Mongolia, Emma DiNapoli hasn't stayed put since her high school graduation in 2010. Her travels have led her to the far corners of the world, while working with others and venturing on her own. Almost eight years later, she finds herself in New York City studying law in her first semester at Columbia Law School.
"I've always wanted to live in New York City, so now here I am," DiNapoli said.
DiNapoli attended Harrisonburg High School from 2006-2010. In high school, DiNapoli was a part of the cross country team, among other things.
"Running was definitely one of the biggest parts of my high school experience. I think the group of girls I ran with are, to this day, some of my best friends. Running can be difficult, I've run a couple of marathons," DiNapoli said. "I think the skills I learned during cross country- being able to persevere, dedication, just being able to push something that's really uncomfortable until you're good at it [are] really valuable skills. You definitely get that when you're being yelled at to run miles on the track."
DiNapoli also attended Massanutten Regional Governor's School as well as being on the Envirothon team. The variety of options for extracurricular activities helped DiNapoli to discover her interests and strengths.
"The great thing about my time at HHS was that I got to dabble in a bunch of different areas. Once you get to college you're supposed to have a major and a path, and that doesn't always happen right away," DiNapoli said. "Being able to have the freedom to play around in a soil pit, then run, then plan the prom and do journalism is something you don't always get and I think HHS was great for that. I got to explore what my interests were and what I liked, what I didn't like, how I worked as a leader, who I worked best with, that sort of thing."
After graduating from HHS, DiNapoli received a full scholarship to UVA as a Jefferson Scholar. While in college, DiNapoli's majors changed multiple times as she dove more deeply into new ideas.
"[The Jefferson Scholars program] provides a ton of opportunities to travel and take interesting classes. My first couple years I thought I was going to be an environmental science or geology major. I dabbled in political and social thought and ended up being an English and religious studies major. I became really interested in questions of government power, how you can relate things like AIDS narratives and the sense of power through film and literature," DiNapoli said.
While in college, DiNapoli had the opportunity to explore Tanzania on a volunteerism trip working for Jifundishe. DiNapoli had thought about being in the Peace Corps before, but it was soon after that she became more serious about the idea.
"I was walking across the lawn at UVA one day, and I was like 'You know what, I'm going to apply to the Peace Corps.' It was sort of on a whim, honestly. I had really liked working internationally while in Tanzania. I was like 'This is the time for me to apply'. I wasn't firmly committed to the idea of doing it at that point because I had taken a job offer and then was able to differ, so that ended up really working out," DiNapoli said. "I had always sort of thought about [being in the Peace Corps], but it wasn't like a childhood dream. It wasn't a conscious decision, so much as the fact that I really liked working internationally, I really liked volunteerism. I thought it would be a good chance to build some skills and contacts that you can't really get in the United States."
DiNapoli was accepted, so after graduation she was sent to work in Jordan as a community youth development volunteer.
"The majority of the work I was doing was with women and children, I didn't really work with males at all. I lived in a tiny village of around 700 to 900 people. It was really beautiful, I was on the side of a mountain overlooking the Jordan Valley. While I was there, we were actually evacuated midway through our service. The US government closed down the Peace Corps program in Jordan for security reasons. So, I chose to transfer to Mongolia," DiNapoli said.
Though it was very different than Jordan, in Mongolia DiNapoli served under the same title, working with children and social workers there as well.
"Mongolia is a really fascinating place, most people will never have the opportunity to go there. There are more livestock than people in Mongolia, so you just have these wide expanses of open space.I lived in a really small village right off the border of Russia, so that was a fascinating experience," DiNapoli said.
Then, DiNapoli decided to leave Mongolia to work in the West Bank.
"I lived a couple hours south of Jerusalem, about 30 minutes from Bethlehem. I was working and doing a lot of capacity building for youth, doing a lot of trainings on employment. They had a radio station so we helped set that up. They had a debate club, I helped design a curriculum for environmental sciences," DiNapoli said. "That was a really great experience. Hebron is a pretty conflicted place in the West Bank. You can really see a lot of the issues between Israel and Palestine in Hebron. I became more interested in how development work is challenging in the face of legal issues, the question of human rights in general."
DiNapoli's interest in human rights led her to apply for law school, ending up at the Columbia School of Law in New York City.
"The [application] process is really long, so I left the West Bank to work for a consulting firm in DC. I worked on projects with refugee resettlement agencies [with] the Department of Defense and Customs and Border Protection while I was applying to law school," DiNapoli said.
After being accepted into law school, DiNapoli decided to travel to Peru and Bolivia before starting at Columbia University. DiNapoli enjoys law school and is currently studying human rights law.
"It's not the most interesting stuff, but the way you learn in college, at least as an English major, is so different from the approach you take in law school. It's a lot more regimented. Creativity is valued a little less, critical thinking is maybe valued a little more. It's been challenging, but great. I want to do human rights law and Columbia and New York is the seat of the [United Nations]. There are tons of people coming in all the time; I've been able to meet people who head chair committees at the UN and [have worked] with activists, so that's been really great," DiNapoli said.
As for what she would tell high school students now, DiNapoli mainly said to be more open to things outside of your comfort zone, because you will never know until you take a chance.
"I thought I knew what I wanted to study and spent a long time my first year not really sure that I liked what I was studying. I didn't really take the leap into a bunch of other classes. I think being really intellectually curious in my first year of college, taking chances just in general, college is just a time where you don't have a lot to lose," DiNapoli said. "Grades are important, but college is really a place where you should do a bunch of different activities, take a bunch of leadership roles, explore, take chances, travel and meet new people. I think that's good advice in any point in life. Take some risks because you learn a lot. For me, taking the leap to work in Palestine was a huge one. I'd never been, I didn't know anyone working there and it turned out to be great."