10 Keys to Your Perfect Bracket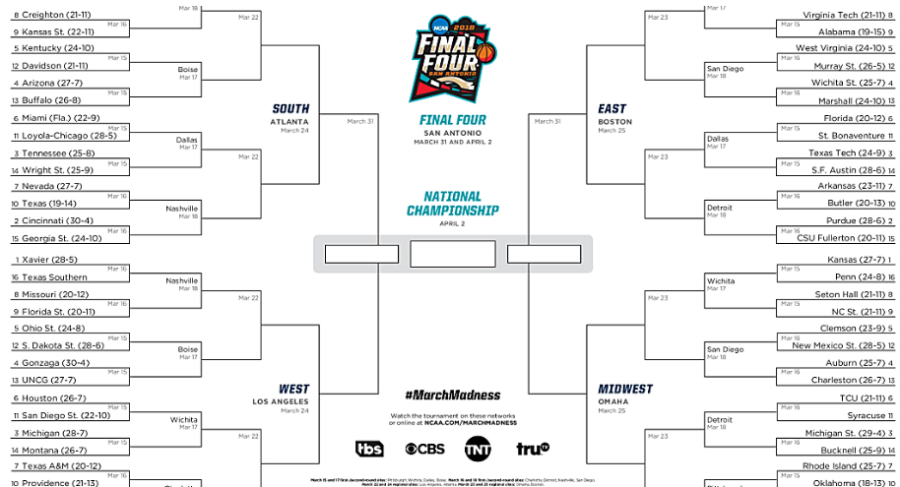 March Madness is upon us again. That means it's time to make your brackets, reserve an entire two week period to pay attention to each and every game, and endless attempts to access March Madness Live on your school or work device.
Each year, tens of millions of brackets are filled out. However, not a single person has beaten the 1 in 9.2 quintillion odds (.00000000000000000001086%) of creating a perfect bracket. While I can't guarantee the upcoming advice will allow you to make history, here are my 10 keys to a perfect bracket.
Do your research, but not too much.
Prior to filling out a bracket, it obviously pays to check out the matchups you're picking. While it can be entertaining to pick based on a coin flip or which mascot your mom thinks is cuter, in the end, the only way to have a solid bracket is to know why you're picking the teams you're picking. However, don't allow yourself to get trapped in your research and the impossible to understand sabermetrics that currently run rampant in sports analytics. Sometimes, your gut decision is the right one.
Don't forget about the First Four.
Over and over, people skim right over those teams (usually either 11 or 16 seeds) that haven't been solidified in their Round of 64 matchup yet. These are the teams that participate in the First Four, which was established in 2011 and expanded the tournament to 68 teams. These squads are often forgotten about, and bracket-makers are punished over and over for this decision, namely when VCU made their run to the Final Four in 2011 after playing in the First Four. Those teams deserve to be there just as much as the other 64, and picking them isn't a terrible idea.
Don't allow seedings to get to your head.
Those little numbers next to each team in the bracket simplify it for people who don't fully understand the game. The teams with 1s next to them are the best, and the ones with 16s are the worst. Seems simple, right? Not so much. Obviously a 16-over-1 upset is practically impossible, and 2s and 3s losing in the first round is uncommon, but once the first round is over, seedings basically go out the window. Every team left is very talented and many of the games can go either way.
Be courageous, you might be right about that upset.
Every year, I enjoy making my friends make fun of me by picking a ridiculous upset. The thing is, I typically actually believe in my upset picks. When I'm right, guess what? I get to make fun of them. It's great. I can't imagine many people picked Middle Tennessee over Minnesota last year (for the record, I did), but it's entertaining to see if your crazy picks of, say, Wright State over Tennessee pay off.
HOWEVER, don't get upset happy.
Despite the fact that upsets happen every year and having multiple Cinderella stories isn't all that uncommon either, I'll laugh in your face if you pick UMBC over Virginia. Too many upsets push your chances of being perfect even closer to zero than they already are. Be smart and know which upsets are actually realistic (see #1).
Consider past March success.
Some teams just have a certain flare for the dramatic when the NCAA tournament comes around. Every year, I write off Gonzaga as a title contender, but every year, they seem to find their way into the Elite Eight or further. The truth is, they just know how to win when it matters. It sounds cliche, but teams like Gonzaga, Butler and Kansas just always seem to hit those shots that they need to move onto the next round, even in games where they don't play all that well. Butler is a 10 seed this year. Believe me, they won't play like a 10 seed.
Offense or defense: Pick one.
If you're picking Virginia to win this year's tournament, you probably think defense wins championships. You aren't wrong for that. You also aren't wrong if you pick Villanova or Kansas because of their prolific offense. The thing is, using both strong offense and strong defense as reasons for moving a team on is going to leave you with conflictions as you move through the tournament. If you stress defense over offense, fully stress it. Same if you stress offense. Be stubborn in this case.
A star player will never carry a team through the whole tournament.
Yes, I understand Stephen Curry took Davidson to the Elite Eight. But did they win the tournament? NO. In saying that, Trae Young isn't going to take Oklahoma all the way no matter how hot he gets. Sure, a player like Young or Duke's Marvin Bagley will push them over the top in a close game, but they can't be the only reason you pick a team. Other teams that they'll run into have more than one great player.
Think about who has something to play for.
This one sounds even more cliche than #6, but again, there's a reason for it. Some teams just plain have a will to win in March. A team like Duke, who plays in the tournament every year, and is composed of a bunch of freshmen who are leaving for the NBA soon no matter how they do in the tournament, isn't likely to really put as much into their tournament games as a team like Texas Tech or Purdue. Those teams who can't take tournament appearances for granted push harder in March. They don't want their seasons to end, and that has to count for something.
Overall, making a bracket is supposed to be a fun activity that you can do once a year no matter how much you know about college basketball. If your grandma makes a bracket based on which team has the better looking coach, don't make fun of her. She's doing it her way, and that's what really matters.