Sease advances acting career, moves to LA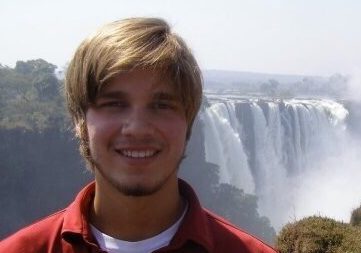 With a head full of creativity and a heart for the stage, Drew Sease found his passion for the arts at a young age. Between getting involved in acting and art both inside and outside of school, it wasn't until graduating from HHS in 2008 that Sease started taking his talents to the next level.
Following high school, Sease attended VCU to study Theatre Performance. There he performed in many shows and musicals, from Lord of the Flies to Grease, but also made connections that would impact his acting career. One connection Sease made in particular lead to a cameo role in Steven Spielberg's film "Lincoln" (2012) while studying at VCU. After graduating from college in 2012, Sease made a big move to Los Angeles, CA, alongside his wife, in order to further his career in the acting field. Currently, Sease works part time at a restaurant, has been a part of some projects, including his most recent commercial projects for Dunkin Donuts and Kay Jewelers and balances his newest job of being a father.
"I'm taking things day by day, especially since I've had a new life changing event with a baby girl. I'm trying not to focus too much on the future and do too much planning. I'm just trusting God everyday. I think it's healthy to think about what your passionate about and to figure out what steps you need to take to get there, but right now I think I'm just taking it day by day. That's where I'm at right now," Sease said. "Right now I'm on a two week break…to get adjusted to the baby. No jobs, no auditions right now, just kind of taking a breather and enjoying time with my wife and baby. Hopefully in the new year things will be rolling in again."
Sease and his wife, Luisa, graduated from college, got married and moved to LA, all in the same year. While residing in LA, Sease has worked on some national commercials, a couple of independent films and short films, as well as some TV work. Although things may not be running as ideal as expected, Sease lives his life without regret and takes things as they come.
"I've been able to work on a few projects that I've been really proud of since I got out here… but as most actors out here [do], you want to keep facing jobs and keep things moving. Sometimes it feels like things are moving faster than other times so there are definitely seasons of a lot of work and then there are seasons of very little work. It's a marathon more than a sprint when you live in a big city like this," Sease said.
Sease's most memorable project, "Lincoln" (2012), had been an experience in particular that impacted his acting career. The movie was based off of the true story of Abraham Lincoln and the events that took place in the Civil War. It was shot in Richmond, VA, where the events originally occurred. Sease played David Homer Bates, the chief chronicler of President Lincoln's telegraph operations, in which he read a book by David Homer Bates and did lots of research, in order to prepare for playing his character. Working with actors Daniel Day-Lewis and Adam Driver, as well as director Steven Spielberg, inspired Sease as an actor and to take his career further.
"I had two scenes in the film, one of which was a lot more memorable in the film. The other one, I was hardly in the scene. I had a couple days of shooting and Daniel Day-Lewis was amazing. An amazing actor is not selfish in the way they work, so he was very generous and made the scene come alive so it was super easy to work with him. I got to hang out with Adam Driver for a good part of the day and got to know him a little bit. It was a really amazing experience. I'm also really blessed by it; really lucky," Sease said.
Earlier in his life, Sease explored his array of artistic abilities through theatre, film, musicals and drawing. During his preschool years, Sease showed signs of creativity, as he dressed up as characters like Native Americans or Batman, without it being Halloween. Once he was in elementary school and middle school, Sease started performing in plays. He eventually started enjoying visual art in middle school, which was fueled by his love of watching films. Even though Sease grew up without TV in his house, it just made him admire visual art more by spending his time drawing and being creative. Sease had a lot of inspirations when it came to acting, including actor Marlon Brando and Sease's older brother, who studied acting in college while Sease was in high school, encouraging Sease's aspirations in that field. Throughout high school, Sease performed in plays and musicals. From playing The Cat in the Hat in "Seussical the Musical" to Fagin in "Oliver", and then to Gaston in "Beauty and the Beast", Sease found his passion for acting.
"I've always been involved in the arts in one way or another… I almost saw it as kind of a hobby growing up. I wasn't really thinking about what I would do long-term with it. I loved watching movies when I was younger. My parents just thought we watched too much [TV] growing up and I think that helped fuel a more creative side of me. I felt like I always had a wild imagination. Even at a young age, I was always dressing up. I grew up watching a lot of intense dramas and really good actors like Al Pacino, Leonardo DiCaprio and Robert De Niro…My older brother was already studying acting as well. It was kind of nice and convenient for me to see what I would be getting into and if that was the path I really wanted to go down, just to kind of see what he experienced with his training and some of the success and challenges because there are a lot of highs and lows in the arts in general, especially in acting I would say," Sease said. "Senior year of high school when I really started getting more serious about [acting]…I liked the idea of character and getting into a character, some of the psychology behind that and also the idea of telling stories. I've always been artistically inclined and just drawn to the arts."
If Sease wasn't acting, he would be doing something ministry or Theology related. But, as for the future, Sease is open to new opportunities inside and outside of his career. In order to have more control over the types of characters he'll play or stories he'll perform in, Sease is considering the idea of creating his own material. While being open to new options, both in his real life and as an actor, Sease will always have a passion for taking on new roles.
"I would love to be acting, [but] I'm not basing my entire life on that. If those goals change, I'm okay to change that up if needed. Right now it would be to stay in something creative. I think that's where my talent and skills are [and] where a lot of excitement comes. I think there are other avenues and options out there that could get me excited as well," Sease said. "I like that [acting] is creative [and] collaborative. I think that there are important stories to be told out there. I love that something like Lincoln with a story that needed to be told was well received. I like the potential that storytelling has: getting into the mind of another person, taking on a character, using that as a tool to tell a story and get people thinking. I love that idea. It doesn't always feel like that from time to time. There are challenges where the situation might not always be as ideal as you want, but I think that's the case with any job, in any profession."