Streaks win close match against Blazers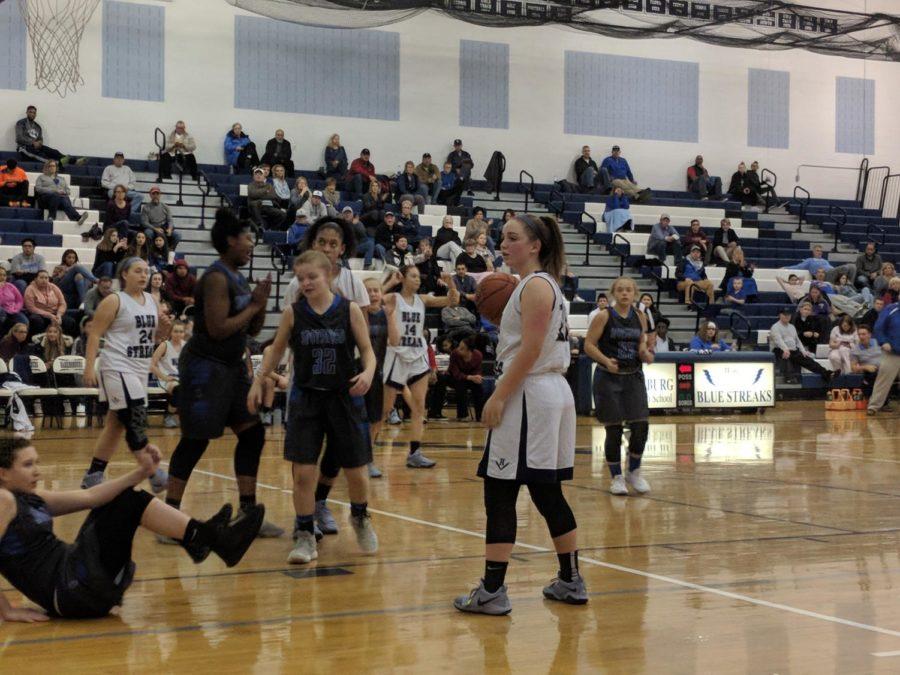 Advertisement
The Harrisonburg High School JV Girls basketball game played a tough game against Spotswood on Feb. 1, 2018. The first period started off slowly, with only 9 baskets scored in total. The Blazers came out strong leaving the Streaks behind in a seven to two lead, while racking up five fouls compared the Streaks' two.
The second period was different, however. The Blazers controlled the ball well for the most part of the second period, keeping it on the Streaks' side of the court for most of the period, as well as keeping the ball in constant motion with passes and various successful steals from the Streaks. The Blazers started out fast with a quick basket that the Streaks quickly answered with a basket of their own. Followed by quick steal, the Streaks made it a three point game at nine to six.
The Trailblazers then, after a series of quick passes, increased their lead by nine in less than two minutes. The Streaks managed to get one more basket in before the Trailblazers increased their lead making it an eight to 19 lead with only 40 seconds left in the period. With one free throw made by the Streaks to finish off the period and the half, the Streaks were looking at an uphill battle with the game nine to 19.
The Streaks came into the second half off of the momentum of the last seconds of the previous period and came out and quickly got to double digits, and then proceeded to get into a shooting competition with the Blazers until it was 15-23. A three-pointer by the Streaks set the tone for the rest of the period, making it 18-23 with four minutes left in the period. HHS was on a roll now, and the Blazers allowed seven unanswered points, making the game 22-25, the closest the game had been since the first period. A shooting foul and 2 made baskets by the Blazers gave the Blazers' lead a little more cushion, but not before the Streaks made two baskets and a free throw just before the end of the period to make the game tied 27-27.
The Streaks continued their streak and made another basket giving the Blue Streaks the lead for the first time in the game at 29-27, with just under five minutes left in the game. Another shooting match between the two teams ensued, with the score going from tied to Streaks lead every other basket until a Blazer free throw missed and gave the Blue Streaks a one-point lead with little over a minute remaining. The Streaks made a free throw of their own and made the game 32-30, which would remain the score for the rest of the game until an HHS free throw with four seconds left made it a 33-30 game, and ultimately gave the Blue Streaks the victory.