Smith sets two PRs at Liberty Premier Invitational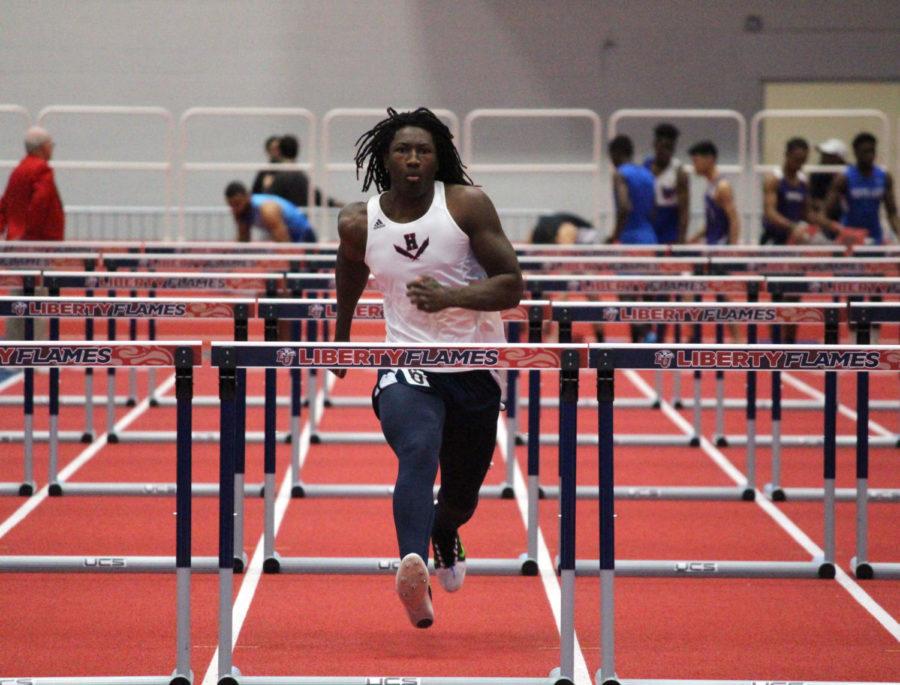 The indoor track team traveled to Lynchburg on Saturday, Jan. 13 for the second day of the Liberty Premier Invitational, a meet hosting over 50 schools from around the state. Sophomore Jaylin Smith participated in three events, the 55 meter hurdles, the shotput and the 4×200 meter relay on Saturday, and had a generally positive reflection on his performance.
"I feel like I did pretty good on Saturday. There are some things I can improve on, but overall, I did pretty well," Smith said.
In his three events, Smith set new personal records in two of them, by running the 55 meter hurdles in 9.86 seconds, his first time running the event in under 10 seconds, as well as throwing 38 feet in the shotput, ousting his previous PR by one foot. In the hurdles, Smith attributes his newfound success to him beginning to figure out the mental aspect of the race.
"Just being able to relax more than usual [helped]. [I focused] more on mental stuff in that race, just relaxing," Smith said. "There was some technique that I was focused on, but mainly just being able to relax."
Smith has run the 55 meter hurdles since the middle of his freshman year, but shotput is a relatively new event to him, as the Premier Invitational was just his second time in the event. While he is a beginner when it comes to shotput, Smith has already taken a liking to it, as he believes it caters better to the skill set he obtains from being a defensive end on the varsity football team. Smith has high expectations for the rest of the season, as he hopes to increase his PR by the six feet necessary to qualify for the 5A state track meet.
"I like [shotput] a lot. I feel like I'm really able to use my strength in that event. I'm hoping to throw somewhere in the 40s and maybe qualify for states [by throwing] a 44," Smith said.
Smith and the rest of the sprinters on the team have just one more regular season meet, the Fred Hardy Invitational, held at Fork Union Military Academy on Jan. 27 prior to beginning the postseason.