Robinson-Jenkins hopes to bounce back from foot injury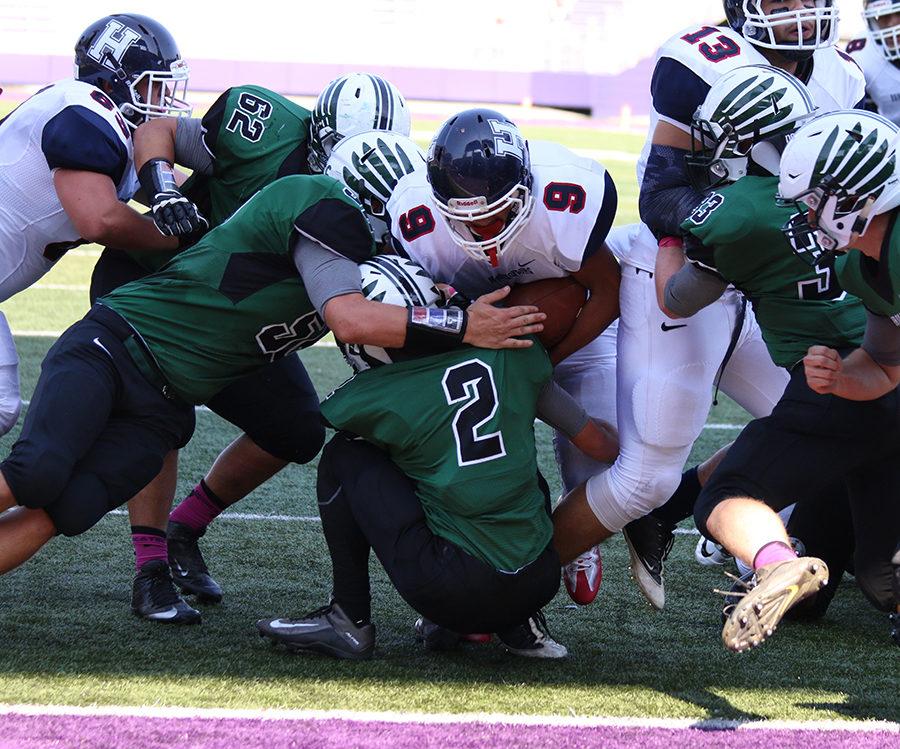 Advertisement
Finishing as a first team all-district running back and defensive back with over 1,700 yards rushing and receiving, junior Marcus Robinson-Jenkins was expected to be an impact player on both sides of the ball in the regional semifinals against Stafford County. This was before Robinson-Jenkins went down in the beginning of the third quarter with a suspected ankle/foot injury.
"It was fourth down and five. I caught a pitch and broke one tackle and got a first down. [A Stafford player] tackled me and and when I spun out of bounds it submerged under me," Robinson-Jenkins said.
On the sidelines, Robinson-Jenkins watched as the Streaks fell to Stafford 48-27. Robinson-Jenkins wishes he didn't have to go out in such a critical game.
"You never know. I can't say if I was in we would have won. It sucks that I got hurt in a tough position in a tough game," Robinson-Jenkins said.
Robinson-Jenkins tore three ligaments. He tore the anterior talofibular ligament (ATFL), the calcaneofibular ligament (CFL) and he partially tore his deltoid. He knew as soon as he came off the field something was wrong.
"I knew it was [broken]. I said, 'There is no way it is not broken," Robinson-Jenkins said.
Robinson-Jenkins was a three-sport athlete last year, playing on the JV basketball team and varsity baseball team along with varsity football. Due to the injury, Robinson-Jenkins won't be able to play basketball again this year.
"I was planning on playing basketball this year, but it won't affect baseball season. I will be healthy by then," Robinson-Jenkins said.
Other than a broken hip in eighth grade, Robinson-Jenkins has not had a major injury while playing high school sports.
"I am blessed [that I haven't had an injury] through my high school career. An injury can take you downhill fast," Robinson-Jenkins said.
Robinson-Jenkins is starting to be looked at by college coaches. Many times after an athlete has an injury, college recruiters begin to lose interest. Robinson-Jenkins believes this is not the case for his injury.
"This is a small injury. I'll be back soon. This injury isn't going to stop me," Robinson-Jenkins said.
Robinson-Jenkins is in a hard cast now, but will soon be in a boot. He thinks time is the only thing that can help at this moment.
"There definitely will be rehab, probably physical training in [about] two weeks when I get my cast off, but for now we just have to wait it out," Robinson-Jenkins said.
Robinson-Jenkins would like to be in the weight room as soon as he can to try to regain strength in his lower body.
"I'm just going to work… my legs and come back faster than I ever was," Robinson-Jenkins said.
Robinson-Jenkins believes the injury is just a small bump in his career and hopes to return in his senior year and be better than he has in the past.
"This just a slight setback. Every year I try to do better and work harder, so hopefully I will top [my stats] by a lot next year," Robinson-Jenkins said.