Ninth grade academy volunteers with On the Road Collaborative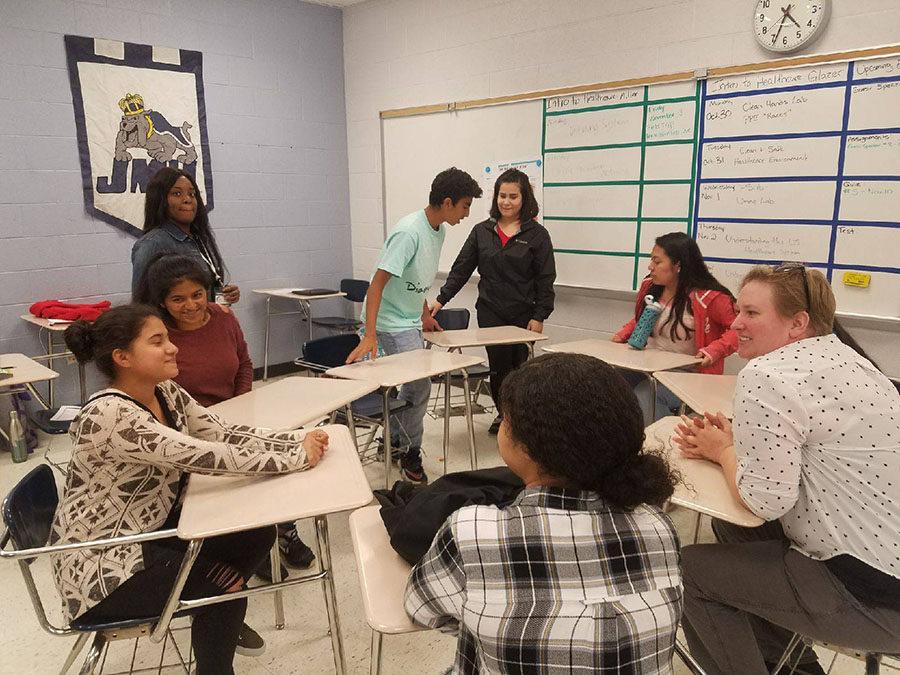 In addition to extracurriculars offered at Harrisonburg High School after the normal school day, there are also off-campus activities. On the Road Collaborative, a non-profit youth empowerment group, plans to go off campus and assist needs in the community. Ninth grade academy, a specific group in On the Road Collaborative, is planning on volunteering at Anicira, Our Community Place and help with middle school tutoring. Ninth grade academy leader Meredith Breeden is coordinating the volunteer aspect of the program.
"I think that service is a really important aspect of life because when you give back to other people it ultimately helps you grow as a person and I think that any chance you can get to volunteer, especially in our local community, is what's important," Breeden said. "Even as high schoolers, growing and putting in that experience is going to help you, not only as a person but professionally too."
Freshman Jennifer Carcamo is planning on volunteering with the middle school aspect of the program. This is not Carcamo's first time tutoring, for she tutored elementary students when she was in fifth and sixth grade.
"I thought that it was interesting to have the [chance to help] change other people directly. You also get a chance to prepare others because they honestly don't know what they're getting into when they start high school. Honestly, I didn't know what I was getting into when I came to high school. It was kind of just a big boom and it hit me out of nowhere," Carcamo said.
Anicira, a non-profit animal shelter, is one of the most popular choices with students, with over eight students planning to volunteer there. Rawan Mohammed, a freshman who is new to On the Road Collaborative, is planning on assisting Anicira.
"I've always been into animals. I kind of want to be a veterinarian when I grow up, and just exploring that kind of career would be great for the future," Mohammed said. "I'm excited to help out with the community and I'm just happy to hang out with a bunch of pets and do whatever I need to do to help them. I think that this would be really good for college applications and I also think that my view on the work of people in the community will change."
Ninth grade academy students are currently in the process of brainstorming ideas for possible ways they can volunteer to the various locations. Ideas brainstormed include food drives, fundraisers and lectures. However, ideas are still being created and finalized for these future volunteer opportunities.