Students, staff take pride in heritage on International Day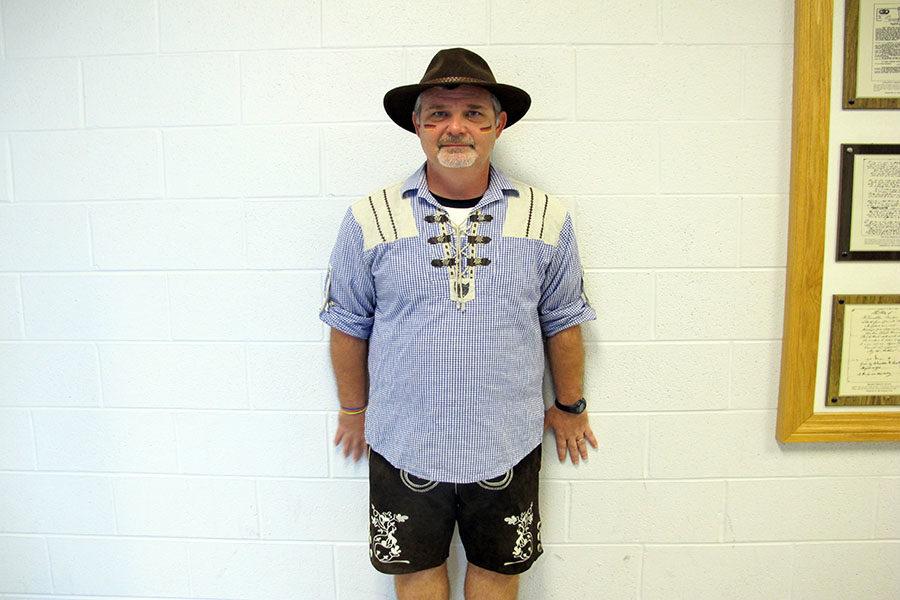 Last week was Spirit Week here at HHS. From Pajama Day to Decades Day, the student body showed their school spirit by dressing accordingly to each day's theme. The SCA chose this past Wednesday to be International Day.
On International Day, the students wore pieces of clothing from a country of their choosing. Many students chose the country themselves or where their family is from, like senior Khadija Sayyid and freshman Bala Abubakr. Sayyid and Abubakr were born in Kurdistan and immigrated to the United States.
"We're from Kurdistan and we love to represent our country. I just love our culture," Abubakr said.
Some people even wore traditional clothing dating back to when their ancestors lived, like SPED teacher Walt Williamson. Williamson wore a Scottish kilt with a meaning behind it.
"All of the patterns [on kilts] represent the different clans in Scotland. This is the Williamson clan- the red plaid [and] the tartan plaid. There's lots of different materials. Depending on where your family is, that's your clan color," Williamson said
Not everyone dressed up to represent foreign countries. Career and Technical Education teacher Don Burgess dressed up for International Day just to get into the school spirit. He wore a Nike USA shirt to encourage other students and teachers to dress up.
"This is my third year teaching at Harrisonburg High School. My first year, I did not [dress up]. My students were like, 'Coach Burgess, you didn't participate.' So I have made sure that I at least wear my Nike USA shirt. It's a great way to try to get teachers to participate, encourage spirit week and get students to participate as well," Burgess said.
Like Burgess, Freshman Caroline Campbell also decided to represent the USA. However, her approach to it was quite different than Burgess' t-shirt.
"[I'm wearing] cowboy boots, a cowboy hat and a flannel. I grew up in a cowboy setting," Campbell said. "My name goes along with a tradition that comes from my Southern [American] heritage."
All in all, International Day gives a chance for students to represent their culture while participating in school spirit. Spirit week provides a chance for all the students and teachers of HHS to come together as Blue Streaks.