Didot starts crepe business at downtown Farmers Market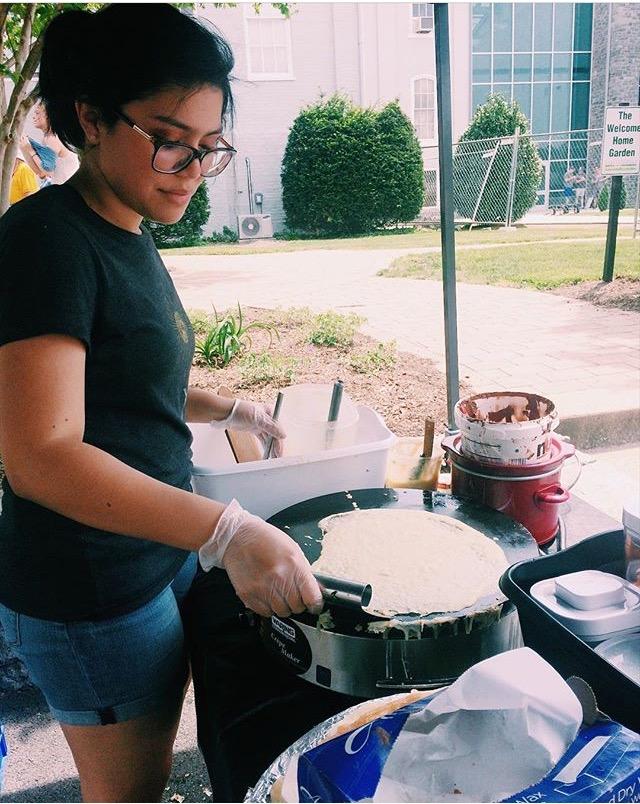 The pronunciation of French words can be quite difficult for many people, but one word will almost always draw the attention of a hungry high school student: crêpe.
Junior Eva Didot is no rookie to the world of business; both of her parents were entrepreneurs. With a little French background, Didot has now created something of her own as well. Crêpe Didot, the name of Eva's stand, is open on Saturday mornings in downtown Harrisonburg's Farmers Market.
"I love the social aspect, that's probably my favorite part. It gives me a lot of energy, it makes for a great day. I love making crepes for people, and just seeing them happy buying food brings a lot of people together," Didot said.
Opening in early April, Didot has enjoyed her first two months as a vendor. With plans to major in business in college, the opportunity to understand it allows for a perfect resume builder, along with providing an extra sense of expertise.  
"I wanted to just experience what [owning my own business] was like, rather than just going to college and taking a lot of classes," Didot said. "[I also started it] to serve the community because I love interacting with people, so I thought it'd be a great way to combine everything."
You can't always predict what will happen when you own your own business, and whether planned or not, there are guaranteed to be challenges.
"[The hardest part is] the motivation [that I have to find] on Friday's to not have a normal Friday. A lot of students will hang out with friends or something, or go to sleep right away. I'm working till about 7 or 8 p.m., and then I have to go to bed to get up at 5 a.m. on Saturday. Just getting my head focused to work and not relax, that's probably the hardest part," Didot said.
Throughout the process, Didot has received plenty of guidance from her mother, Katrina Didot, the local owner of Bowl of Good.  
"She helps me come up with recipes and stuff, because I'm not as creative in that way. Every aspect that it takes to run a business, [she's there for me]," Didot said.
Eva's mother sees special qualities in her daughter that she believes will one day make her a great entrepreneur.
"She is steady. She knows that business ownership is risky. She is willing to work hard. She knows how to treat the public," Katrina Didot said. "I am so proud because this idea came from Eva… Back in January she started talking about a crepe stand.  We encouraged her and helped guide her, but this is her gig and she is doing really well at it.  When I see her poise with people and her cool head under pressure, I think, 'Wow! That's my gal!'"
Eva's introduction to the Farmers Market came young, again thanks to her family.
"She really grew up in the business.  When she was almost 8, I started to do the Farmers Market. She grew up as 'my helper'," Katrina Didot said. "She has watched our business through good times and bad, [so] she knows that while the business has always taken a lot of my time and energy, it also gave me the flexibility to be home or at school activities a lot.  When you have been surrounded by business ownership all your life… I guess you can't help to be inspired by it."
With the responsibility of vendor comes the need for some extra helping hands. One of the students that works with Eva on Saturday mornings is freshman Rachel Hermosillo.
"[Working with Eva] is fun, and you get to learn responsibility… You really interact with customers, so it's a good experience," Hermosillo said.
Her interest in the business is only small snapshot of the entire environment where they sell. Hermosillo enjoys the variety offered at the Farmers Market.  
"There's a little bit of everything there. You can get produce, stuff you need for your house, breakfast. You can get just about anything there," Hermosillo said. "[The atmosphere's] really nice; all the vendors really talk to each other. You make friends with [everyone] you're with."
From fresh lavender to homemade jewelry, the Farmers Market offers many options for local customers to buy from local friends.
"First [I'd encourage you to visit] to buy a crepe but also, [to] support the other vendors… I would buy everything prepackaged, and now I buy my vegetables at the Farmers Market to support them," Eva Didot said. "So for people who are coming as customers to support our local businesses and support local farmers, [I encourage you to come]."