Gonzalez, Ramirez recap on conference title win, prepare for Regionals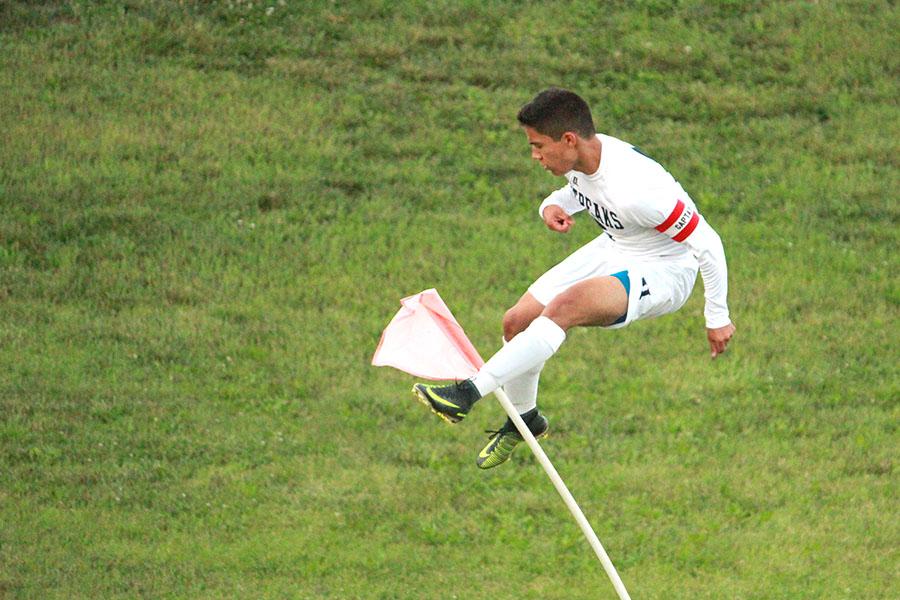 After not having done so for seven years, the boys varsity soccer team reinstates themselves as the 4A Conference Title winners. As co-captain, senior Roberto Gonzalez-Cavazos led the team to victory by scoring the final PK at Monday's game. Gonzalez had wanted to rematch the long-time rival John Handley, and doing so successfully allowed him to end his senior year just the way he hoped to.
"[My goal was] getting revenge on Handley and getting the championship, just knowing this opponent we played for the past years and [being] the conference champions. [Handley has] defeated us [before]; [we were] hungry to win and [wanted to] keep on going with the playoffs and regionals," Gonzalez said. "We'd been preparing all season long. We've gone through some tough spots along the way, but I think it all pays off in the end. We've practiced very hard in practice, keeping focus and all. During the first half, I think we needed to get back in the game. We were down 1-0 against a tough opponent, but we've come back from 3-0 lead from Broadway, so why not come back [again]?"
Playing mid-field, sophomore Eric Ramirez was worried about the team's performance during the first half.
"We should've started out way stronger than we did. I was nervous in the beginning, but then it all changed when we scored that goal; it gave us hope," Ramirez said. "In the beginning of games, we always start out rough, so I was feeling a bit nervous. After we're always down by one or two goals, we always put in our 110% effort. I don't know why we always start out hard in the beginning, but that's how we are. After I got comfortable playing, I just got relaxed and played my game."
Gonzalez implemented confidence in his team, as he tied the game 1-1 in the first half with Handley. Reflecting on the game and other games in the season, Gonzalez sees the team continue to never give up.
"The thing I'm proud of the most is the way our team came out in the second half and how we stayed consistent for the rest of the game; I'm talking about overtime, and then overtime, the second time, golden goal, how we executed everything like PK's, [and] how we kept compacting everything," Gonzalez said. "I think there's always room for improvement, but so far I think that we did a great job. For the second half we came out with a better strategy to put out more attackers because at first we started out with two attackers up top, so we had to add one or two more in the second half to make more plays. I think that's what helped us out a lot."
Following Gonzalez, Ramirez scored a goal for the Streaks, taking the lead 2-1, which helped to boost the team's momentum. Ramirez thinks the team's mental preparation, as well as hard work during practice, had a lot of influence on how the game resulted and how the next game will result.
"How you play in practice, that's how you're going to play in a game. At home, you got to be mentally prepared, get good sleep, and stay healthy. It always starts in the off season, you've got to be bigger, faster and mentally prepared better than the other team," Ramirez said. "We all worked as a team and we never put ourselves down. Even if they scored we had our attitudes up. If we work hard and practice hard and get mentally focused, I feel like we could go really far after this. I just want to get the whole team mentally prepared because it's been a long time since we've come this far. I'm still young so I can relate to a lot of the other young people on the team. I always do it for the seniors too because they haven't won a championship [title] until this year."
During the second half of the game, Handley came back, making the score tied 2-2. As a result, the two teams battled their way to PK's.
"The best part of the game was definitely the PK series. Just looking at Toby making that stop and then coming out last and executing to win the championship was definitely the best part of the game," Gonzalez said. "I wasn't really nervous. Many people would say they get nervous in that situation, but I don't know. I was trying to make myself more comfortable, so I just stared down the goalie the whole time and smiled; just thinking in the back of my head that I was about to finish the game for them."
Gonzalez during the end of the second half received a yellow card, which took him out for a short period of time.
"I think staying cool and trying not to get too physical with the other team was definitely the toughest part, as Handley's very well known to be dirty. You gotta keep your cool the whole time, so you don't do anything dumb in the game," Gonzalez said. "This guy [from Handley] grabbed me by the neck and [the referee] called [a Yellow Card on] me, so it was just the intensity of the game and just trying to get back for that. I think it was kind of a dumb mistake that I made, but it happens. I think this was my third Yellow Card this year, which is actually not that bad. Well, it is kind of bad, but considering myself, I'd suppose it's not that bad for me."
Following the victory, Ramirez believes the mostly young team was inspired for next year and is hoping to help lead the team in place of Gonzalez and the other four seniors.
"The best part about [Monday's] game was winning the championship because it's been since 2010 since we've won a title. When we scored that last PK, you could just feel the happiness in [player's] bodies. It means a lot to us coming from young players. We have about seven freshmen, a good amount of sophomores, and five seniors, so we have a young team and we won a championship so it's good," Ramirez said. "Next year we're going to have exactly the same team because we have really young players and basically we always practice off season too, so our chemistry is really good."
As for regional's, Gonzalez doesn't think implementing any new strategies would be beneficial for the team and would rather stick to the same formation the team's been using. Despite what may come next for the team, Gonzalez feels as if winning the conference title was enough to fulfill his senior year in soccer.
"I think we all did what we could and we all gave it out on the field and the result came. Anything is possible and with hard work and dedication, anything can be accomplished. We can back from a 0-5 record [because of] dedicating and working hard every day in practice," Gonzalez said. "We got to get all the guys in focus at practice [for the regional's game] and let them know that it's do or die; you just have to keep that in the back of our head and prepare the best you can. There were so many emotions going on after the game. I was excited, but then at the same time I was crying. It was just being here and playing for my past four years and not being able to win a championship, then coming out this year with an underestimated team and making it happen after seven years, I think it's pretty good feeling, so it was excitement, happiness, accomplished. I felt accomplished."